When it comes to the topic why to learn a musical instrument online, many people are still skeptical. Others even say that you can live without music. But after coming home they start whispering some song or watch Youtube. Even though they don't realize it, music markedly affects their daily lives. 
Music has enormous power, not only when listening to it, but especially when creating it. For many, playing a musical instrument becomes therapy and an escape from everyday reality. The Internet and modern technologies have long provided an alternative to traditional education. 
In this article, we are going to focus on why you should learn a musical instrument online. And for the sake of completeness, we will also talk about the disadvantages of this method of teaching.
Especially in today's times marked by the corona crisis, online education is gaining more meaning and relevance. Many music schools are switching to online classes to eliminate contact and the spread of infection. However, a pandemic is not the only reason why this method of teaching is becoming more popular. Online music courses and school programs have their undeniable advantages also during the "normal" mode.
Why To Learn A Musical Instrument Online?
The great advantage of online courses is that you can learn at home or wherever you have the internet. You don't have to drive to a music school or take private lessons in singing, piano, guitar, violin, or any other instrument. Most people have a daily schedule full of different activities and thus, so saving time is a huge benefit.
As we indicated above, the fact that you don't have to move for music lessons is a great bonus. The second indisputable advantage of online music education is time flexibility. You no longer have to look for a free hole in your schedule for musical instrument lessons. You don't need to align your time with the teacher's options. Most online music courses are available 24/7.
The experiences of instructors who teach at music schools are different. They have different level of pedagogical skills, ie how the instructor sells knowledge and the experience of performing. Not everyone has the natural gift of learning and many do not like their job.
On the other hand, many online music courses are created by professional musicians who are among the leaders in their field. Let's mention, for example, the ArtistWorks platform, which caters to top lecturers. However, there are many such examples. For instanse, if you are taught the piano by Chick Corea (he has his online piano academy) or the drums by Dave Weckl, it's a great benefit.
Large selection of lecturers
Some educational sites, such as Truefire (for guitarists), or platforms offering one-to-one online lessons (www.takelessons.com, or www.lessonface.com), provide the opportunity to choose from several quality instructors. So, let's say, if you don't like one teacher's learning style, you can try another.
Another benefit of learning music online is variety of music styles. If you prefer a certain genre, such as classical, jazz, pop, or metal, you can find an online course that focuses on specific music. This option will be appreciated especially by intermediate and advanced musicians who want to improve in playing a certain style.
The undeniable advantage of learning to play an instrument at home is the price. Private music lessons cost an average of $ 20- $ 50 / hour. Normally, you have 4 hours a month. That's $ 80- $ 200 a month. Of course, the price of membership types of online courses varies, but many of them range from $ 15- $ 30 / month.
You can also usually choose whether to pay monthly or for an even better price per year. One-time paid course types are even more advantageous because you only pay once for Lifetime access.
Some music education websites offer access to forums. There you can share your experiences and achievements with other student members, receive valuable tips, or answers to your questions from instructors.
What To Consider When Learning Music Online?
To be honest, learning a musical instrument online has its disadvantages in addition to the benefits mentioned. The biggest of these is personal contact. Music is a "social being", and its main need is to be shared among people. Therefore, social and psychological aspects are also important in the learning process.
For example, if an instructor from your online video course shows you the correct hand positioning at the piano, it's different than when a teacher standing next to you shows you the same thing. He can better explain it to you and respond to your questions.
The personal absence of online courses is most evident when learning the technique of playing an instrument. For this reason, learning musical instruments online is better for people who already have the basics of playing technique.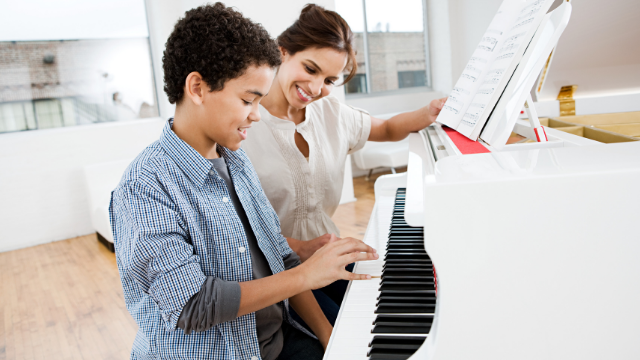 Another factor to consider is motivation. Everyone knows that learning a musical instrument takes years (actually a lifetime). People experience different periods with their relationship to music, and that's why the motivation fluctuates. In this respect, private lessons with the teacher are better.
When you have a set place and time where you go to sing, play the piano, guitar, or another instrument, you also have a stronger motivation to come there. On the other hand, if you have an online course available 24/7, you need to organize your time and motivate yourself to exercise.
Of course, it depends on the nature and discipline of the students how they deal with this freedom. All the benefits of online music learning are useless unless one is able to motivate oneself to practice regularly.
In this article, we talk about 5 reasons to learn a musical instrument online. We also explained that despite these benefits, it is difficult to make progress without personal discipline and motivation.
Whether you are a beginner thinking about the online piano, guitar, or singing lessons, or an experienced musician who wants to focus on a particular style, choosing the right online course will help you achieve your goals.
I hope that our website www.bestmusiccourses.com will help you with this, where you will find information on a number of quality online courses divided by tools.