The popularity of the ukulele is growing not only among beginners but also among professional musicians. You can hear its unmistakable sound in many recordings. Due to its small size and relatively low price, the ukulele has become the first musical instrument of many children and adults.
When it comes to education, there are many online training programs and courses. Uke Like The Pros belongs to the best of them. It is a premium online course that offers easy-to-follow video lessons. One of the most respected ukulele players will walk you through the basics, teach you how to play a lot of songs, and use different playing techniques.
Read also: 11 Reasons To Learn To Play The Ukulele
Introducing Uke Like The Pros Free Ukulele Course
If you want to learn to play the ukulele, this course from Terry Carter is definitely worth trying.
Uke Like The Pros Free Fundamental Ukulele Course is designed for beginners who are looking for clear lessons that will quickly teach them to play simple ukulele songs. You can practice basic strum patterns and chords within a few weeks.
What Are You Going To Learn?
BASIC CHORDS – how and where to press the strings, the name of the chord, its position on the ukulele.
CHORD PROGRESSIONS – the most commonly used sequences of chords that appear in thousands of popular songs.
DIFFERENT STRUM TECHNIQUES – by mastering the several rhythmic patterns you will be able to play fast and slow songs in different ways.
MUSIC THEORY – each lesson contains a PDF tutorial with chord signs and notes representing the rhythm.
PLAY IN RHYTHM – thanks to the backing tracks, you can practice the exercises from all the lessons with the accompanying sounds of drums and bass. You will control the rhythm while having fun.
Who Will Be Your Teacher?
Terry Carter is a professional ukulele player and sought-after teacher. Throughout his career, he has collaborated with many well-known musicians, such as Weezer, Josh Groban, Robby Krieger (Doors), Duff McKagan (Guns n-Roses), The Los Angeles Philharmonic, and many others. In addition to performing and recording, Terry is involved in several educational projects.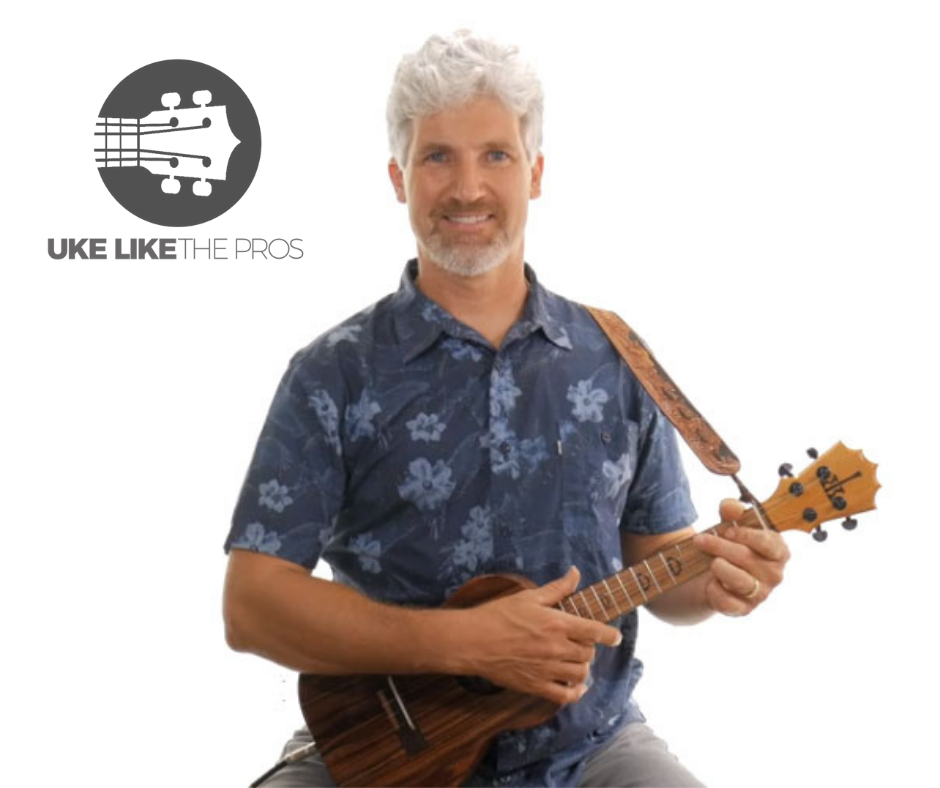 His several books (Master the ukulele, Ukulele beginning music reading) are among the best-selling in their category. The online course Uke Like The Pros has a large number of students due to its comprehensive content, and affordable price. The quality of this course is proven by many positive reviews from users.
Uke Like The Pros free ukulele Course contains 6 video lessons, downloadable sheet music, backing tracks, tips, and tricks. In the introduction video, Terry explains what you are going to learn and why it is essential.
After finishing the course you should be able to play basic chords and rhythm patterns used in thousands of popular songs.
LESSONS OVERVIEW
Lesson #1 – Learn G and C chord while using a basic strum pattern.
Lesson #2 – G-G-D-C chord progression + new rhythm pattern for building your proper hand technique.
Lesson #3 – new chord Ami played with C and G chords. The rhythm uses a Down, Down, Down-Up, Down-Up pattern.
Lesson #4 – "Let it be" pattern and quick chords switching.
Lesson #5 – Add an Emi chord to the chords you already know. The rhythm pattern here is to strengthen your strumming hand.
Lesson #6 – Use dominant chords A7, D7, E7 to reach more complex sound.
This free fundamental ukulele course has many undeniable advantages:
STEP-BY-STEP PROGRESS – new knowledge is added in a logical sequence.
LEARN AT HOME – This online course allows you to play at home or any place with an internet connection.
PRACTICE AT ANY TIME – You can choose the time for another ukulele lesson.
SET YOUR PROGRESS PACE – Create a learning schedule according to your preferences and time.
LEARN FROM A PRO TUTOR – You can hardly find more skilled ukulele player and teacher like Terry Carter
Free fundamental ukulele course Uke like the pros is a great point to start. When enjoying this course, you can continue with other lessons. Affordable monthly or annual membership will give you access to tons of high-class ukulele video lessons. You can also check out one-time payment programs focused on a different topic.