Almost every TrueFire review you can find on the internet claims, that it belongs to the most comprehensive online learning system for guitarists. My Truefire review for 2021 won't be an exemption, because it is true! It doesn't matter what music style you prefer, which type of guitar you play, or what skill level you want to move up from. This platform offers high-quality online guitar lessons for everybody. So if you want to learn the guitar online, Truefire will give you all what you need.
Truefire was established in 1991. Since the beginning, this website has developed into the most respected guitar online community in the world. Students enjoy the possibility of practicing at home, or at any place with an internet connection, a huge choice of guitar courses, individual online lessons, and a forum with hundreds of thousands of guitarists. Thanks to the well-designed learning system, top instructors, and high content quality, Truefire seems to be a reasonable alternative to private guitar lessons.
Except for online lessons for the guitar, Truefire offers also courses for bass guitar, ukulele, mandolin, and dobro.
Read also: How Long Does It Take To Learn The Acoustic Guitar?
What Do You Learn From This Truefire Review?
Let's talk about this platform in detail. In my Truefire review, you are going to find out:
Basic info

What is inside?

How does it work?

Truefire pricing

How to start to learn for free?

Who is it for?

What are the pros and cons?
In the end, you will have enough information to make your judgment and decision. In case you have questions or your experiences with Truefire, don't hesitate to put them in the comment section below this article.
PC/Mac, iOs, Android (Truefire apps)
From $20.75/month, or different price for particular courses ($10 – $70/course)
Truefire Mainpage Overview
Navigation on the main page is simple and clear. The main menu contains several categories.
In Courses, you can view guitar courses by music style, level, instrument type, or playing style. Let's say I click on the blues. I get to the menu where I can specify what I am looking for according to the sub-style (blues-rock, acoustic blues, jazz blues), browse between lessons, or see instructors in the given style.
Since it is not easy to find your way around the offer of all courses, Truefire has created so-called Learning paths. This system will first help you assess your playing level and then design a personal curriculum for video lessons. This is a great way to get started with Truefire. It will be appreciated especially by beginners who do not yet know how to create a curriculum and practice plan.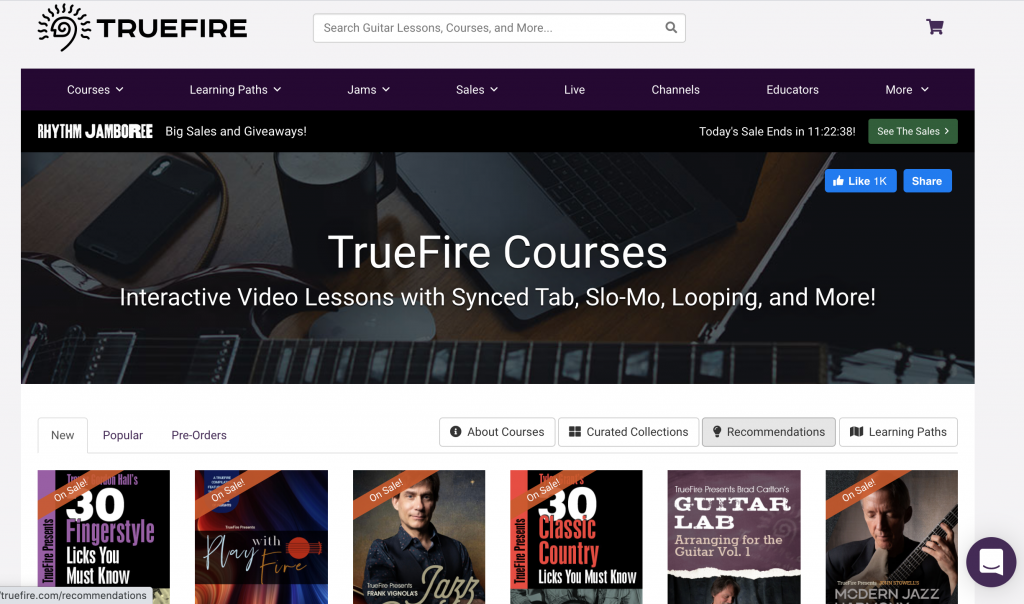 Learning to play guitar can't work for long if you only play for yourself. Truefire Jams are an ideal way to learn to improvise with other musicians, especially drums and bass. You will have 3 formats available – In The Jams, Multi-Track Audio Jams, and Jam Packs. We'll talk about them later.
Under Sales in the main menu, you will find the current offer of discounted courses and gift certificates.
This category offers unique live online events that you can sign up for. These are lessons and jam sessions of great guitarists – instructors from Truefire. If you are looking for inspiration and want to see great musicians play, you will definitely come to your own.
Channels are a great way to connect with the instructor you have chosen and the communities around him. You will get access to exclusive lessons, vlogs, performances, group tutorials, or video conferences.
In Educators you can see all Truefire instructors. They are all professional players and great teachers who are among the leaders in their field. Let's just mention a few names: Oz Noy – Steve Vai – Tommy Emanuel – Stu Hamm and many more.
As you scroll through the main page, you'll find other ways to get started: popular styles and topics, recommended courses, learning paths, and reviews.
Truefire allows you to buy a membership which gives you access to all courses and features or buy just particular courses (download, or DVD). When you prefer personal approach, you can try one-to-one lessons.
Access to all courses in Truefire
Monthly: $19.00/month
Yearly: $199.00/year ($16.60/month)
For those who don't want to pay a mambership
The price for individual courses differs from $10.00 to $70.00. 
Individual lessons with an instructor
The price is variable, normally it is $39.00 per 1 lesson
Truefire has comparable pricing like other similar online guitar learning websites Jamplay and Guitartricks.
Whatever I will tell you in this Truefire review, the best way on how to know if it is the best for you is to TRY it! Truefire offers 14 days trial.
2 weeks is enough time to try out all features and check out guitar courses that meet your interest.
Once you start your free trial or a paid membership and you log in, you will get to the Dashboard. The main on the left contains several categories. We will talk about them a little later because usually, the first step is that you want to browse courses.
I recommend starting with the main upper menu – courses and choose the style, level, or topic you want. Let's say you want to learn fingerstyle. After clicking, you get the offer of courses focused on fingerstyle. There are many of them, so you can sort them according to the:
Top Picks
Most Reviews
Highest Rated
Release Date
Best Selling
You pick for example an amazing course "Fingerstyle Breakthroughs" by Tommy Emmanuel. When you click the cover picture, you get to the course page. Here you have an instructional video, information about the course, and a lesson table of content. What I recommend to do is press the + symbol on the left below the video and add the course to the My Favorites. This will give you quick access to it.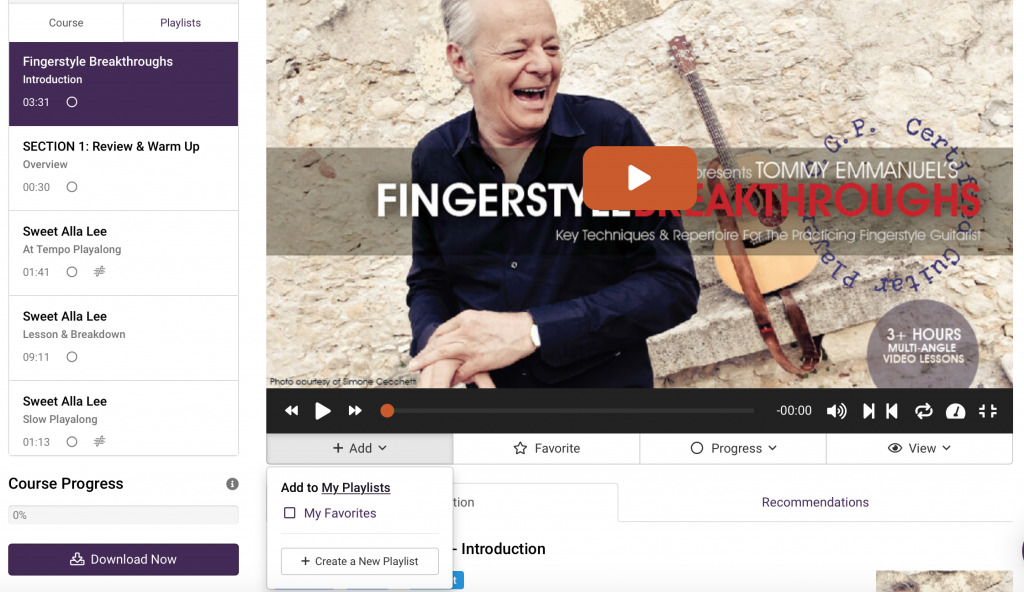 If you want to have a course physically on your device, you can buy the instant download. It will allow you to watch lessons offline. You can also have it on DVD. In that case, just check the Add the disk option. Anyway, if you are ok with online access, you won't need to buy anything.
In the table of content, you can see how many lessons the course have. In our case, Tommy Emmanuel's learning program has 59. You can start to learn directly by pressing play or browse and check any of these lessons.
Later, I will show you how exactly the learning looks like, and what options you have. Now let's take a quick look at the Truefire Dashboard.
I have to admit, the first time I see the dashboard, I was a little confused. But after a few hours of using, when I start with lessons and courses, it becomes more clear. My dashboard shows the courses and lessons you recently watched, the news, and recommended courses for you. On the left side, there is the main menu. I'm going to talk about the particular categories to show you how it looks:
Here you can see which courses which you:
purchased
recently checked out
added to favorites
are in progress
are completed
Probably the most used option from this menu will be Favorites. By adding courses and lessons to your Favorite library (by clicking the heart icon) you can reach them very quickly and easily. Let's talk now about courses in detail. You can filter them according to several categories:
Style: Blues, jazz, pop, rock, metal, country, funk, Latin, classical, RandB/Soul, Rockabilly, flamenco, Americana, and many others
Instrument: Guitar – acoustic (classical, western) and electric, bass guitar, double bass, ukulele, dobro, mandolin, banjo, saxophone
Playing technique: Fingerstyle, soloing, accompaniment (Rhythm guitar)
Guitar topics: Learning songs, Applied theory, style studies, technique, arpeggios, improvisation, tone and gear, etc.
Skill level: beginner, late beginner, intermediate, late intermediate, advanced
Educator: Pat Martino, Steve Vai, Tommy Emmanuel, Bill Evans, Johny Hiland, Robert Jones, and other 200 more
As you can see, there are many ways on how to choose from 700 courses the best ones for you. Except for the main menu, you can use the search bar to find courses focused on your preferred topics. 
Truefire dashboard categories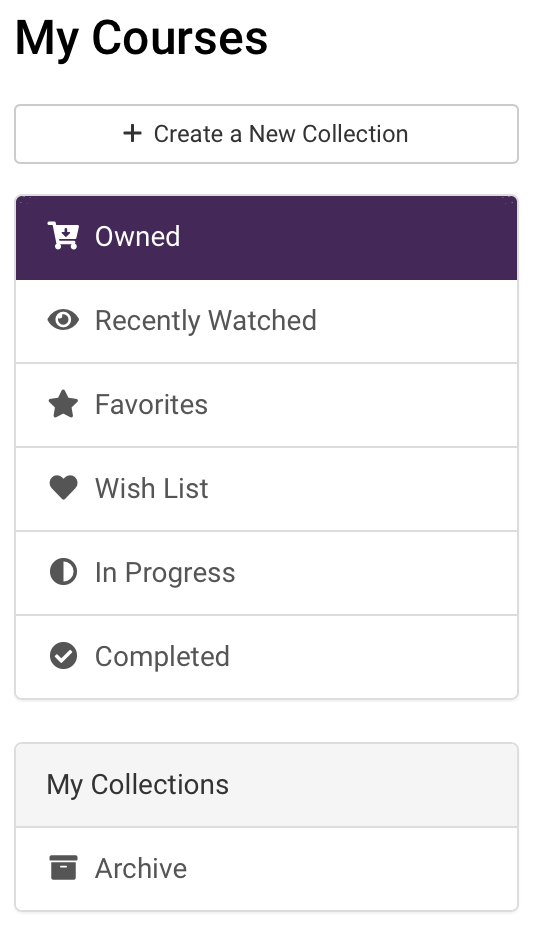 My Courses menu in Truefire
Truefire review challenge
I was thinking if I will talk about some selected guitar course in detail  in my Truefire review. Finally, I decided to skip this, because there are hundreds of them. It will be better, if you will check the courses you want according to your preferences and style.
As I said in the beginning of this Truefire review, this platform doesn't offer only guitar courses but it is also a community. You can communicate with other members and instructors. In my inbox, you will see all messages and notifications.
Learning paths offer an accelerated hands-on study plan for beginners, intermediates, and advanced musicians. They will help you to identify your current level and set the following courses and lessons. This ensures continuity and logical progress. So how does it works? In the beginning, you should choose one of the 6 learning paths: Jazz, Acoustic, Blues, Country, Rock, or Bass.
After clicking on one of them, you will see introduction videos to the courses of the skill level you choose. There is exact instruction on how to find out which skill level you are and where to start.
Learning paths are a great place to start with Truefire. Instead of trying and finding courses that are not too easy or difficult for you, you can start directly with lessons for your level.
Truefire dashboard can be for newbies a little confusing. Therefore, I recommend starting with choosing a Learning path and follow instructions. After you finish one course and you will get used to the dashboard, feel free to try other courses.
You can create your playlist of courses and lessons you like or follow the playlist of other Truefire users. This way, you can select lessons from different courses according to the topic or your preferences.
This is an absolutely amazing feature in Truefire. Except for high-quality pre-prepared video courses, you can take private online lessons with an instructor you choose. And don't forget, on Truefire there are only top teachers! To do this, go to the main upper menu and click more and then private lessons.
Then continue with Choose your instructor. On the left, you can filter teachers according to the instrument, your skill level, and preferred style. Once you choose the name, you will see details about the teacher and the price for a lesson. The learning works via messenger video, you can send files and chat with the instructor. You have an option to buy only 1 lesson or choose a plan.
Click the picture above for browsing instructors for one-to-one private guitar lessons
I like this option to have one-to-one lessons with your instructor. It is up to you, how many lessons do you want. Let's say, normally you learn to play with video courses and once a month you take a lesson with the teacher. This is great to find out what you play well, and what you should work on it.
If you don't want to have only one private lesson from time to time, but the entire learning plan with unlimited lessons, Truefire Classrooms will be a great option. And again, you can choose the classroom instructor according to your level, style, and instrument.
From the main upper menu, go to Jams, and choose one of these options:
In the jam: Great way how to learn improvisation and have fun. These are not only backing tracks but In the jam has several useful features: You can mute, solo, or adjust the volume level of each track, which means you can do your mix.
Multi-track audio jams: allow you to jam with great musicians. You can download the chosen audio pack, PDF Sheet, or play online and adjust the volume for all instruments.
Jam tracks: They contain audio files and PDF's for jamming. Jam tracks are divided into the music style, so you have a pack for jazz, blues, rock, funk, etc.
You can join a selected channel. Most of them are paid extra. Every channel member will get access to other educational videos, charts, jam tracks, and one-to-one lessons. It is a great option for somebody who wants to learn with a specific instructor. 
here you will find all downloaded files, like PDFs, charts, and audio files.
Now in my Truefire review I will focus on how the whole learning process works. The website doesn't offer only training videos, but also other interesting features will help you to improve your guitar skills. Once you are on a course page, you can see the main video lesson and on the left side, an overview. Some lessons also contain an audio jam track or a sheet.
Video lessons in Truefire have 2 modes. Directly below a video on the right, press view. Classic view will show you a video like you are used to it. When switching on the Tab sync view, you will see under the video interactive sheet and tabs. 

Video lessons in classic view mode has these functions:
Forward and backward
With arrows next to the play button, you can move the video in few seconds forward or backward.
Loop
Set the beginning and the end of the loop to train only the selected part of the lesson. For activating the loop function, just press the two-arrows icon.
Speed up and down
You can play every video slower (0.5) or faster (1.5). The slow-down function is very helpful especially for training fast solos or licks.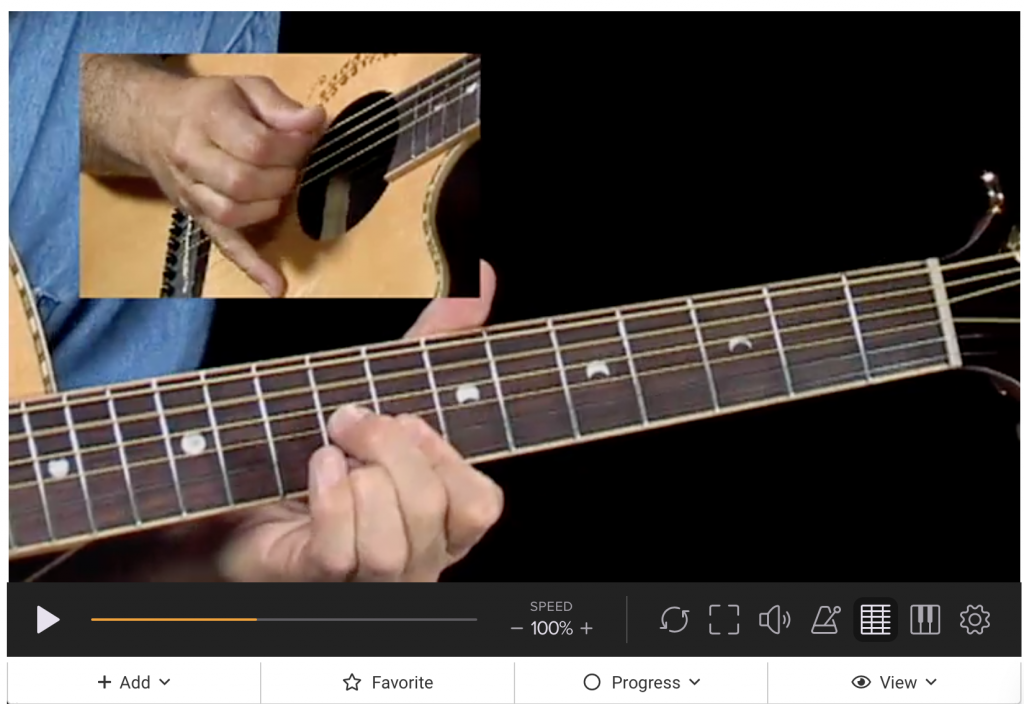 In this mode, you can also see playing notes on the virtual fret or keyboard. I think this is an amazing feature that will help you to control visually what are you playing. If you want to zoom the notes and tabs, use the setting icon. In Tab Sync Mode you can also change the tempo of the video lesson however you want.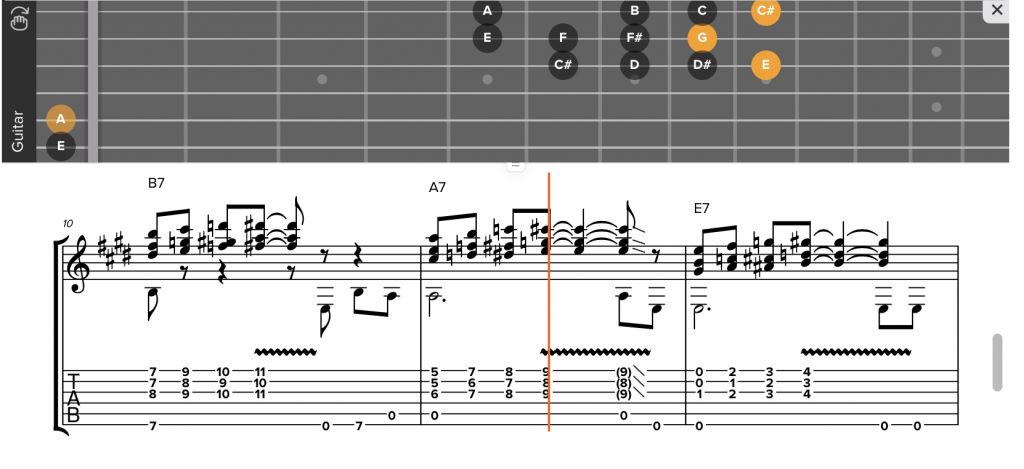 This function is also very useful. Truefire doesn't track your progress automatically, you have to do it manually. But I think it is better because you will decide which lesson or course you have already completed. For manual progress tracking, simply press progress below a video and choose Incomplete, In progress, or Completed. Then, you can see in Dashboard-courses, which lessons or courses are incomplete.
I believe that almost every online music course or educational website has some quality. The goal is to find the one which meet your preferences. In also this Truefire review, I gonna try to say who is this  learning system best for.
As you can see, Truefire is a big virtual place for learning the guitar (not only). Since they started in 1991, the amount of courses arises to almost 800. That's why everybody who wants to start to learn to play the acoustic, or electric guitar or want to improve his/her skills in some style, will find here tons of material to learn.
Truefire is for:
Late beginners, intermediate and advanced guitarists
Acoustic and electric guitar players
Guitarists who want to learn a specific genre or style (blues, rock, funk, fingerstyle, soloing)
Musicians looking for a comprehensive learning system
Huge choice of guitar courses for beginners, intermediates, and advanced
Tab sync view functions (interactive fret and sheets)
One-to-one private lessons with an instructor
An option to buy only selected courses for lifetime
A little complicated dashboard interface for beginners
Jam tracks are not part of the membership 
A lack of music theory in many courses
Truefire Review Conclusion
So do you really want to learn to play the guitar? Because if yes, and you will learn with Truefire, there is no excuse:) This platform gives you everything you need for improving your hand techniques, tone, soloing, rhythm, style playing, riffs, and improvising. The best combination seems to be a membership and one-to-one lessons with an instructor you choose. If you will learn like this, you still will pay much less like for in-person private lessons.
I like Truefire because of the really huge number of courses and lessons from great instructors. The interface can be a little confusing for people who just jump in, but they can use to it in a few hours or days.
Even the music theory is somehow underestimated in many Truefire courses, it can be an advantage for many guitarists who prefer a hear-to-play way of learning.
Overall, my personal rating of Truefire is 92%. It is one of the best platforms for learning guitar.
I hope you like this Truefire review 2021 and If you have your experiences with this program, let your comment in the section below this article. Thanks for reading and stay tuned!