It doesn't matter if you are a beginner, intermediate or advanced guitarist, or what style of music you prefer. You will find hundreds of video lessons for everyone at Jamplay. I started playing the guitar when I was 12 years old. I also took private guitar lessons at one time, but I mostly learned on my own. I didn't know what and how to exercise, so my progress took quite a long time. I think if I met Jamplay then, I could have learned more effectively and faster.
Since I deal with music education, I want to introduce you to Jamplay in more detail so that you can form your own opinion on these guitar courses.
This Jamplay review 2021 will be the result of my experience with these guitar courses. Since I have tested similar products like Truefire or Guitar Tricks, I believe that my findings will be useful to you.
What Do You Learn From This Jamplay Review?
Traditional guitar lessons with an instructor are unavailable to many people due to time and money. They often have to travel long distances to the classes and the quality of in-person training depends entirely on the experience of the instructor. Therefore, many people are looking for an alternative solution in the form of online courses. These often offer well-structured programs created by top musicians. Jamplay is one such project.
My goal is to acquaint you with how this guitar learning platform works, for whom it is intended, what you can expect from it, and why I consider Jamplay courses to be one of the best in 2021. In this post, you will find out more about the interactive way of learning, instructors, and opportunities to become a member of a large community of guitarists.
This review includes affiliate links that allow you to get a discount on membership and an exclusive 30-days free trial. In creating it, I found myself to be correct and honest and tried not to miss all the pros and cons. I formed my views on Jamplay based on the use of this platform and my professional music and teaching experience.
Kevin Wimer, Jeff Booth and Chris Dawson
Starting from $8,33/month
How Does Jamplay Teach You To Play The Guitar?
Learning the guitar with Jamplay is based on quality video courses from experienced teachers. Videos lessons are shot in 4 angles, so you can see very clearly what and how to play. Interactive fretboard, sheet, and guitar tabs are great tools helping with visual control of what you play. Other benefits include live events with instructors, stylish variety (20 musical genres), and a large community of guitarists from around the world. Before introducing the courses and functions, we will look at the account setting and Jamplay interface from the inside.
In the beginning, you need to create your account and fill in the basic data. You will then receive a series of questions to help Jamplay identify your preferences and level:
What is your primary instrument
How long do you play the guitar
How would you classify yourself

What styles do you prefer

How often do you want to practice

and so on…
You can add your username and photo (if you want) and then you will get to the dashboard. Now I'm going to show you courses offer and some other categories from the main menu.
When you log in to your account, you will be taken to the Dashboard, which looks like this: 
Let's take a look at the individual courses and how to choose the ones that correspond to your level, experience, and style preferences.
If you are a complete beginner, I recommend starting with Phase 1 – beginner. Here you will find 12 courses for acoustic guitar and 11 courses for electric guitar. They will guide you through the basics of the playing, explain how to change and tune the strings, which guitar to choose, how to play simple chords, the basics of music theory, and so on. In the video lessons, the instructors will explain the details. You can see the guitar from different angles, so you don't have to worry about missing something. Lessons also include pictures of finger positions on the fretboard, tabs, and other materials for a better understanding of the curriculum.
Read also: How Long Does It Take To Learn The Acoustic Guitar?
Phase 2 - Genres & Skills
If you have mastered the first phase for beginners, or have jumped into Jamplay as an intermediate guitarist, you can continue with Phase 2 – Genres & Skills. Jamplay offers online guitar courses in 20 musical styles. Some of them have more content, others less so. For example, if you want to learn how to play the blues, you can choose from 20 different courses. However, Celtic or Hawaiian are represented by only one course. Rock guitar lovers will find 15 courses dedicated to this style in Jamplay. So the offer is rich, just choose the style that is closest to you.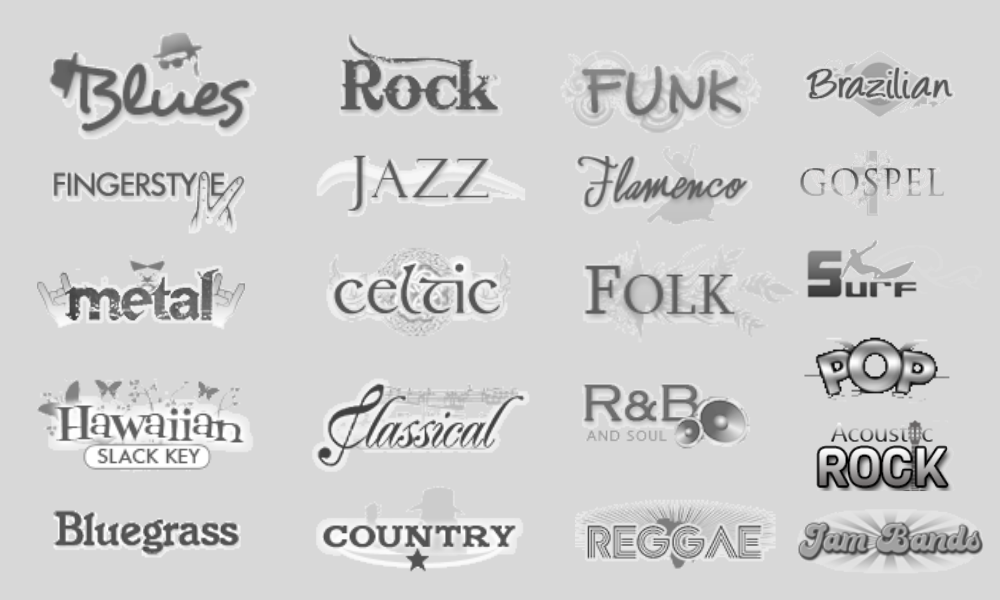 Skill-building lessons focus on improving specific musical skills. You can find here ear training, rhythm exercises, or reading music course. Those who play 12 strings guitar will appreciate lessons focused on this type of instrument. You can also learn how to improvise or sing with a guitar. Rock or metal guitarists can train the speed of playing with a specific course. Instrument care and maintenance will teach you how to take care of your guitar.
All these courses provide practical tips on how to move in guitar technique and train those parts of the playing that are important to you.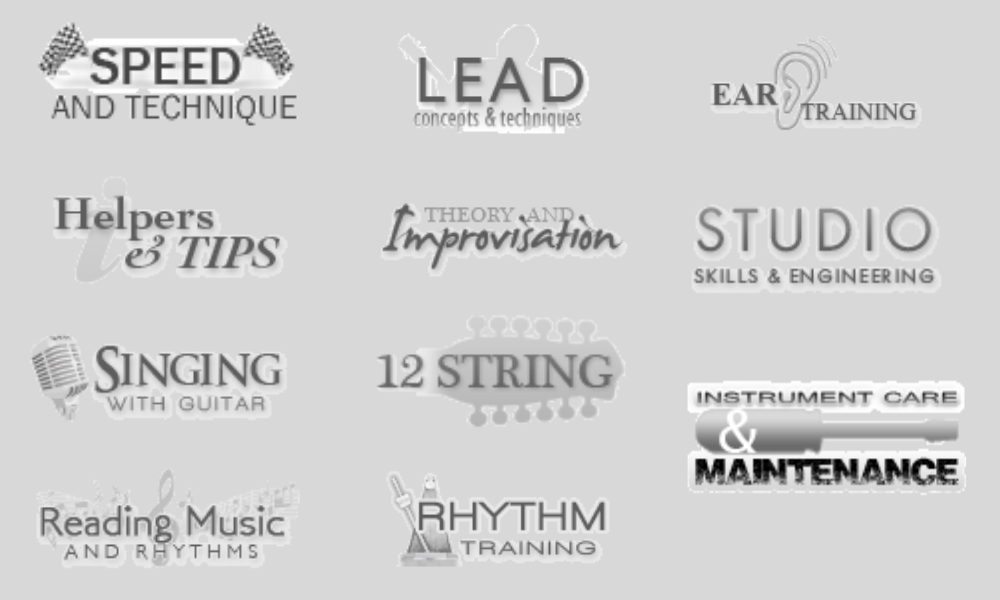 Of course, in addition to acquiring new technical skills, you will also learn to play songs. Jamplay library contains 450+ guitar tutorials that include a song demonstration, and detailed instructions on how to play each part of the song. They regularly add new lessons, so the library is still growing. You can find here a lot of songs from different artists and in different styles. Let's mention, for example, The Beatles, ZZ Top, Machine Head, The Eagles, Dream Theater, James Brown, Billy Idol, Nirvana, Megadeth, and many others.
If you like composing your own songs, you will appreciate courses focused on composing music with an acoustic or electric guitar. A total of 9 courses cover technique and theory regarding songwriting. You will learn how to compose melodies, work with harmony, rhythm and sound.
If you want to work on your improvisation, and technique, take a course from Steve Stevens (Billy Idol) or Dave Weiner (Steve Vai band).However, in this section you will find another 29 courses from top guitarists. These are designed for intermediate and advanced players.
Under the Artist Series you will also find guitar lessons that teach you to play in the style of famous guitarists, such as David Gilmour, Joe Satriani, Jimmi Hendrix, Steve Vai, Carlos Santana, Tommy Emanuel, or Eric Clapton. You will learn the techniques and the way of playing that is characteristic of them.
This library brings you a series of short tutorials on how to play licks and riffs typical of blues, rock, country, jazz and other styles. These are short videos that will help you expand the color, especially of your solo playing and improvisation.
Look Into The Members Area
Now I'm going to show you other categories from the dashboard main menu. 
Here you can see your progress, Jampoints (bonus points rewarding system), your account, friends, and messages. Except for guitar lessons, Jamplay has also a forum, where you can share your experiences, or just communicate with other users.
Many guitarists will appreciate live events in the form of open video discussions with instructors and live courses. If you prefer classical guitar, you will enjoy live courses on how to play the classical repertoire. All events remain in the archive, so you can look back.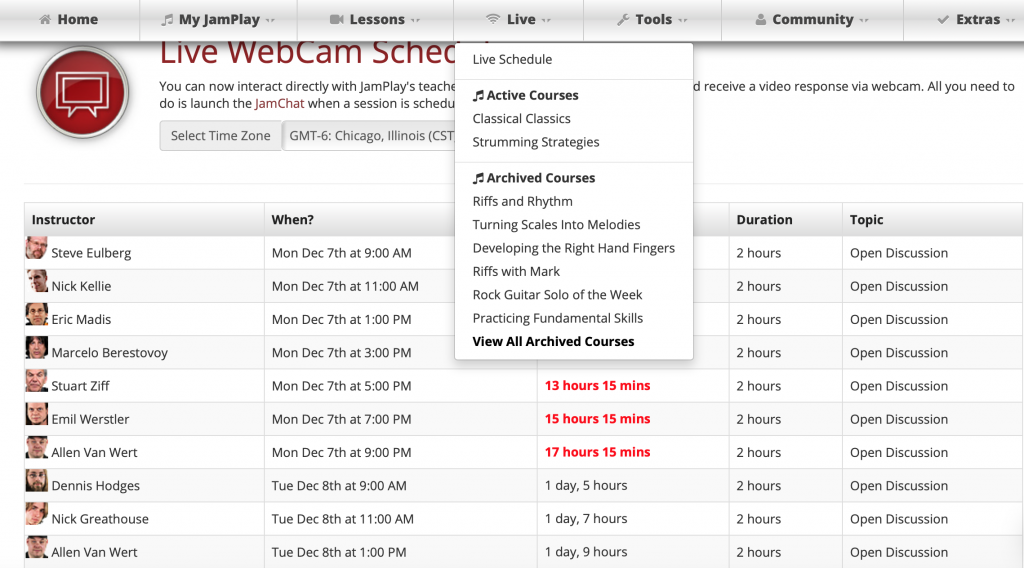 Under this category you will find useful tools that help you with your learning.
Chord library shows you how to play guitar chords. You can add the chords you are just learning  to your chords and have them on hand.
Scale library will teach you how to play major, minor, pentatonic, blues, and other scales you will use while improvising and soloing.
Jamtracks helps you to develop your style of playing. These audio backing tracks are recorded very well and when you play to them, you have the feeling like you are a part of the band.
Other useful features are the metronome, guitar tuner, bass tuner, and training games helping you to memorize music theory in a fun way.
Here you can start to chat with other Jamplay members. You can also find here all the teachers divided according to the type of guitar (acoustic, electric, bass), and to the musical style. In case you have  any question, you can send it to Jamplay staff.  Everyone here is very friendly and responds fairly quickly.
If you want to use Jamplay on your iPhone, check out info about the app. There are also current promotions and giveaways.
How Does The Learning Works?
Now it is time to show you how Jamplay works. When you choose a course you want to walk through it, and pick the lesson, you can start to learn. As I said before, lessons contains 4 angles videos, so you can see very well what the teacher is playing. Under the video, basic functions are helping you to learn properly:
Looper
To practice just selected part of a video lesson, press loop button (with circle arrow) and set the start and the end of the loop. When doing this, I recommend to switch video quality to medium, because of faster buffering.
Slow motion
You can change the original tempo of the video by clicking on the arrows next to the 100%. This feature allows you slowing down the video to 75, 50, or 25%, and you can also speed it up. The combination of looper and slow motion is an effective way on how to study only a selected part of the lesson.
By clicking Supplemental below the video you get to the lesson material. In Interactive category, you will see the sheets with notes, tabs and chords. Go to the end of the sheet and look at an interactive fretboard.
Press play and watch the notes and tones on the fretboard. This tool is great for learning because you can see the finger position and notes at the same time. In playback speed, set the tempo of the exercise being played.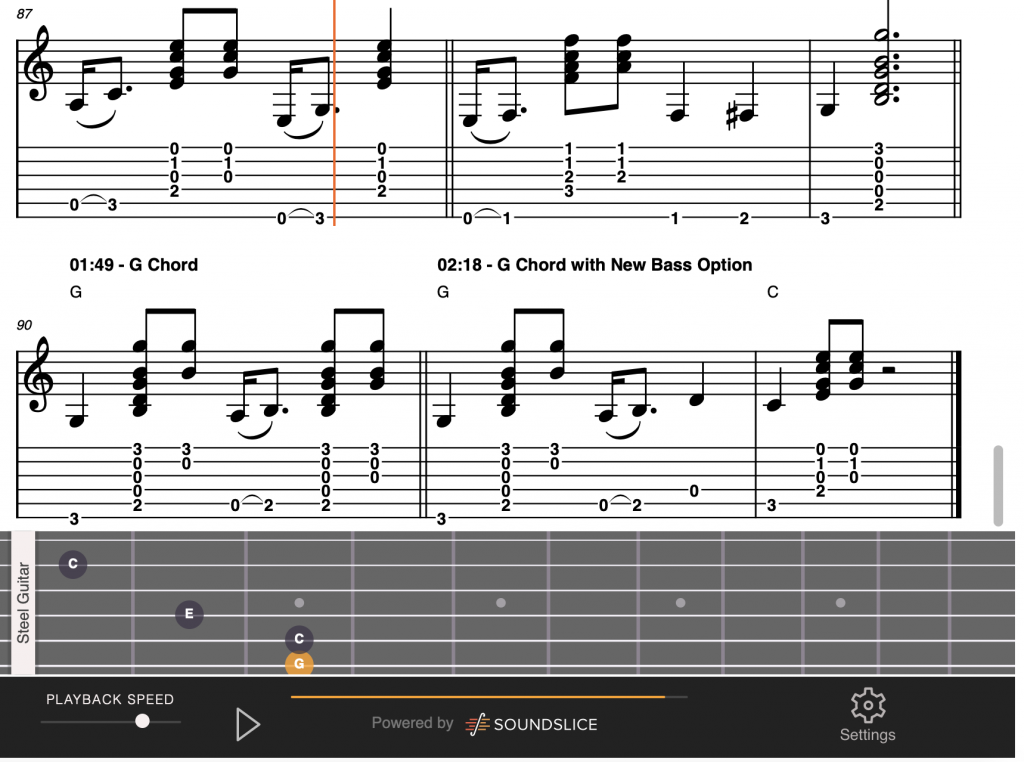 Interactive fretboard in Jamplay
In the settings, you can turn down or increase the volume of the metronome, or change the key of the exercise or song. Notation / Tab category that can be found on the left allows you to choose between Lesson PDF and Lesson material in a GPX file.
GPX files work with Guitar Pro software, which you can buy via Jamplay with a 10% discount and try it for free beforehand.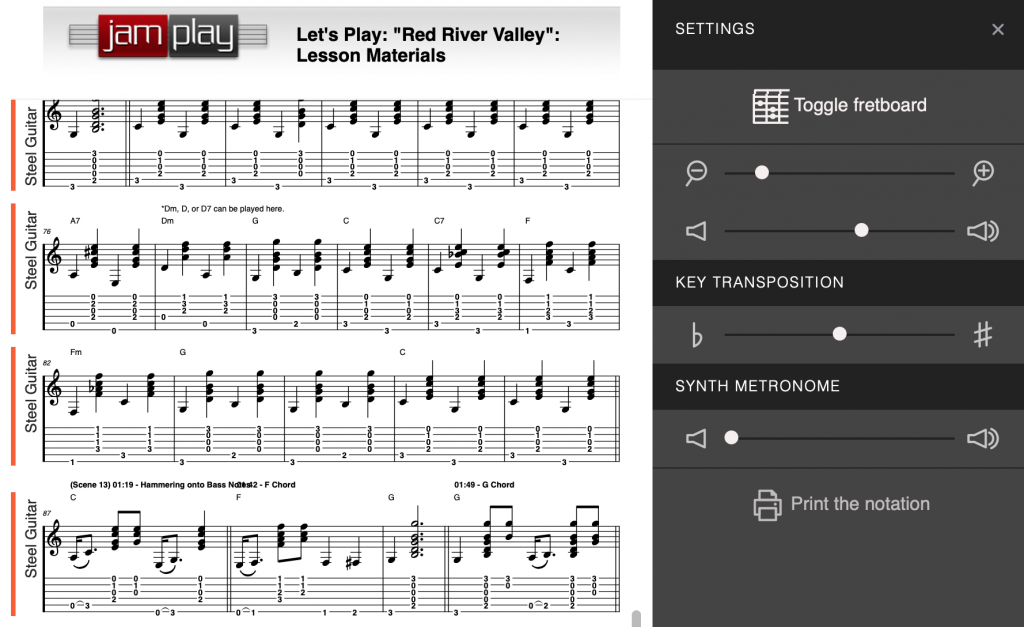 Guitar Pro is a program that displays notes and guitar tabs and includes several interactive features. I recommend downloading it for a better midi guitar sound and more useful features. 
Jamplay Costs And Free Trial
If we are talking about the price, Jamplay is a much more affordable option in comparison to private lessons, for which you pay $20-$70 for 1 lesson. With Jamplay you can take as many lessons as you want and whenever you want. The standard membership offers access to all lessons, artist courses, song library and archives. Year and Year PRO additionally include Guitar toolkits and one-to-one consultation. To see more options of Jamplay discount, click here.
Monthly membership: $19.95
Year standard membership: $99.95
Year PRO membership  $199.95
Jamplay is probably the only guitar teaching platform giving you FREE TRIAL for 30 days. That's a long enough time to see if this way of learning suits you.
You will also have a full 100% Money-back guarantee for all memberships for 7 days.
Jamplay has more than 100 instructors. Each of them has a lot of experience with performing and learning the guitar. Let's mention just some of them:
David J Weiner is best known for his collaboration with the Steve Vai band, with which he recorded and performed. He earned 4 GRAMMY nominations for this work. David has recorded 3 solo albums where you can hear his guitar mastery.
He is a guitarist from the well-known jazz group Snarky Puppy, 3 GRAMMY awards winner. In addition to impressive guitar playing, Mark co-created and arranged songs. As a session guitarist, he played with neo-soul icon Erykah Badu, and gospel singer Anthony Evans. Mark's Jamplay course contains 33 lessons, where he explains many details of his style of play.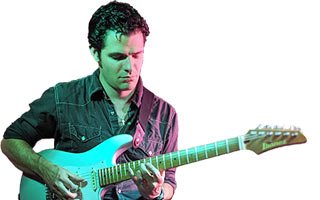 The nickname Bumblefoot is an American guitarist, composer and producer. He was one of the two lead guitarists in Guns and Roses in 2006-2014, and currently, he is a member of the super band Sons of Apollo, along with Billy Sheenean and Mike Portnoy. Ron has recorded 10 albums and a live DVD during his career. In Jamplay you will find his course under the Artist series.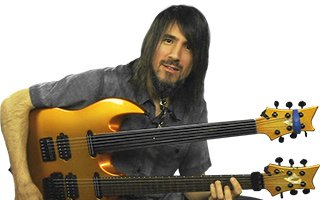 A professional jazz and Latin musician based in NY who has performed with Jim Hall, Joe Lovano, Placido Domingo, John Abercrombie, and many others. Peter worked for Metropolitan Opera in New York City and wrote music for television (ABC, NBC). He also wrote an instructional book, Introducing the Dorian Mode, aimed at improvisation.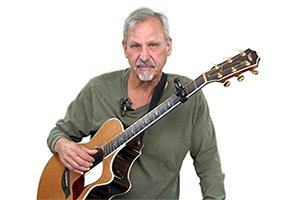 A great guitarist who was named one of the top 30 guitarists in the world under 30 by Acoustic Guitar Magazine. He has won several competitions not only in guitar but also in composition. Graham toured with Donn Ross, one of the most renowned fingerstyle guitarists, and made music for several films.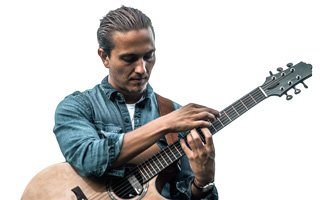 As you can see, Jamplay boasts great instructors known for their specific way of playing. They will lead you on your guitar way and help you to improve your techniques and style of playing.
Jamplay will be beneficial for:
complete beginners
intermediates who want to improve in the playing of a specific style
guitarists who want to learn to improvise
those who want to learn from experienced professional instructors
musicians looking for lessons with good value for money
A large number of quality guitar courses and lessons
Diversity of music styles (20 genres)
Lessons For All skill level
New content added regularly
Live events and bonus lessons
Too many courses can be distracting
Midi guitar sound in interactive lessons
Some styles contain only 1 course
What Do I Think About Jamplay?
Now, I would like to answer the question from the headline of this Jamplay review: Are these online guitar courses worth trying? My answer is absolute Yes! 
I rank Jamplay high at 88% due to the number of courses, their content and video quality, the logic structure of courses, style variability, interactive functions, and high-class  instructors. The few percent downstairs caused me the mentioned disadvantages.
Whether you are a complete beginner, an intermediate or advanced guitarist who wants to know how to play blues, rock, jazz, fingerstyle, or other genre, you will find what you are looking for in Jamplay.
I hope you find this Jamplay review 2021 to be useful. If you want to discover other online courses, browse guitar courses category. Don't hesitate to share your experiences with learning the guitar  in the comment section below the article.