Many beginning guitarists give up private music lessons because they are financially and time-consuming (traveling for class) or have a bad experience with the teacher. Another reasonable alternative is online guitar lessons, which allow you to learn anytime, and anywhere. However, there are also many of them, so it is not easy to choose the best for you.
In my Guitar Tricks review, you will learn why these online guitar courses are among the most popular in 2021, for who they are for, and what sets them apart from similar products such as Jamplay and Truefire. The review will be a bit unconventional. I will start with a summary and evaluation of what I think about these courses as a guitarist playing the guitar for 25 years.
Then, I will continue with the pluses and minuses, and pricing options. You'll learn what Guitar Tricks courses offer, which music styles they cover, and what features will help you learn. In the end, I will briefly introduce alternative online guitar courses.
Disclosure: Since we are a professional review website, this article contains affiliate links that allow us to earn small commissions and give our readers discounts, free trials, or other benefits.
Guitar Tricks Review - My Findings
Guitar Tricks is a learning platform based on video lessons from experienced instructors. Even the first look at the dashboard pleased me with clarity and modern design.
With one click, you can choose between lessons for beginners or advanced. These are logically structured and divided into several levels.
You can choose guitar lessons based on your skill level, preferred music styles, or instructor. Selecting courses according to the type of guitar (acoustic, electric)is not possible.
In addition to acquiring technical skills, you can learn how to play hundreds of specific songs. Detailed video tutorials will help you with that.  You can share your experiences with a large community of students and instructors. Very well-crafted tools for learning chords, scales, tuner, metronome, or fretboard trainer will also help you learn.
The qualities of more than 30 Guitar Tricks instructors are indisputable. These are tutors who have experience not only from the stage but also from pedagogical practice. However, some may fit you more and others less.
Launched: 1998
Founder: Jon Broderick
Lessons: 11 000+
Songs: 1000+
Instructors: 33
Genres: 12
Levels: Beginner, Intermediate, Late intermediate
Users: 3 millions
Language: English
Compatibility: PC/Mac, iOs, Android
Price: Starting at $15/month
Free Trial: 14 days
Money-back guarantee: 60 days
Overall, I think Guitar Tricks is a great online guitar school beneficial mostly for beginners and intermediate players who want to improve in a specific music style. Most of the content is designed for them. Advanced guitarists and professionals, in my opinion, will not find many lessons for this level.
If you want to learn to play acoustic or electric guitar from the ground up, you won't regret it. With quality video lessons, you will learn new things step by step, learn to play guitar lines into hundreds of songs, and gain skills in soloing and improvisation.
Well structured courses and lessons
Video and content quality
A large community of guitarists from around the world 
Jam tracks for rehearsals and improvisations 
Some styles contain a small number of lessons (Rockabilly, Funk and soul, World, Surf)
Interactive features are missing
Not so many lessons for advanced guitarists
The price is proportional to quality and similar to competing products. Guitar Tricks offers 14 Days Free Trial. It's a good opportunity to try these courses for yourself and see if they suit you. Then you can decide between a monthly or annual subscription.
Monthly Plan: $ 19.99/month
Annual Plan: $ 179.99/year ($15.00/month)
The Money-back guarantee is 60 days.
Now I will introduce you to the individual courses. These are divided according to the level of experience, musical style, and type (curriculum, songs).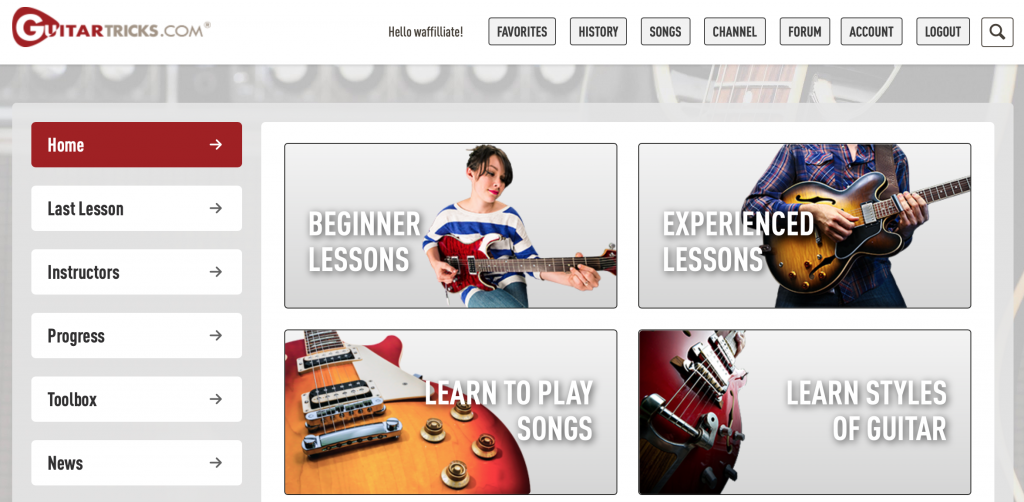 This is how Guitar Tricksdashboard looks like. It has very easy-to-use interface and clean design helping you to find a learning path that meets your skill level and preferences. 
The core learning system for beginners here in Guitar Tricks consists of 2 levels: Guitar fundamentals 1 and 2. The first course contains 28 video lessons divided into 7 chapters. Instructor Lisa McCormick will walk you through the guitar basics, teach you how to tune your guitar, change strings, and play simple chords and melodies. You will learn the difference between major and minor chords, 3/4 and 4/4 bars, and how to play rhythmically with the right hand (strumming patterns).
In the second part, which contains 30 lessons, Lisa will teach you what power chords, barre chords, major and minor scales are and how to use them when playing songs. You will gain the basics of guitar notation and tabs, so you will be able to read them. Completing both basic courses will give you a guitar background on which you can build additional skills. All videos include multi-angle guitar shots, so you'll see in detail what and how to play.
Courses for intermediate guitarists who have gone through the basics are divided by genre. You can choose between these:
Blues
Country
Rock
Acoustic style
All these categories again contain 2 levels. The first deals with the basics of stylish play, familiar riffs, and techniques.
For example, Blues style level 1 includes lessons focused on 12 bar blues, chord voicing, rhythms and groove, and timing. In level 2 you will learn the blues scale and how to use it for soloing and improvisation. You will also find out what is characteristic of the style of famous blues guitarists and substyles (Delta blues, New Orleans blues, Jazz blues,…). There are also lessons on playing technique and proper practice.
Courses for other genres have a similar structure. Rock style courses are designed for electric guitar. They include new skills and playing techniques such as hammer-ons, pull-offs, vibrato, guitar riffs, and the use of guitar effects. Overall, even experienced lessons are suitable for late beginners and intermediate guitarists. Experienced guitarists will not find many lessons designed for them level.
The core learning system is logically structured and designed to help you find the starting point.
In addition to going through the core learning system, you can learn to play songs that match your level. Guitar Tricks contains 1000+ detailed video tutorials teaching you how to play guitar lines and riffs from famous songs. You can select them by difficulty, author, song titles, or style.
In addition to folk, blues, and pop songs, you will find here many rock hits, metal pieces as well as jazz standards. Guitar Tricks also divided the song library into thematic collections (80s hair metal, leading ladies modern classic hits, classic blues rock, and others). If you want to learn popular riffs and guitar licks, check out the Famous riffs category.
Each song tutorial contains several lessons focused on specific parts of the song, so you will learn it gradually.
Related Article: How To Learn A Song On Guitar? Follow These 5 Steps!
Genres Covered By Guitar Tricks
Guitar Tricks includes courses and songs in twelve styles: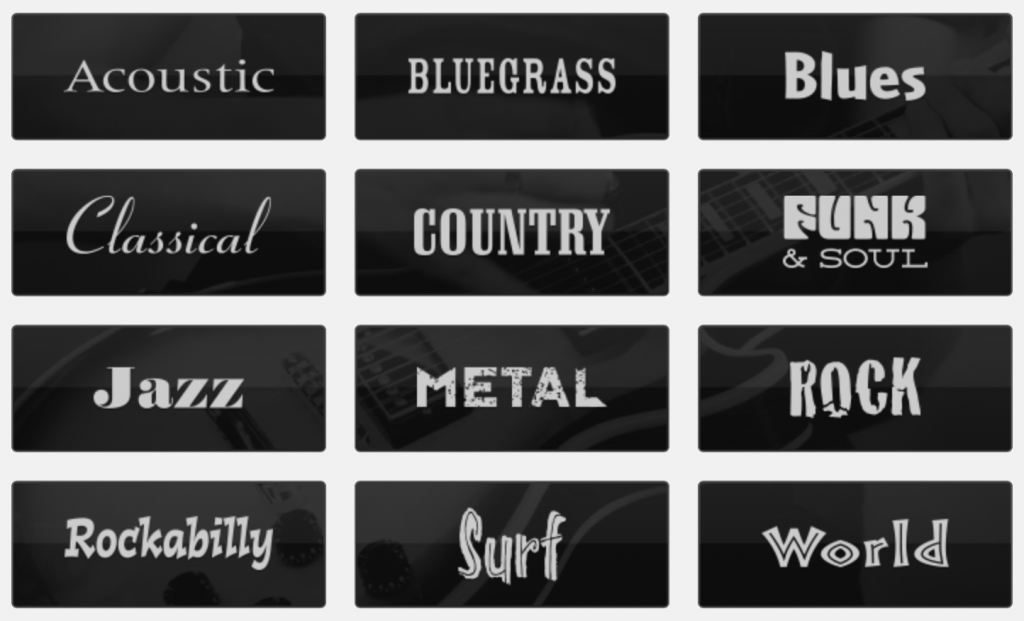 In terms of the number of lessons, the richest are represented: Acoustic, Blues, Classical, and Rock. Genres like Jazz, Country, Metal, and Bluegrass have less content. The least guitar lessons include Funk and Soul, Surf (only 1 lesson), and World (4 lessons).
I think this is one of the factors that are important when deciding whether to learn with Guitar Tricks. For example, if you are an intermediate jazz guitarist, you will find better and more varied courses than Guitar Tricks. The same applies to guitarists who want to learn funk and soul.
On the other hand, rockers, bluesmen, and folk-country guitarists will get their money's worth here. I was surprised by the number of lessons for classical music. They are led by Christopher Schlegel, who, in addition to the technique typical of classical guitar, has also prepared several interesting studies on how to play compositions by Bach, Strauss, Dvorak, Debussy, and other classical composers.
As I said, the learning system here is based on video lessons. Each of them contains a description, lyrics (for songs), and sheet. In the Tutorial content, you can see what lessons the course (or song tutorial) has. Guitar Tricks has automatic progress tracking, so you always see what percentage of which lesson you completed. You can also mark it as completed manually. If you prefer offline practicing, download the lessons you want.
The videos are shot from 4 angles, so you can see the position of the right and left hand very well. Several functions will also help you to exercise more effectively:
Play videos a third or a half slower or twice as fast. Practicing in slower tempo is very important when it comes to learning a musical instrument.
Set the beginning and end of the loop you want to practice. You will use this function, especially when practicing faster passages.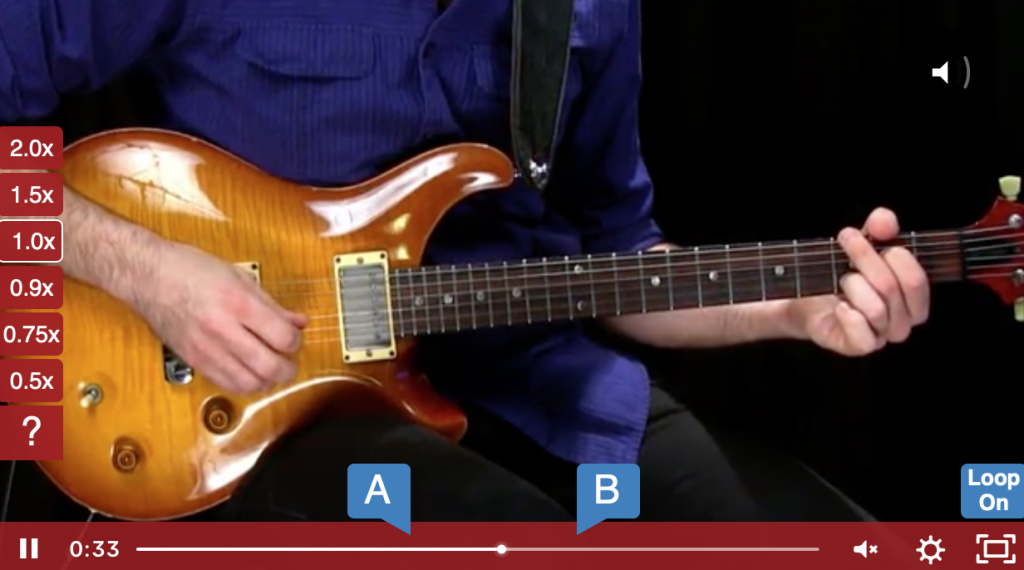 Use slow-motion and looper function to practice even more effectively.
The combination of a looper with slow-motion is a great way to practice technical exercises as well as songs. Video quality is set automatically, but you can change it by clicking the settings icon. The maximum resolution is 720p.
Others Categories From The Dashboard

You can add videos to your favorites. It gives you quick access to them directly in the dashboard.
Here you can view your previous activity and return to lessons that you have either completed or not yet.
This category contains additional lessons, reports from music trade shows, and videos on various guitar topics. Each video is assigned a musical style and difficulty from 1 to 5, and an author.
In the Guitar Tricks forum, you will find an endless number of topics, questions, and posts on various guitar topics. You can get involved in the debates that interest you.
Let's take a closer look at the tools to help you learn the guitar. I have to say that these in Guitar tricks are well made.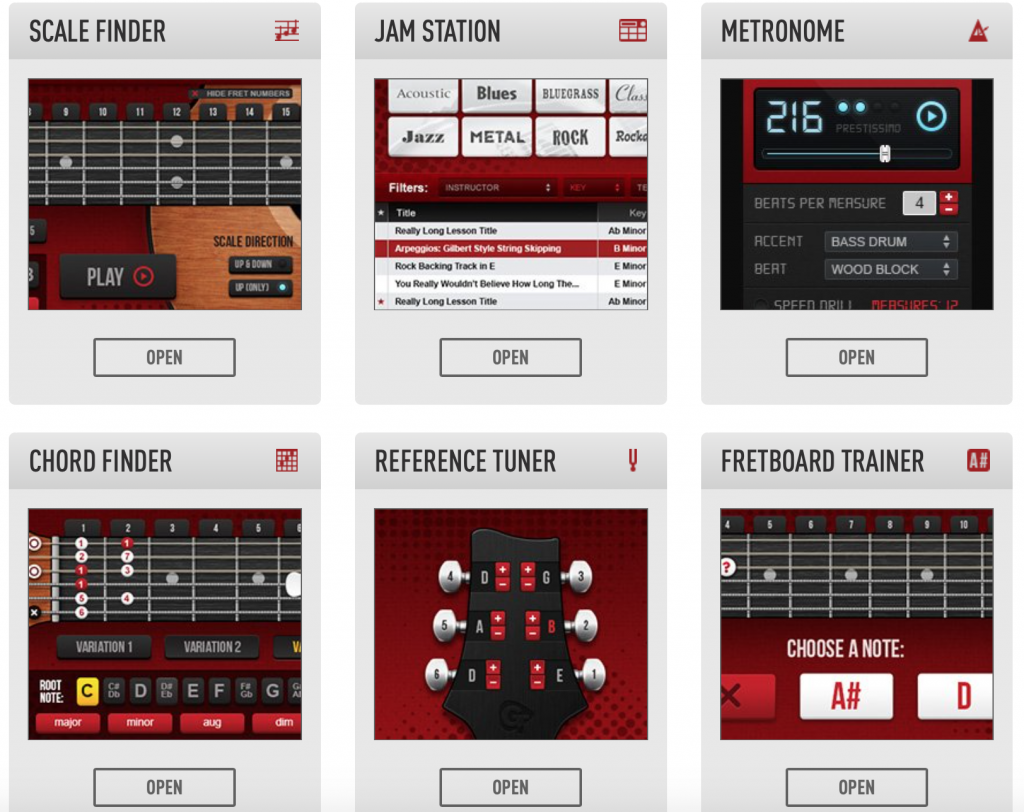 One part of Guitar Tricks Toolbox
It will show you and play the scale you choose on the virtual fretboard. You can easily practice major, minor, pentatonic, blues, and many other scales accordingly. Cool thing 🙂
Jam Station offers a great opportunity to learn how to create your solos and improvise. They are recorded by top musicians and in various musical styles. Playing these backing tracks brings a lot of fun and trains creativity.
Chord Charts And Chord Finder
These are tools to help you locate different guitar chords. Of course, you can also search for them on the Internet, but it is much more practical to have them all on hand.
This tutorial will teach you on how to read and play guitar tabs. It contains a video and a detailed description, which show in detail how the guitar notation works and how to play according to it.
Metronome and tuner belong to the equipment of every music student. In addition to the classic virtual guitar tuner, you will also find here a reference tuner designed for alternative tunings.
For a complete list of Guitar Tricks instructors, see the dashboard in the menu on the left.
Many of them have education from prestigious music schools and many years of experience in live playing and concerts. Most Guitar Tricks tutors specialize in a specific music genre, so they can teach you nuances and playing techniques characterized by the genre.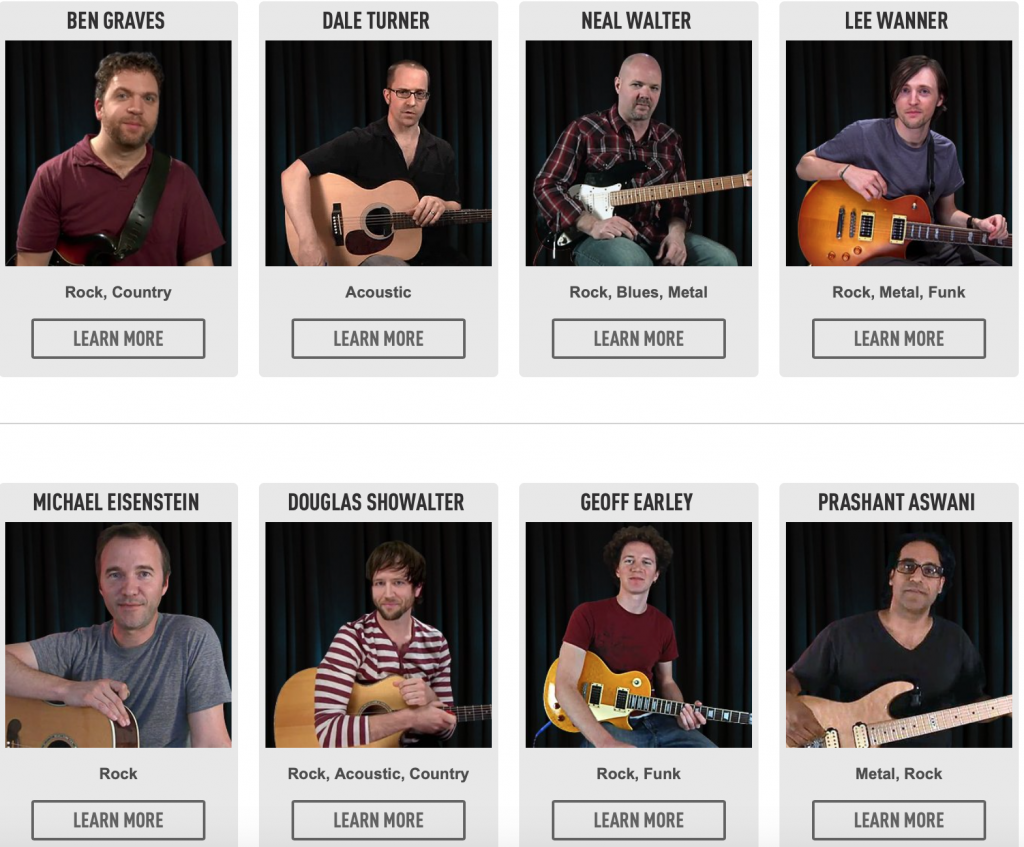 Guitar Tricks has 33 experienced teachers
You can take private online lessons with Guitar Tricks instructors if you want.
1 on 1 lesson can be very helpful in case of solving some specific problems with the technique. Thanks to the personal contact with an experienced teacher, you can take your guitar playing to the next level. These lessons are not part of the membership, but their price will not ruin you ($40 for 30min).
Guitar Tricks Vs. Jamplay
Jamplay is a similar product to Guitar Tricks. It also contains many guitar courses and lessons in various genres. At Jamplay, I like Artists series courses from top guitarists, which will be appreciated especially by advanced musicians. Unlike Guitar Tricks, Jamplay also offers interactive lessons where you see what the instructor is playing on the interactive fretboard. You will also find lessons focused on specific skills such as rhythm training, singing with guitar, or studio skills.
Guitar Tricks has a very simple interface where everything is clear and well-arranged. That's why I think it will be easier for beginners to start with Guitar Tricks. On the other hand, if you are an intermediate guitarist who aims to learn to play a specific style, Jamplay may be more interesting for you. If you want to know more about it, read my Jamplay full review.
Guitar Tricks Vs. Truefire
Truefire offers the most extensive content among these three sites. With its 40,000 lessons divided into 800 courses and more than 200 instructors, it covers all levels and many styles. However, it has a relatively complicated interface, and especially complete beginners can be disturbed by many possibilities.
At Truefire, I like several courses from the top guitarists in their genre. I can mention, for example, a fingerstyle with Tommy Emmanuel, or a master jazz course by Pat Martino. Truefire also has the best interactive learning options. On the other hand, I think that the looper function and slow-motion in Guitar Tricks are sufficient for learning.
Choosing between Guitar Tricks, Jamplay, and Truefire is very challenging. All three contain high-quality lessons for beginners and intermediate guitarists. You will also find useful tools to help you learn scales, chords, playing specific styles, guitar licks, or improvisation. Therefore, I think the best way is to simply try a free trial of all three sites and then decide based on intuition and personal preferences.
Is Guitar Tricks Worth Trying?
I hope that after reading this Guitar Tricks review, you have learned enough about these guitar courses to be able to answer this question. I can recommend this product especially for beginners and late beginners who are looking for reliable lessons that will teach them basic skills with having fun.
Also, intermediate guitarists who want to learn to play blues, rock, acoustic, classical music, or rockabilly, can find here many benefits. For those who prefer metal, soul, or jazz, I would recommend looking at other courses. Overall, I think Guitar Tricks is a great product that can deliver on its promises. If you are interested in other ways to learn to play guitar online, see the guitar lessons category on our website.