When it comes to learning the piano, many people can't decide which way will be the best and most effective for them. Some prefer private lessons with a piano teacher, others try to find a quality online course for learning at home. If you belong to the second group, this article is for you. In this Q&A Pianoforall review, I do my best to answer 12 common questions about this piano course. You are going to figure out whether it can be the best friend on your musical journey, or if there are better ones in 2023.
Pianoforall belongs to the most discussed piano course across the beginner community. Because of many misunderstandings, unanswered questions, and different opinions, I decided to make this deep Pianoforall review based on my experiences as a piano teacher, a musician with a music composition and music theory degree, and a keyboard player in professional bands. Much information you will get here is based only on my opinion and experiences.
In the end, you should be able to figure out whether Pianoforall can help you learn to play the piano. If you will still have a question, or you want to share your experiences with Pianoforall, let your comment under this article, I will be very glad:) And now, let's jump into it!

Pianoforall is an online program for learning the piano. It contains 9 E-books with video lessons, text, piano sheets and keyboard diagrams, pictures, and audio files. The instructor – Robin Hall, teaches the piano in a very practical way. 
Thanks to the method "play now, understand later" you will play real music practically from the beginning. Pianoforall works on desktop (Mac, PC) and all mobile devices (iOs, Android). Once you buy the lifetime access, you can download all E-books to your device.
Founder: Robin Hall
Content: 9 interactive E-books
Video lessons: 200+
Audio lessons: 500+
Users: 300 000+
Compatibility: Mac, PC, iOs, Android
2. What Makes Pianoforall Different From Other Piano Lessons?
The reason why many people can make progress faster with Pianoforall is a different teaching approach. Many skills and knowledge are explained visually, with shapes, and alternative notation.
As I understand this piano course, the goal is to teach you how to play popular songs just with chord marks. This is, actually, the dream of many beginners. To play any song just according to the chords and lyrics downloaded from the internet. Pianoforall can help you with this, and that's why it is so popular. 
3. Why The Hype Around It?
Before preparing this Pianoforall review, I checked out several forums, where people share good and bad experiences. I have also read other Pianoforall reviews to know what other pianists and musicians think about it. I think now I understand why this course is so discussed both in a good and a bad way. 
The producer claims, that the product is designed for all people who want to learn to play the piano at home (Thet's why the name: Piano For All). It doesn't matter your age or skill level. Well, I think it is not the whole truth. Thanks to the false expectations, many people are disappointed after buying this course. Now I want to explain who is it actually for (in my opinion) and in the following chapters of this Pianoforall review, you understand the reasons.
The answer is NO! By understanding the target group of Pianoforall, you can avoid disappointment and a money refund. These are my findings about who can benefit from this piano course, and, on the contrary, who should look for some other source of learning.
complete beginners

adults (and maybe teens)

those who want to learn to play songs by chords

hobby pianists who don't have the ambition to play like PRO

those who prefer pop, blues, and jazz before classical music

beginning musicians who prefer playing by ear

those who want to know how to play piano accompaniment to many songs

people preferring learning with practical tutorials

all who wants to know how to play basic songs in a short time 
intermediate and advanced pianists

children 

those who expect a classical way of learning

people preferring classical music

those who have private piano lessons with a teacher

pianists with the higher ambitions 

those looking for a comprehensive piano course for years
I hope, now it is much more clear. Pianoforall is a great option for hobby pianists who want to learn to play songs by chords. You will start to play music from the beginning, and learn theoretical knowledge very "practically".
But If you belong to the second group, and expect a classical way of learning and classical repertoire, I think you can find much better online piano courses, such as Artistworks, Tonebase, or Piano Marvel app.
5. How Can Pianoforall Teach You To Play The Piano?
In this part of Pianoforall review, I want to explain the process of learning, which is actually, very easy and smooth. Pianoforall contains 9 Ebooks with 250+ video lessons, PDF, and over 500 audio files. As a complete beginner, you proceed from book one and continue in order.
Every lesson starts with a video, where Robin Hall (your teacher) explains new knowledge and skills in a very practical way. Text will explain some other details and every lesson usually ends with another video showing what and how to practice. As I said before, one of the biggest benefits of this way of learning is that YOU PLAY REAL MUSIC FROM THE BEGINNING. Most lessons contain audio files with a piano sheet, which is great for practicing.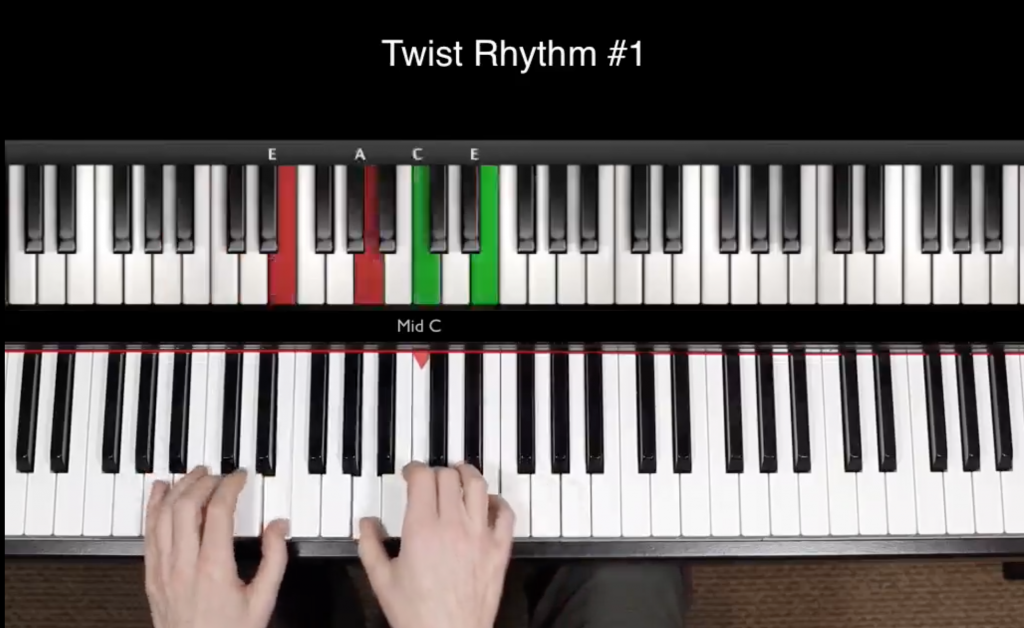 All videos contain interactive keyboard showing you tones in two colors. 
6. How Much Does Pianoforall Cost?
The price-performance ratio is one of the biggest pluses of Pianoforall. The whole course costs you $39 for a lifetime.
For this price, you can take 1, max 2 online private lessons with a piano teacher. Or you can have some piano learning apps for 2, maximally 3 months.
The best online piano course websites will charge you approx. $30 / 1 month. As you can see, the price is very affordable when considering lifetime access.
7. What Do you Need For Learning?
Except for enthusiasm and passion for the piano, you will need:
1. Computer, tablet, or mobile phone
Windows/PC/Android

 (you will need to install the KOTOBEE READER app)

Mac/iPad/iPhone

 (You can open all Pianoforall E-books in BOOKS APP, which is pre-installed on every iOs device)
2. Acoustic or digital piano
When choosing a digital keyboard for a beginner, I strongly recommend using an instrument with full-weight keys (similar touch to an acoustic piano). Keyboards with semi-weight or non-weight keys will extremely limit the hand technique, dynamic and shouldn't be used for beginners.
Robin Hall is a respected piano teacher and founder of Pianoforall. His method is based on a chordal system that allows beginners to play the piano from the beginning. Most other piano programs are focused on sight-reading and playing from notes which can be discouraging for many people who just started to learn.
Pianoforall is a practical tutorial on how to play songs by ear and using chord marks and melody. Thanks to this approach, piano newbies can learn to play their favorite songs relatively fast. Robin Hall's piano courses can be also found on Udemy or as a book.
9. What is Inside Of Pianoforall?
Now I would like to show you the content in detail. The structure is very simple, you just download all 9 interactive e-books, or one by one, as you want. As you proceed, you learn more and more advancing things in a very logical and practical way.
At the beginning, you will start to learn how to navigate on a keyboard, the C note position, what are octaves, and how to find other tones on the keyboard. 
As I said before, you will play music from the beginning, so you discover basic chords and rhythmical patterns by playing them. In this book, there are used 3 ways of notation and Robin explains why the traditional notation is the easiest one.
What I like about the Party Time book is, that all the basic theory and knowledge is explained visually. Short video lessons are explained in detail in text and audio files help to practice what you have learned. Except for chords and notes, you will learn basic rhythms, twists, bossa nova, and play parts of songs like Imagine, or Amazing Grace.
Blues & Rock And Roll (Book #2)
Blues is a good music style to learn for beginners, because of fewer chords and easy structure. Video lessons show you how to play 12 bar blues and several ways on how to play left and right hand. You will discover shuffle and Boogie rhythm, and major 7th chords typical for this genre.
At the end of each lesson, you will find several song examples where you can use the same pattern you have learned. The whole Pianoforall method leads you to the ability to play any song you want from chord marks.
When you master the basic chords, it is time to move on to other chords. Lessons from this book are focused on all 24 minor and major chords. Knowing all these chords will open you the door to thousands of songs you want to play.
Except for basic chord shapes, Robin Hall will explain chord inversions and the effective way of their practice. You will also understand the cycle of fifths and the relations between chords.
Advanced Chords (Book #4)
This book contains tutorials on how to play diminished, 9, 11, and cluster chords. All these can embellish your playing and make it more colorful. I find it very useful because when playing pop music on the piano, you can't avoid these chords.
Robin Hall explains how to memorize diminished chords by knowing their geometric shape on the keyboard. He also talks about practicing chord progressions. When finishing these two books about chords, you should be able to play thousands of pop songs just from the chord marks.
If you want to play slow piano songs, this book will show you how to do it. It contains several left-hand patterns and a process of creating melodies. You will learn how to improvise on a pentatonic scale, which is commonly used in popular music.
While previous books have taught you to play piano accompaniment to any song, this series of lessons will show you how to play chords + melody in the right hand. Thanks to many examples, you can practice this technique very effectively. In the end, you can learn some famous Christmas songs.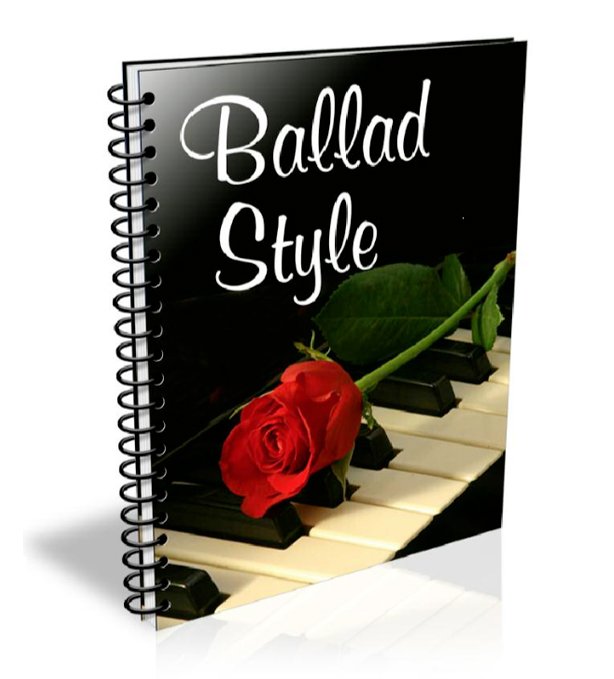 All That Jazz (Book #6a and #6b)
These two books are focused on basic jazz progressions and chords that will spice up your playing. All That Jazz Book 1 starts with blues because that is the basis from which jazz music came. Robin will show you how to play and improvise in the blues scale. You will learn several piano riffs that are great to use in a solo.
The second e-book brings video lessons about two-handed comping, Latin twist, and other rhythmical patterns. You will learn how to use descending bass lines, quartal harmony, and chordal fragments while playing the piano.
Discovering 7th, 9th, and 13th extended chords will bring new colors and a jazzy feel to your game. The book also contains several ways on how to practice these chords through two octaves and improve your technique.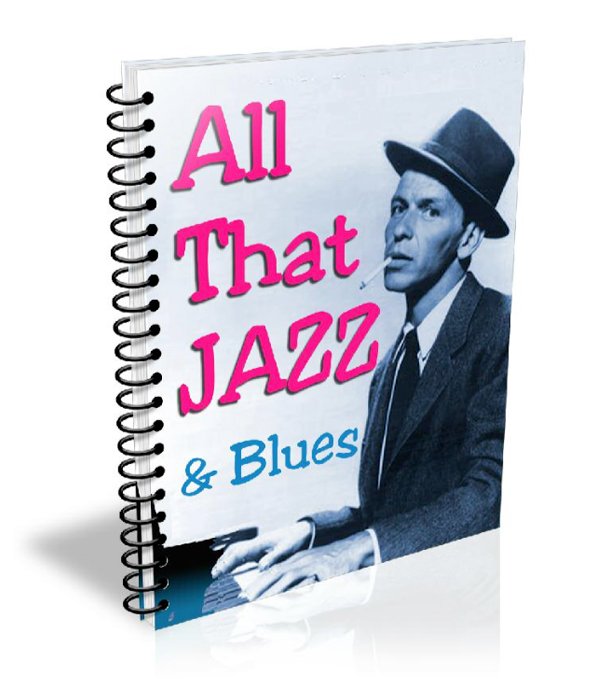 This chapter starts with a recap of book 2. You will build on the basic skills you learned about the blues. Except for other blues forms and styles of playing (12/8 shuffle, double, and triplet shuffle mix), you can master right-hand chord riffs, and techniques typical for blues: slide, and tremolo.
Up to now, all learning materials were in the C key.  Now you start to play blues in F and G. The book brings a detailed piano tutorial for a famous blues song by Scott Joplin called Entertainer.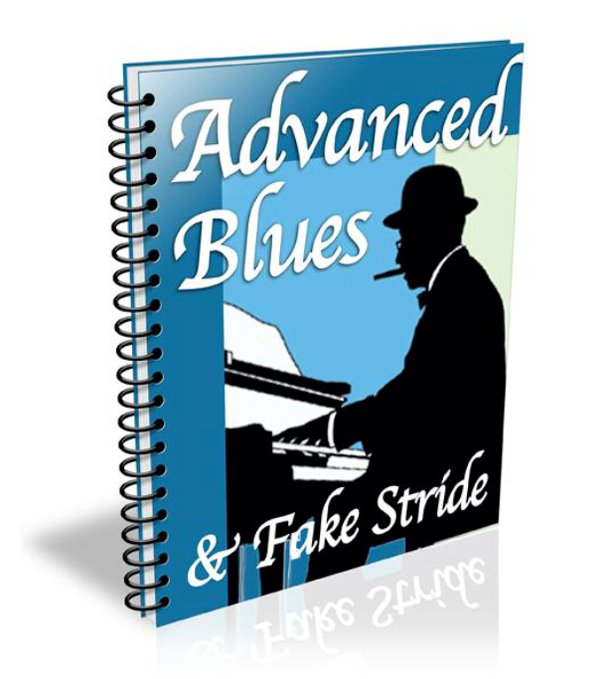 Taming The Classics (Book #8)
Pianoforall is not a course focused on classical piano, so only 1 e-book deals with this topic. However, it is very important in terms of gaining new knowledge about music theory, such as notation symbols, key signatures, dynamics, or tempo designations. In addition to theoretical knowledge, you can learn to play several classical piano compositions, for example:
L.Beethowen: Fur Elise, Moonlight sonata
J.S.Bach: Prelude nr.1, Minuet and G
F.Chopin: Waltz in A minor
R.Strauss: Blue Danube
J.Brahms: Hungarian Dance
E.Satie: Gymnopedie
… and many others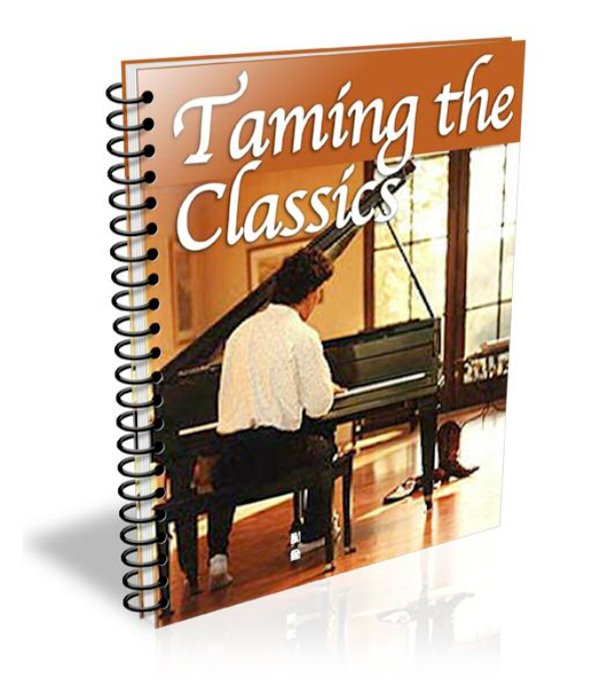 The last book is actually one of the most important ones. While you played only songs in C, F, G, now you are going to learn all keys. I think this book should be placed somewhere in the middle because it is important to understand how the relation between tones, chords, and keys works.
Anyway, the Speed learning book is not about playing the piano fast, but it brings practical video tutorials on how to practice scales in every key. Robin also adds some tricks for memorizing sharp and flat scales. Except for major and minor scales, you can train diminished and whole-tone scale.
To make your fingers more flexible, try to do piano workouts focused on chord arpeggios and melodic patterns. All these exercises are here in any key.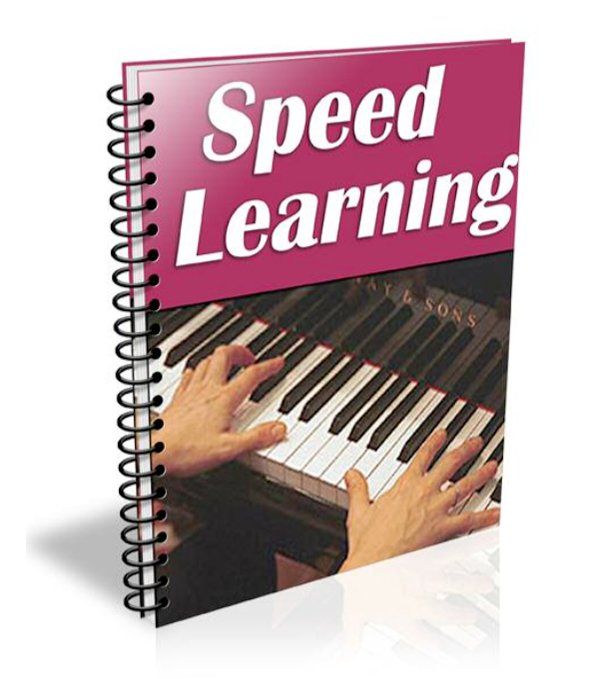 10. What Are Benefits And Disadvantages Of Pianoforall?
As I said, Pianoforall is a little better I was expected. But is it the best online piano lesson program? Not at all! It is a very reasonable and affordable option for adult pianists, who want to learn how to play popular songs by chords. And that's it! Pianoforall offers a practical tutorial on how to play piano accompaniment for a singer (or for yourself), and the basics of improvisation. If you expect classical music lessons or a classical way of learning, you can be disappointed!
The learning process can be described as "play now, understand later". It means, Pianoforall is very practical, and the theory is behind the playing. I like some visual aids to help you remember shapes of chords and other things. The music theory is explained very understandably, even many things are missing.
To make this Pianoforall review honest and complete, I also want to talk about minuses. The content is quite limited and oriented to beginners, but to be honest, what do you expect from a course for 40 bucks? The e-book system doesn't allow you to interact with the material (MIDI), or with the instructor. There is no library and repertoire you can choose from. There are no video functions, like slow motion, or looper.
What I don't understand is, why the Speed learning book is the last one. This book contains an explanation of relations between tones, and keys. Knowing sharp and flat scales is, in my opinion, a basis you should learn at the beginning. So I recommend starting learning this book before book number 4, or 5.
you can also have reservations about the design. Well, it works as a series of E-books, so don't expect some cool interface and modern design. This is one of the reasons, why I don't recommend Pianoforall for children and teens.
Playing music from the beginning
Music theory explained practically
Chord-based method of learning
Good for hobby pianists who want to learn to play at home
60-day money-back guarantee
Only for complete beginners
Not good for learning  classical piano music
Several important knowledge is missing
Very simple interface and no interactive functions
11. Is Pianoforall Any Good?
In case, you are an adult piano beginner, who wants to learn to play popular songs on the piano, just from a sheet with chords and lyrics, the answer is YES. In any other case, try something else. Anyway, even if you won't like Pianoforall after buying, you can sleep safely. The 60-day money-back guarantee works and gives you a chance to try it actually for free.
12. How Long Does It Take To Sound Good?
I am not a fan of piano lessons products saying that you will play great in one week or month. It is not what gonna happen! Learning the piano is a long-run process and the progress depends on many factors.
The learning material is just one of them. Imagine this: Somebody tells you, that can teach you to speak Chinese in one month. Are you going to believe him? Well, probably not:) Learning a musical instrument is quite similar to learning a foreign language. You can learn basic phrases in a short time, but a more comprehensive understanding takes time.
Anyway, Pianoforall is designed to teach you the piano very practically, so you can play easy songs in a relatively short time. I know it works because the "chordal thinking" behind this method is used by many professional keyboardists in popular genres.
I hope, you find my Pianoforall review useful. At firsts, I tried to tell you the most important info, which is: It is good, but not for everybody. Now you know what can this online piano course do for you and what you can expect.
In case you have some questions, please, don't hesitate to let your comment under the article. If you will decide to try Pianoforall, I wish you good luck and fun:). In case you are not sure, check the article: 11 Best Online Piano Courses For Adults in 2020. where you can discover other piano lessons and compare them to Pianoforall. Thanks for reading!
I give Pianoforall 86%, but only for complete beginners, who want to learn to play popular songs by chords.
For everybody else, I recommend looking after other piano lessons.