I wrote this Piano Marvel review mainly for those who want to learn the piano at home and piano students searching for an affordable option on how to practice effectively.
Modern applications and software for learning the piano have created an interesting alternative to traditional piano lessons with a teacher. Instead of taking piano lessons, you simply turn on the computer at home, connect it to your keyboard, turn on the application, and you can learn to play. One such program is Piano Marvel, which is used in many homes and music schools around the world. These interactive lessons promise up to 4 times faster progress due to the learning method used.
>> Click To Discover Best 11 Ways To Learn The Piano For Adults <<
Piano Marvel Review Summary
In my honest Piano Marvel review, you will learn:
How this piano learning software work
For whom is it intended
What are advantages and disadvantages
What the song library contains
How do all interactive functions work
What are pricing options
Is it the best app for piano teachers
I hope you will find here all information you need for making your own opinion about this piano program.
This article contains affiliate links. This means that if you decide to purchase a paid version of the product through my link, I will receive a small commission. However, the price for you remains the same! This helps me to create more content on this site and when you do, thank you in advance 🙂
Placing of these links does not affect my judgment of this product. All opinions that I am going to present in this review (whether positive or negative) are a result of my experiences with using and testing of the product.
Name: Piano Marvel
Founder: Heidi and Aaron Garner
Objective: Interactive piano learning system
Language: English
Compatibility: PC/Mac, iPad
Skill level: Beginners, Intermediate, Advanced
Lessons: 1200+ (Paid version)
Song library: 2000+ (Paid version)
Main features: 3 practice modes, sight-reading tests, advanced reporting
Price: Free Account $0 for 1 month, Monthly subscription $ 15.99 / MONTH, Annual subscription $ 110.99 / YEAR
Piano Marvel is an advanced piano learning software created by professional teachers. You can use it with a PC, Mac, or iPad. It contains many useful features that streamline exercise and motivate you to achieve goals faster. It is a paid program, but you can try it for free (1 month).
The learning is based on a combination of exercises focused on technique, music theory, sight-reading, and a library with thousands of songs of different styles.
3 exercise modes fasten the learning process and the trophy reward system keeps you motivated. While playing your chosen exercise or song, Piano Marvel will show you how many right and wrong notes you have played.
Piano Marvel app provides 2 uses: Book mode for acoustic piano and Assessment mode for a digital piano. Before introducing all the possibilities and ways of exercising, let's say who Piano Marvel is for.
Who Is This Piano Learning Software For?
This software is designed for everyone who wants to learn to play the piano, but especially for:
beginners, intermediates, advanced hobby pianists
children, but practicing with adult person or teacher
music teachers, schools
One of the things that distinguish Piano Marvel from similar piano learning applications and learning software is its broader focus. Most similar apps, although they also contain advanced lessons, are 90% aimed at beginners. In Piano Marvel, you will find also many exercises and compositions for experienced pianists.
Piano Marvel is not as user-friendly as some other learning piano software (for example Flowkey, or Playground Session). That's why I would not recommend Piano Marvel for children. However, if a parent or teacher practices with them, it can be a great solution. For piano teachers this software gives many options to make teaching more interesting and engaging. Piano Marvel app also provides some specific opportunities for schools, which we'll talk about later.
Note: Piano Marvel does not include comprehensive courses that will tell you exactly what and when to practice. Therefore, it can be a bit confusing for individuals. If you want to learn on your own without a teacher, you need to create your own exercise system.
Registering on the Piano Marvel website is easy. After entering your basic data you will receive an e-mail with a confirmation link that redirects you to your account . This will take you to the Dashboard.
To use the software successfully, you must first install your keyboard. The instructional video, which you will find in the VIDEOS – SETUP – MIDI INSTRUMENT SETUP menu, will help you with this.
1. Connect the keyboard to your PC, Mac, or iPad with a MIDI cable.
2. In the Menu in the upper left corner of INSTRUMENT SETTING, select the instrument (piano) and the name of your keyboard in the menu (SELECT MIDI DEVICE).
3. If the emblem (which resembles a wifi icon) is lit while you are playing, your keyboard is installed correctly. If you can't hear it, adjust the piano volume on the right (ENABLE VIRTUAL PIANO). I have it set to 75%, then I can hear well what I'm playing as well as the backing sounds and metronome.
Note: If a window pops up saying you need a plugin, you can do so very easily. Click download and then double-click the downloaded file. The company's support will help you with any installation problems (Click support in the Menu).
Piano Marvel Review: How Does It Work?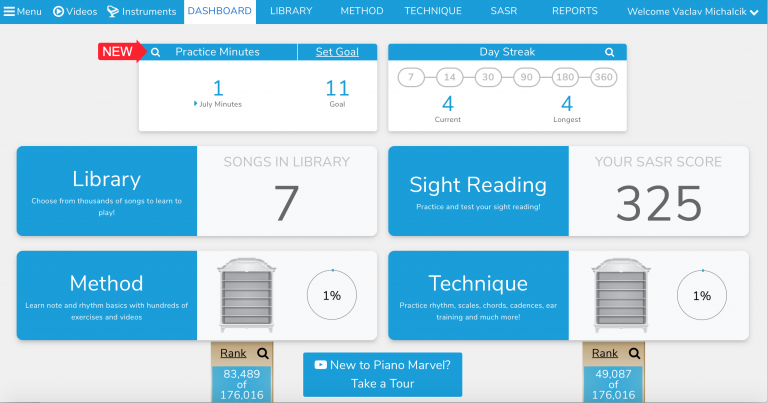 After logging in to your account, you will be taken to your dashboard. At the top, you can see the number of minutes you practiced in a given month and how many goals you have achieved (if you have set goals, we will talk about that later).
Day streak is a report showing you your longest and current day streak as well as your rank position among other piano marvel users. This feature can be for some pianists motivating, but it seems to be useful especially for teachers. They can show students their progress and encourage them to keep practicing. 
In the middle of the Dashboard, you see 4 basic categories of content: Library, Technique, Sight reading, and Method. Next to them, you are shown either the percentage of exercises you have already mastered (Technique, Method), the number of favorite songs (Library), and your SASR score (Sight reading). Let's talk more about the individual categories now.
As the name suggests, this is a library of songs. The selection is really rich, you will find hundreds of classical solo songs for piano, popular songs, jazz songs, a series of exercises, anthems, and film music. As you can see from the picture, each level has a level
difficulties 1-18.
Beginners 1-3
Intermediate 4-6
Advanced 7-10
Professional 11-18
TIP: You can find out which level suits your skills simply by listening to and trying out several songs and exercises. Try playing an exercise or a song from level 1-3 first, if it's too easy for you, try the higher numbers.
You can search the library by entering the name of the song (just a keyword) or the author. In the menu on the left side of Library you can filter songs and exercises according to several criteria:
My favorites – pieces you add to your personal library
Suggested – similar pieces like you have already practiced
Solos – solo piano pieces
Duets/bands – songs accompanied by other instruments
Boot camps – a series of songs with the same focus
You can also select songs by difficulty – Beginners, Intermediate, Advanced, Professional, and by style (Classical, popular, holiday, jazz/blues, TV and film… and other).
If you want to return to the original menu in the search, press Reset Filters at the bottom left.

TIP: How do I add a song to my favorites? Simply press the heart in the left corner of the song menu . This way you can easily create your own library of songs and exercises that you want to do.
For some songs (for example Perfect – Ed Sheeran) you have several options to choose from. You can play a simpler or more complex version. 
This category includes exercises focused on music theory and learning about how music works. It contains 30 sections of 20 lessons, ranging from simpler tasks to more complex ones. This guarantees the continuity of exercise and progress. You will learn to play different note types, rhythm, and scales. Interactive learning will help you visualize individual tones and the relationships between them. You will gain skills for both hands by playing exercises and selected songs.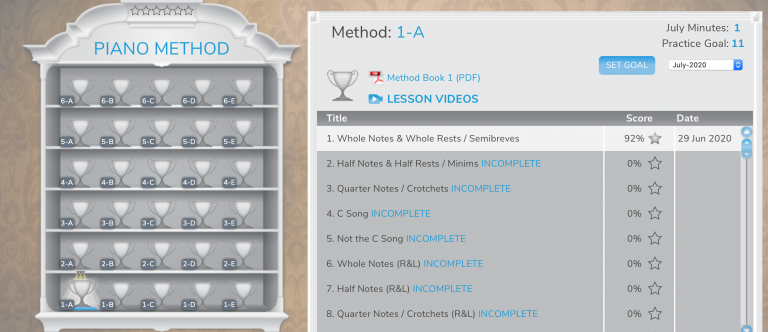 This category is similar to Method, but more focused on ear training and note reading. You will also learn how to identify intervals, create and play chords and scales, train rhythm, or harmonization. Both of these categories: Method and Technique are aimed at acquiring hand techniques, theoretical knowledge, and their use in practice.
SASR stands for Standard Assessment Sight Reading. It is an advanced tool for practicing playing the notes from a sheet. It teaches you how to combine your theoretical knowledge with the muscle memory of your hands. This category contains thousands of examples divided by experience level. Of course, you learn from simpler tasks to more difficult ones. During the practice, data is collected and evaluated, so you can see exactly if and how you are progressing. The advantage of this method is the faster acquisition of the ability to play any piano sheet music.
To start the exercise, click on the Sight reading button in the Dashboard or SASR on the top bar. You will see two options:
1. How to take the SASR – in the video you will learn how to start with sight reading.
2. Start test now – first choose your skill level (beginner, intermediate, advanced). After clicking, you will see a score and the time (20sec) will count down in the upper right corner. While time is running out, watch the whole note to the end. Notice the clef, the key-signature, and the beat. When the time runs out, be ready to start playing. After finishing the song, the system will evaluate your percentage success.
Your goal is to stay above 80%. When you succeed, you can press continue and practice other exercises that will become progressively more difficult.
How to Set Goals In Piano Marvel
Whatever you want to achieve, you need to set long-term or short-term goals. In Piano Marvel app, you can set the time you want to dedicate to the piano in this or the following month.
1. Click on set goals in the dashboard.
2. To enter Practice Minutes Goal, use the arrows to set the number of minutes that are both motivating and real for you.
If you want to compare it with other Piano Marvel users, click on the taskbar with the number of minutes in the Dashboard.
Awarding And Reporting System
You will also notice that there are trophy symbols for both the Method and Technique exercises and the songs. Piano Marvel has created this system of trophies as a motivating factor for learning to encourage the student and monitor his progress. Trophies are awarded on the basis of the percentage of success of the composition or exercise played:
Gold trophy: 96% +
Silver trophy: 90% -95%
Bronze trophy: 80% -90%
To see statistics from your learning, click REPORT on the top menu. You will see the number of minutes you practiced in the last week, the exercises and songs you played, and the percentage of success.
NOTE: For me personally, such reporting doesn't make much sense, but for many, it can be really cool. However, teachers will certainly appreciate it the most! The report will provide them with important data about their students.
Prepare, Assess And Practice Mode
Let's now look at the ways of exercising. There are practically 3 in Piano Marvel. While Prepare mode and Asses mode refer to the way you practice and play, practice mode is used to set the individual functions.
This mode is for studying the material. First, look at the whole notes and notice the clef, key-signature, dynamics, and bar. Then press the Prepare button with a play icon and start playing slowly.
While playing, you can see whether you are playing the correct notes (green) or incorrect (red). You don't have to rush because the metronome isn't running. The task is to study the notes for the time being, so far without rhythm. If you have skipped a song more than once, you can run assess mode.
Here you will play with the background. If you press the Assess play button, the voice will count down 4 bars and you can start playing. You will hear the metronome and the background piano (or other instruments at duets/bands).
At the end of the exercise, you will get a report on how many notes you played correctly and where you made mistakes. Next time, you can pay attention to those segments that are causing you difficulties. 
The separating exercises are based on the many years of experience of piano teachers around the world. The student will focus on partial tasks, which when mastered, will rehearse better and play the composition as a whole. This option is also offered by Piano Marvel in Practice mode (metronome icon on the bottom bar), where you can choose from the following options:
Whole – play the song with each hand separately
Chopped – play individual segments of a song with both hands together
Minced – play individual segments of the song with each hand separately
NOTE: For some exercises and tracks, you can set 3 tempo options (BPM) in practice mode. I recommend starting at the slowest pace and once you do, you can accelerate.
If you do not like the set tempo of the song, you can change it in the Play controls on the bottom bar. To return to the original tempo, press Reset tempo. In the Play controls menu, you can also adjust the ratios between the volume of your keyboard, accompaniment, and metronome. In the practice measure, you can choose the bar from which the countdown begins.

Piano Marvel For Acoustic Piano
Piano Marvel app provides 2 basic modes of use. The first is the Assess mode for a digital piano, where you can use all the interactive tools that Piano Marvel provides. The second is Book mode for acoustic piano. Here you can use song playback, printable PDF versions of songs and exercises, video tutorials, and manual tracking of your progress.
TIP: In Marvel Music online store, you can purchase a printed version of Piano Marvel 1-6 online. These books are ideal for teachers or students who prefer to practice acoustic piano.
How to Upload Songs to Piano Marvel
In addition to the rich library, you can upload other songs to the program, either from the Piano Marvel library or your own. See this video for the exact steps on how to do this.
The Marvel music online store  offers the option to purchase a keyboard instrument directly along with an annual subscription to the Piano Marvel software. You can also buy MIDI cables, Piano Marvel Books or a gift card in the shop.
NOTE: You will also find digital pianos with a semi-balanced mechanism in the shop. I definitely do not recommend buying these for piano studies! If you want to buy a digital piano, read the paragraph below carefully: What Do You Need For Learning With Piano Marvel.
Find a teacher –  allows you to find the nearest piano teacher who uses Piano Marvel. For example, if you want your child to learn through Piano Marvel and you do not have enough time to practice with him, I recommend trying this option.
Competitions – Piano Marvel organizes a competition according to the age. Individuals and ensembles can compete. When you upload a video of a piece from the Piano Marvel library, set it up on youtube and send a link, you can win cash prizes. 
What Does Piano Marvel Cost?
Piano Marvel is a subscription-based piano program. You can start with a free account for one month and try all features. You will have more than 125 songs, 200+ exercises from level one, 3 Sight-reading tests, and 25+ video lessons. When updating to the paid version, you can choose between:
Monthly subscription $ 15.99 / MONTH
Annual subscription $ 110.99 / YEAR
What Do You Need For Learning?
To learn to play the piano with Piano Marvel, you will need:
1. PC, Mac, or iPad,
2. Piano Marvel account
3. Acoustic piano, but much better digital piano or master keyboard
4. MIDI cable
5. Computer speakers or headphones
Which Type of Piano Should You Choose?
There are tons of keyboard instruments on the market, so it's not easy to choose. Whatever price category you choose, make sure the keyboard has the following 3 things:
Hammer keys are especially important when you are starting to learn to play the keyboard. This is the type of keys you will find in acoustic pianos. Compared to the semi-weight, and waterfall keys, the hammer mechanism has a deeper key depth, and different feedback. 
Number of keys is also very important. You can find keyboards with 49, 66, 73, 76, and 88 keys. Use a digital piano with 88 keys, because many piano pieces and songs are not able to play with smaller range.
MIDI connection. There are practically 2 types of MIDI inputs that are used in keyboard instruments today: Older dual 5-Pin MIDI cable (you need 2 pieces) or USB-MIDI cable.  Check what MIDI input has your instrument.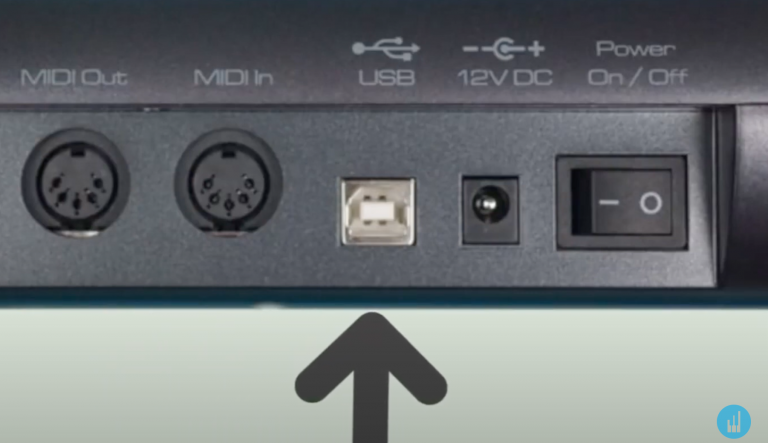 Piano Marvel For Teachers
If you want to use Piano Marvel as a teacher for your students, create a teacher account. This will allow you to have multiple students under one account. Each of them logs in using their login details.
Thanks to this, you can see exactly how your students are progressing, what they are having problems with, and what they are doing well. Based on this data (which you will see in the report), you can adapt your lessons. With Piano Marvel, you can even create group lessons where multiple students will be playing at the same time.
I compare these 2 piano learning software because both are also usable for acoustic piano. Like Piano Marvel, Skoove is an online piano lesson program. While Piano Marvel book mode only allows you to play songs and their PDF versions, Skoove uses a microphone from your PC / Mac or iPad. It can identify the tones you play and displays them on the keyboard similar to an electronic instrument.
On the other hand, in Skoove you will not find several functions from Piano Marvel, such as changing the tempo of a song, or reporting. Piano Marvel also has a much more extensive library of songs, which you will especially appreciate if you learn to play the piano for a long time. For more information, read this article:
What Do I Like About Piano Marvel? (And What Not So Much)
In this Piano Marvel review, I want to give you also my point of view. As a professional musician and piano teacher, I would recommend this piano learning software mainly to piano instructors.
Piano Marvel app contains several features that make learning the piano much more interesting and effective. I tried to rehearse several songs myself and used it actively for about 5 weeks. In the process, I made a list of things I liked and also things that more or less bothered me. I created these pros and cons list based on my personal preferences, so not everyone has to agree with it.
Huge library of songs and exercises (exercises and songs of different style)
Many classical piano pieces (other learning apps are more focused on popular music)
Usable for all skill levels (there are several lessons and compositions also for advanced pianists)
The piano arrangement's quality 
SASR – this tool for sight reading is both fun and useful for playing from sheets.
Song multiplicity –  Some pieces have different versions according to the level. Thanks to this, you can play, for example,  Perfect by Ed Sheeran, or Clare de Lune by Debussy, in an easy or more refined version.
Printable PDF. When you prefer to play from printed notes, you can.
Videos of many songs. Above the notes, you have a video icon. After clicking you can watch how a pianist plays the song.
Reporting. Piano Marvel tracks and reports everything you play. You can see exactly what technical patterns are causing you problems, which songs are playing badly, and, conversely, what you are successful at. It also helps with motivation, as you can map the entire development of your piano playing.
Free account for 30 days and affordable pricing. 
Step-by-step courses are missing. As I already said, for individuals can be Piano Marvel little complicated and tricky. You don't know exactly how to proceed.
The audio quality of accompanying could be better.
You can't hear an articulation and dynamic of backing tracks and the piano.
No interactivity in the Book mode. Prepare mode, Access mode and reporting is not working while using an acoustic piano.
While using and reviewing Piano Marvel and several other online piano courses, I realized that it is difficult to evaluate them in general. The key factor in my opinion is for whom they are intended and suitable. This is how I also approached to this Piano Marvel review. So, for whom would I recommend it and to what extent?
Who is Piano Marvel Best For?
Adults - Beginners, Intermediates
85%
Piano Teachers and music schools
95%
Children learning alone
45%
Children learning with an adult person
90%
People learning with acoustic piano
50%
Although for Adults – advanced I rated (only) 60%, I think that among other online piano apps and software such as Flowkey, Playground session, or Skoove, Piano Marvel works best. The library contains hundreds of songs for advanced players. However, in my opinion, they no longer need such an interactive way of teaching. They prefer video lessons focused on the particular style they prefer (such as ArtistWorks).
I consider the biggest advantage of this software to be several exercise modes, a high level of interactivity, a rich library of songs and exercises, and a motivational reporting system. On the contrary, the disadvantage seems to be a relatively complicated interface, the lack of comprehensive courses for individual levels, and midi audio quality. In general, this piano learning software is very sophisticated teaching and learning program that is at least worth a try.
I hope you found in my Piano Marvel review all the necessary information. If you decide to try the Piano Marvel free trial, you can let me know your experiences in the comment section below this article.