Many people who learn to play the guitar prefer online courses. No wonder because they allow you to study anywhere and anytime and are significantly cheaper than private lessons. There are many online guitar courses on the market, and Jamorama is one of the most sought after. In this Jamorama review you will learn everything you need to know about this guitar course. I will try to answer all these questions:
How does it work?
Who is it for?
How much does it cost?
What are the advantages and disadvantages?
How Jamorama differs from competing products such as Gitar Tricks, Jamplay, or Truefire?
I hope that after reading this article, you will have all information about Jamorama to make your own opinion.  I will also add my subjective  findings based on using this product.
Read also: How Long Does It Take To Learn The Acoustic Guitar?
Jamorama is a cloud-based website designed for learning acoustic guitar. It contains 11 courses with more than 275 video lessons. In them, instructor Mark McKenzie explains the basics of playing the guitar, chords, strumming, fingerstyle, and music theory. Although this product is promoted as a course for beginners, intermediate and advanced guitarists, I think the vast majority of content is intended for beginners and late beginners.
Unlike competing products such as Jamplay, Guitar Tricks, or Truefire, which work on the principle of regular payments (monthly or annual), Jamorama offers lifetime pricing. The mentioned websites contain hundreds of courses from various instructors, while Jamorama is a project of one guitar instructor.
What Do I Like About Jamorama?
Jamorama offers a straightforward curriculum for beginning guitarists. When learning, you are not disturbed by other options and courses that could distract your attention and slow down the learning process. The video quality is sufficient (720p), and the structure of the content is relatively clear.
You can quickly learn the basics of guitar, chords, and strumming patterns. Therefore, I would recommend Jamorama especially to students who start with the guitar from scratch. Intermediate and advanced guitarists will find, in my opinion, better courses, such as Truefire or Jamplay.
Easy-to-follow learning path for beginners
The clear structure of courses
60 Days money-back guarantee
Disadvantages Of Jamorama
Like every single product, Jamorama has its limitations. Unlike Guitar Tricks or Truefire, Jamorama is poorer in content. You will also not find lopper and slow-motion functions here, which help especially when learning faster passages.
Interactive fretboard and tools for practicing scales and chords are also absent here. Jamorama is an easy-to-use guitar learning system but lags behind the competition in many areas.
Only for guitar beginners 
Missing slow-motion and looper functions
Limited content for long-term learning
When you log in to your account, you will be taken to the main Dashboard. In addition to access to all courses, you can find there song lessons, a blog, and a store. Thanks to the uncomplicated interface, Jamorama can be a great choice for older children or seniors.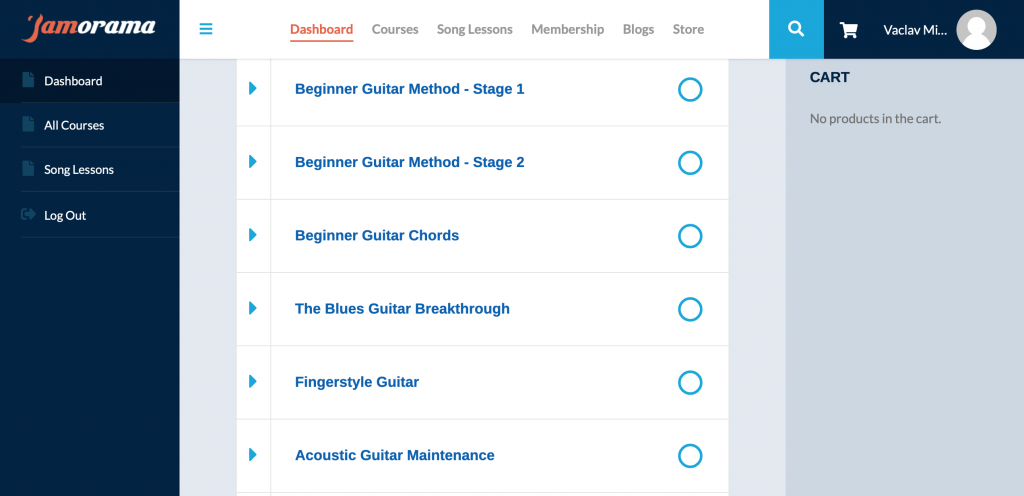 Jamorama dashboard is easy-to-use and uncomplicated
As a beginner, you can start with the first course: Beginner Guitar Method – Stage 1, or 2 weeks beginner kickstart. Before starting, read the basic information or watch the introduction video. Each course also includes a series of Jamtracks, which are ideal for practicing what you have learned in the lessons.

Below them, you will find a list of video lessons divided by weeks. The pace of learning is, of course, up to you, but I recommend sticking to a set schedule. Each week contains about 4-10 video lessons and supplementary material in PDF: guitar tabs, sheets, and chord diagrams.
Beginner Guitar Method - Stage 1
This course is designed for complete beginners. In each video lesson, Mark will gradually explain how to hold a guitar and a pick, and play basic guitar chords and strumming patterns. You will also learn a few famous guitar riffs and exercises.
Beginner Guitar Method - Stage 2
Continuing the previous course, you will learn to play additional chords, 12-bar blues, and new rhythmic shapes. You will learn the basics of solo playing and improvisation.
This series of video lessons focus on learning chords. In addition to basic open chords, you will learn to play barre chords and chord practices.
The Blues Guitar Breakthrough
The blues is one of the basics of guitar playing. In this course, Mark will show you how to play several types of blues, intros, chord variations and how to work with rhythm.
In 32 lessons, you will learn how to practice the fingerstyle technique. Playing with fingers belongs to the mandatory skills of every guitarist. Compared to courses from other brands (such as Truefire), this course is for beginners only.
Acoustic Guitar Maintenance
Every guitar needs to be taken care of. You will learn about setting up and maintaining your guitar including re-stringing, cleaning, and tuning.
Lead Guitar For Beginners
If you want to know how to solo on a guitar, you need to master the basic scales and progressions. This is what this course focuses on.
If you want to make progress in your guitar playing, it will not work without regular training. Mark will explain how to practice and develop your technical skills.
I recommend taking this course at the same time as others. Theoretical knowledge of music will ensure that you understand what you are playing.
Many rock guitarists are known for their fast solos. If you want to improve the speed of the playing, be sure to take a closer look at this course.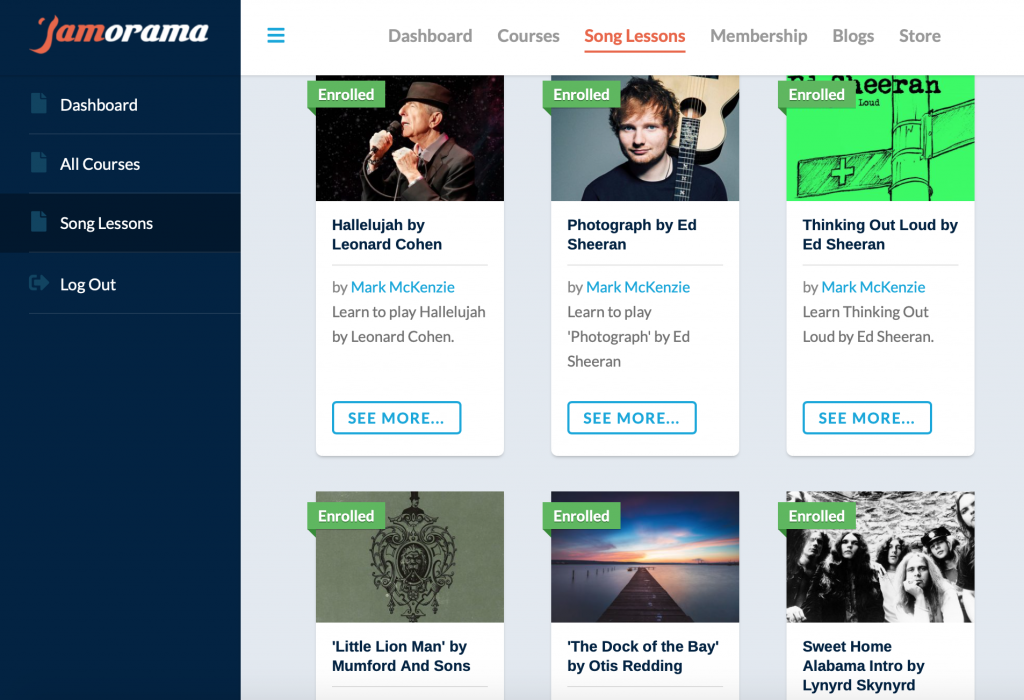 In addition to step-by-step lessons on how to play the guitar, Jamorama will teach you to play specific songs. However, the library contains only 25 well-known songs, which is much less than other guitar learning platforms.
With these video tutorials, you can learn to play guitar lines and riffs in songs like Sweet Home Alabama (Lynyrd Skynyrd), Wonderwall (Oasis), Happy (Pharell), Hallelujah (Leonard Cohen), Wake me up (Avicii), and more.
Related article: How To Learn A Song On The Guitar? Follow These 5 Steps.
Mark McKenzie is an experienced guitarist who has played in various countries. It is also known for its Youtube channel Mark The Guitar Guy, which has more than 110,000 subscribers. He used his knowledge and experience as an instructor in Jamorama's online guitar courses. These have already helped many students learn the basics of guitar playing and bring their musicality to a higher level.
As I mentioned, Jamorama is a product that you only pay for once. The price $99.00/Lifetime is, in my opinion, adequate in quality and content. If you had calculated the price of Jamorama courses for one year, you would have paid $8.25 per month. And that's about half the price of several competing products.
However, you have access to all the lessons of a lifetime, so you can easily determine the pace of learning that suits you. If for any reason you are not satisfied with Jamorama, you can use the 60 Days money-back guarantee.
To make this Jamorama review complete, we need to look at alternative online guitar lessons. When comparing Jamorama vs. Guitar Tricks, Jamplay, and Truefire we need to realize that this is a different type of product. While these three alternatives include hundreds of courses from different guitarists, Jamorama is a one-man-show course.
Jamplay, Guitar Tricks, and especially Truefire (40,000 lessons) provide more content, interactive features that make learning and lessons easier for a variety of music styles, including rock, metal, bluegrass, jazz, or classical music. But they are also more expensive. These three websites have several undeniable advantages.
Jamorama's biggest plus is a one-time payment, easy-to-follow content of video lessons, and a clear interface. If you are a complete beginner who wants to learn the guitar from the ground up, and you want to stay on low budgets, Jamorama seems to be a reasonable choice. But if you want to have a larger selection of lessons, richer genre selection, and functionality, try Guitar Tricks, or Jamplay instead.
>>> Read the FULL JAMPLAY REVIEW <<<
If you are an intermediate or advanced guitarist, you will find the best options in Truefire. This platform contains an insane amount of great courses and guitar lessons for a variety of music styles. Not to mention that some of these courses are created by top famous guitarists.
I hope, you find this Jamorama review useful. If you are looking for a  simple guitar learning system for beginners, Jamorama can be a good option. It has a clear structure, valuable content, but in many ways lags behind competing sites. However, thanks to the favorable price, clear interface, and easy-to-follow lessons, Jamorama is a reasonable way to learn to play acoustic guitar from scratch.