If you are among those who want to learn the piano at home, this Skoove review 2020 is just for you. You will learn how this online piano software works, for whom it is intended, and what its strengths and weaknesses are. You will see how the lessons are structured and what their content is. Like similar piano app Flowkey or Playground session, Skoove is based on an interactive exercises combined with song library and music theory courses. In this way, the student acquires basic piano skills gradually and in an engaging way. 
Note: In this article, I use affiliate links. This means that if you buy Skoove through this link, I will receive a small commission. However, this does not affect your price. All information and opinions I provide in this review are based on my personal experience with this product.
What To Learn From This Skoove Review?
Well, I hope you will find out everything you need:) You are going to learn:
What exactly Skoove is
Which platforms is it compatible with
How does this piano app work
Skoove pricing options
What type of piano is the best for learning
What Skoove piano courses include
And much more…
Fore better orientation in the Skoove review, use the table of content.
Name: Skoove
Founder: Florian Plenge, Stephan Schulz
Objective: Online piano learning software
Language: English, German, Spanish, French, Chinese
Compatibility: PC, Mac, iPad
Skill level: Beginners, (intermediates)
Lessons: 400+
Price: Starts from $9.99/1 month ($119.99 charged every 12 months), Free basic account, 7 days Skoove Premium free trial 
As you may have guessed, Skoove is an interactive piano learning program for PC, Mac, iPad, and Android devices. You can learn in English, German, French or Spanish. The lessons are primarily intended for adults and teenagers (12+). The content is divided into separate courses for beginners and intermediate.
Each course is differently thematically focused and contains a different number of lessons. You can learn to play songs and piano pieces from the beginning along with music theory and sight-reading. While playing, you will see which notes you play wrong and which ones correctly. Skoove has interesting features that accelerate the process of learning and acquiring new skills. Thanks to the interactive options, you will definitely not be bored while playing and practicing.
Many think that Skoove is just another piano app for kids, such as Simply piano. Compared to Simply piano, however, Skoove is closer to traditional piano lessons with a teacher.
What Do You Need For Learning?
In addition to your PC / Mac or iPad, you will need a keyboard or acoustic piano. If you don't have a digital piano with built-in speakers, it's a good idea to use external speakers for your computer or headphones. You connect the keyboard to your device via a MIDI Cable. There are 2 types of cables you can use according to the type of your keyboard.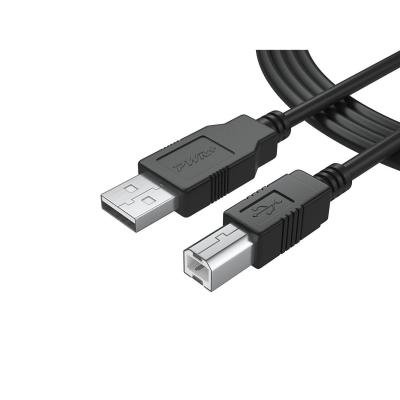 For learning to play the piano, I strongly recommend a keyboard with a full-weight hammer mechanism. These are keys that have a similar key depth and touch as an acoustic piano. If you learn to play on this type of mechanics, it will be much easier for you to play instruments with non-weight, semi-wight or waterfall (used especially for digital organs) mechanics. I think this should not be underestimated.
Full-weight keys (hammer)
If you learn on the wrong instrument, you can develop bad habits that will be very difficult to remove. I also recommend using a piano with 88 keys when learning. Some songs will not be playable on instruments with fewer keys (76, 73, 66, 49). In music stores and online shops, you will find quite a few digital keyboards with 88 keys and a full-weight hammer mechanism in various price categories. Skoove also works with an acoustic piano. We'll talk about how to use this mode later.
After creating an account and logging in, the setup process will begin. First, you choose what type of tool you want to use in your learning. Skoove is one from a few piano apps I know that also offers full compatibility with an acoustic piano.
When you choose USB and MIDI keyboard, you still have the option to use the MIDI keys or the computer keyboard. The second option may be useful if you plan to learn a theory course or repeat previous lessons. Under normal circumstances, however, you will use an electronic keyboard for practice and playing.
Installing your MIDI or USB keyboard is easy: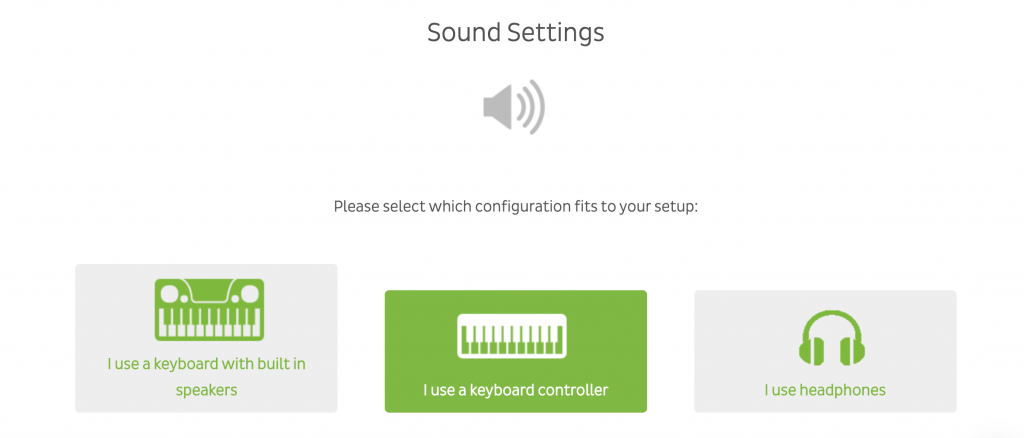 Note: If you're a mac user using Safari, you'll be prompted to switch to Google Chrome.
Skoove With Acoustic Piano
If you have an acoustic piano at home, you can still learn to play with Skoove. Among other online software such as Flowkey, Playground session, Skoove is the only one you can use with an acoustic instrument without limiting functionality. The software will use the built-in microphone on your PC / Mac or iPad. It can identify individual tones so that learning takes place in the same way as with an electronic instrument.
Read also: Flowkey Review: The Best Piano Lesson App For Android?
In the Keyboard setting, select the acoustic piano. Play any key on your piano. This activates the microphone. Then you simply return to the lesson and use Skoove as usual.
Once you have managed to install your keyboard, you will be taken to the Dashboard where you can see all the courses. Each contains a different number of lessons. Different types of courses allow you to exhibit your learning according to your preferences.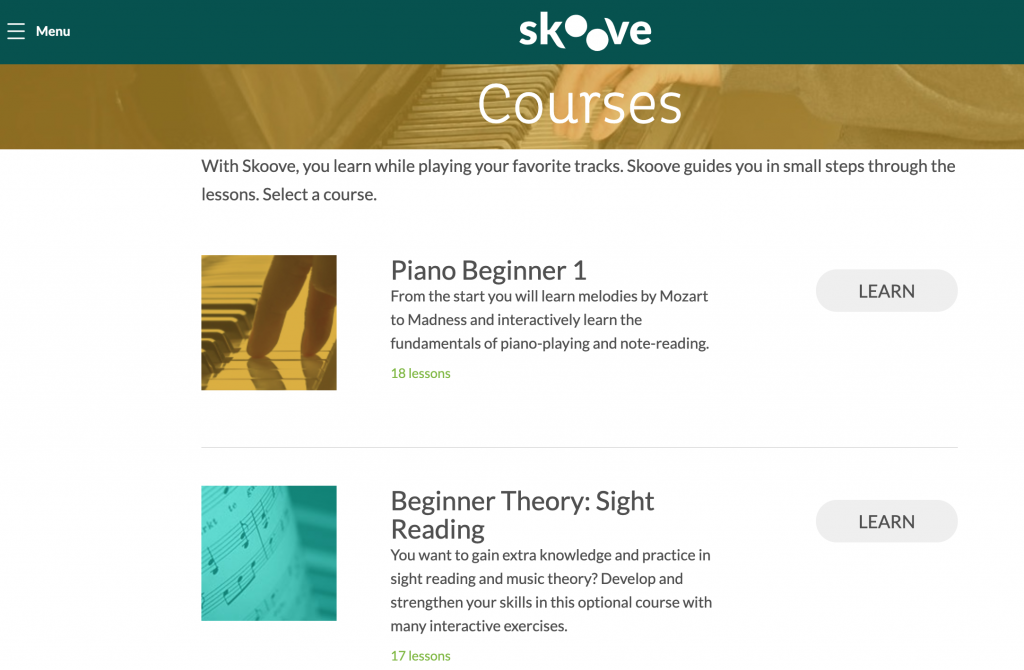 When practicing a lesson, you always get instructions on what to do first. Then you will see the basic screen with musical notation and below it a video part with keys and hands. You can control the two function keys Start and Next on the keyboard of your PC / Mac or directly on the keyboard.
There are three modes of learning with Skoove:
This mode is used to get to know and listen to a song or exercise. Note the key-signature, the position of your fingers on the keyboard, and the chords. Then press play and watch the notation while listening.
In this mode you read notes and play them on your keyboard. Correctly played notes will be green while incorrectly red. You are still playing without rhythm, so you have plenty of time to find out the correct position of the notes. First, you exercise with your right and left hand separately and then both together.
In this mode you play notes in rhythm while listening to background piano or band accompaniment. You can practice this way with each hand separately or with both.
Note: Each lesson includes all three modes. First, you study the song, then you play without rhythm or background to rehearse it, and finally, you play with the background. This gradual process is also used in many music schools.
In this video, you can see the whole process of learning the song with Skoove:
Skoove Courses And Lessons
In Skoove Premium, you have a total of 21 courses available, which include a variable number of lessons. Let's take a closer look at some of them.
These courses are designed for complete beginners. You will learn the piano basics, music theory, and play pieces of simple songs and finger exercises. The lessons are interactive and graphically nicely designed.
Thanks to the step-by-step process, you will learn new things gradually and in a logical sequence. While playing a song in a play in time mode, you are going to be accompanied by a band.
Beginner theory: Sight reading
In this course, you will learn to play music from the ground up. You will recognize the notes and their position on the keyboard. The goal of these exercises is to align your theoretical knowledge with the muscle memory of the hands.
When you practice sight reading and technique, later you will be able to play more complex songs from notation.
Learn to play 85+ songs from different artists, for example:
Lean on me – Bill Withers
We will rock you – Queen
Light my fire – The Doors
American Pie – Don McLean (Madonna)
Jaws theme – Jaws soundtrack
Morning awakening – Edward Grieg 
Sonata no.11 – W.A.Mozart
Mrs.Robinson – Simon & Garfunkel
Love me tender – Elvis Presley
Perfect – Ed Sheeran
These courses are designed for those who have mastered the basics of piano playing and theory. The individual lessons again combine specific songs and piano pieces with theory.
You will learn to play new scales, chords, and more complex songs. This will build on what you have learned in the beginners' courses.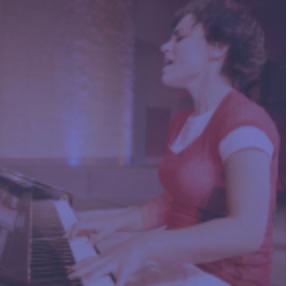 This library contains 71 songs from popular classical music and film music. For example, you will learn to play:
A Sky full of stars – Coldplay
Alla Turca – W.A.Mozart
Amazing grace – Traditional
Back to black – Amy Winehouse
Dancing Queen – Abba
Easy – Lionel Richie
Fields of gold- Sting
Games of thrones theme
Floriand Christl and Remme music
These 2 courses contain songs from these two composers and singers. These names will be known especially for students based in Germany.
Learn to play the whole songs:
Rolling in the deep – Adele
All of me – John Legend
Let it be – Beatles
Fallin – Alicia Keys
In 15 lessons you will learn to play 3 songs:
Moonlight – C.Debussy
Canon in D – J.Pachebel
Fur Elise – L.v.Beethoven
This course can be interesting especially for those who are engaged in music production. You will gain more advanced knowledge of music theory (Mixolydian scale, chord voicings, and more).
Other courses: Piano songs advanced, Blues and boogie-woogie piano, Chords and scales, Keyboard for producers, Soundtrack course, Beatles course, Bohemian rhapsody, Christmas course.
As you can see, Skoove contains mainly popular songs but also several well-known classical pieces for piano. You can learn music theory directly in beginner or intermediate courses or in separate courses (Beginner theory: sight reading, Chords, and scales).
NOTE: To quickly return to the main course menu, press the Skoove logo, or chose Home from the Main menu.
How Much Does Skoove Cost?
Skoove is comparable in price to similar piano apps like Flowkey, or Playgroud session. In addition to the Free account with a limited number of lessons, you can try the full version of Skoove for 7 days for free.
Free access to selected 25 lessons from all courses.
Full access to all 400+ lessons. You can choose from different paying options:
7 DAYS FREE TRIAL
1-MONTH SUBSCRIPTION            $19.99/1 month (charged every 1 month)
3 MONTHS SUBSCRIPTION          $13.33/ 1 month ( $39.99 charged every 3 months)
1-YEAR SUBSCRIPTION                   $9.99/1 month ($119.99 charged every 12 months)
In almost every Skoove review, you can find a comparison with another piano learning apps for beginners. For a brief comparison of Skoove with Piano Marvel learning apps, I decided because both programs can also be used with an acoustic piano. The difference, however, is that Piano Marvel does not offer full functionality like Skoove in acoustic mode. This means that it does not use the microphone on your PC / Mac or iPad and you do not see the highlighted notes you are playing.
In Skoove this works and very well! On the other hand, Piano Marvel is an excellent program for beginners as well as intermediate with a huge library of songs and many practical features. You can change the tempo of the songs there, see a report on how many wrong and correct notes you have played. Overall, in my opinion, Piano Marvel is a more motivating program, but not as user-friendly as Skoove.  See full review and make your own opinion.
Piano Marvel Review: Is It The Best Piano Learning Software?
The question in the title of this Skoove review is, if this is the best piano app for beginners. Well, when I looked in detail at the content of the lessons of the individual courses, I think that Skoove is only suitable for complete newbies.
In my opinion, most intermediate lessons are still at the beginners level. For a deeper knowledge of the songs and especially the classical compositions, the basic elements such as dynamics, tempo marking and articulation are missing.
Overall, you will not find a complete sheet in the lessons, you always see only pieces of songs. Skoove does not contain original compositions, but only simplified versions. Thanks to these facts, I think Skoove can only convey basic (and incomplete) knowledge of piano playing. So if you are an intermediate pianist, I would recommend you take a look at some other piano learning software or video lessons.
Skoove can also be a good choice for pianists who started playing but stopped. Exercising with this program is very comfortable and looks like you are playing a game. Hobby pianists will also find interest in this program, especially those who prefer popular music.
The manufacturer states that this software is ideal for teenagers 12+ and adults. However, it is a very user-friendly application, so I can easily imagine that even older children (8-12) will be able to learn with it. This is how I would summarize the suitability of Skoove for individual groups:
Skoove Review - Pros And Cons
Based on about a week of using Skoove Premium, I enjoyed several of its benefits and also discovered several imperfections.
Audio quality (the sound of piano, background piano and band is nice)
In addition to the keyboard, you can also see the hand position and the right fingering. And it looks cool:)
Step-by-step courses for beginners
It works well with acoustic piano
Music theory as a part of courses
Skoove works in 7 different languages: English, German, Spanish, French, Korean, Japanese, and Chinese (traditional, or simplified)
Safari browser is not supported
Fingering, tempo and dynamic is missing in the sheets
You don't see the whole score (and not possible to print it)
You can't change the tempo of the song
Skoove doesn't use original scores, just simplified versions
The song library could be larger
I hope this Skoove review 2020 was useful to you and you found all the necessary information here. In my opinion, when evaluating online piano courses, it is always necessary to realize for which target group they are suitable. To do this, I tried to consider several factors such as ease of use, quality of content, and functionality.
Skoove has a very clear and clean graphic design, is easy to use and the individual exercise modes work well. However, the quality of the content is somewhat degraded by non-original parties, lack of dynamics, articulation, and tempo. This learning software will be especially appreciated by complete beginners and hobby pianists. I would not recommend it for intermediate and advanced pianists. The decisive factors that would make I prefer Skoove over competing products are the ability to use an acoustic piano with full functionality and
support for more languages. Overall, I give Skoove 78%.