If you want to learn to play the piano with ease, music theory in a fun way and play songs and piano compositions, you are in the right place. In this article, I will introduce and compare the best 5 online piano learning apps. In addition to a basic description, you will also know what are the differences between them. By comparing several categories such as compatibility, functionality, ease of use, repertoire, or pricing, you will find out which of these applications best suits your preferences.
All these piano learning software provide an interactive way of learning and combines piano lessons with playing songs. You can see whether you are playing well or incorrectly on the virtual sheet and keyboard. Practicing with these apps is funny and also effective thanks to using similar teaching methods like in music schools.
>> Click To Discover Top Online Piano Courses For Adults In 2020 <<
NOTE: All information in this article is based on my experiences with these products that I tested, used, and reviewed in separate articles.
My Pick Of Online Piano Lessons
This is my quick recommendation for those who don't have time to read the whole article:
Best Online Piano Apps Overview
The most complex piano learning system for iPad and desktop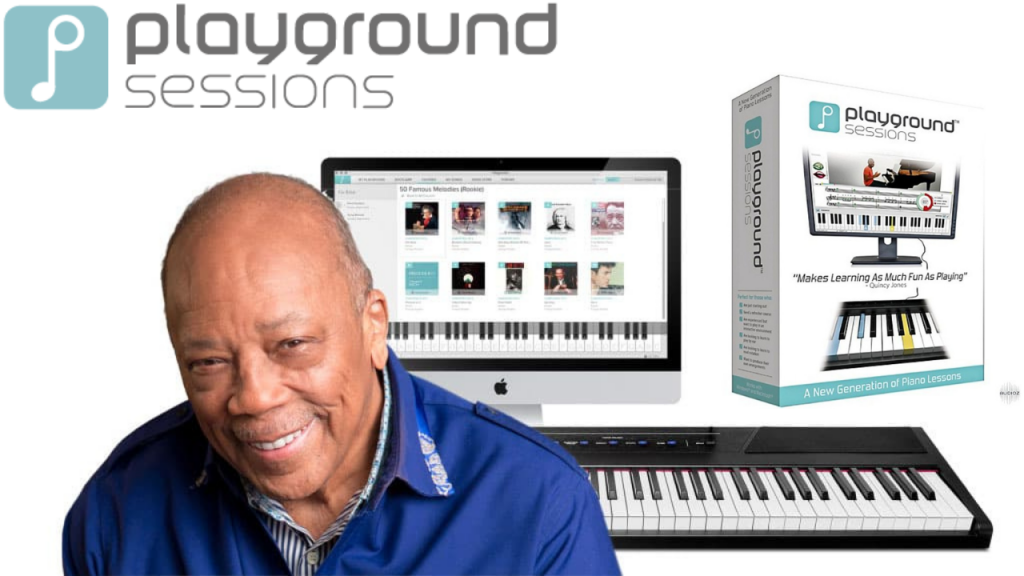 Compatibility:
PC/Mac/iPad
Instrument:
MIDI,USB,Acoustic
Price:
$17.99/month, $119.88/year, $289.99/lifetime
Free trial:
7 days
Combination of step-by-step lessons with learning songs
A complex sheets (with dynamics, fingering, chords)
Big library of popular songs
Playground Session is a complex piano learning software co-founded by legendary Quincy Jones. He contributed to the teaching system, while jazz icon Harry Connick Jr. collaborated on lessons. Playground Session contains step-by-step courses combining video tutorials with interactive lessons. In the library, you can find hundreds of songs you can filter according to the skill level and style (pop music is dominated).
Playground Session is not a cloud-based application, but a downloadable software. This allows you to practice or play offline. I think that the biggest advantage is the flexibility of playing thanks to the number of functions such as:
metronome
turn on/off the right or left-hand part
turn on / off background sounds
any change of tempo
looper function
printable sheets
Easy-to-use application not only for learning songs
Compatibility:
PC/Mac/iOs/Android
Instrument:
MIDI,USB,Acoustic
Price:
$19.99/month, $119.88/year, $329.99/lifetime
Free account:
YES (limited access)
Flowkey is probably the best piano app for Android. It a great option for hobby pianists who want to learn their favorite songs. There are also interactive lessons teaching piano basics, and music theory, but only for beginner level. Flowkey doesn't lose its interactivity even while using acoustic piano, which is great for those who don't own a digital keyboard. Flowkey works as a desktop version but also on iPads and Android devices. Songs are for all levels, so even advanced pianists can find their lot of things to learn.
Well designed piano lesson app especially for complete beginners
Compatibility:
PC/Mac/iPad
Instrument:
MIDI,USB,Acoustic
Price:
$19.99/month, $119.88/year, $329.99/lifetime
Free trial: 
7 days
It works well also with acoustic piano
Step-by-step courses for beginners

If you are looking for an easy-to-use modern app for beginners, Skoove can be a great option. Video and interactive lessons will teach you how to start with the piano and music theory basics. You are going to learn several songs in different genres in an interesting way. While playing you see on the sheet and virtual keyboard which tones you play correctly (green) and which incorrectly (red). Skoove works well with MIDI, or USB keyboard, but also with an acoustic piano.
Best piano app for iPad used in hundreds of music schools
Compatibility:
PC/Mac/iPad
Instrument:
MIDI,USB,(Acoustic)
Price:
$15.99/month, $110.99/year,                
Free account: 
YES ( limited access)
Huge library of piano pieces for all levels
Piano Marvel is more likely closest to traditional piano lessons. The software contains several features that will be appreciated not only by students but also by piano teachers. In addition to seeing whether you are playing right or wrong, you can set the tempo, the part of the song you want to practice, or the notation of your right or left hand.
The software has a great system for tracking and evaluating your workout. In the repertoire you will find mostly classical compositions for piano but also several popular songs, TV and film music or jazz. It has also a great tool for practicing sight-reading.
Game-like app with great sound not only for learning the piano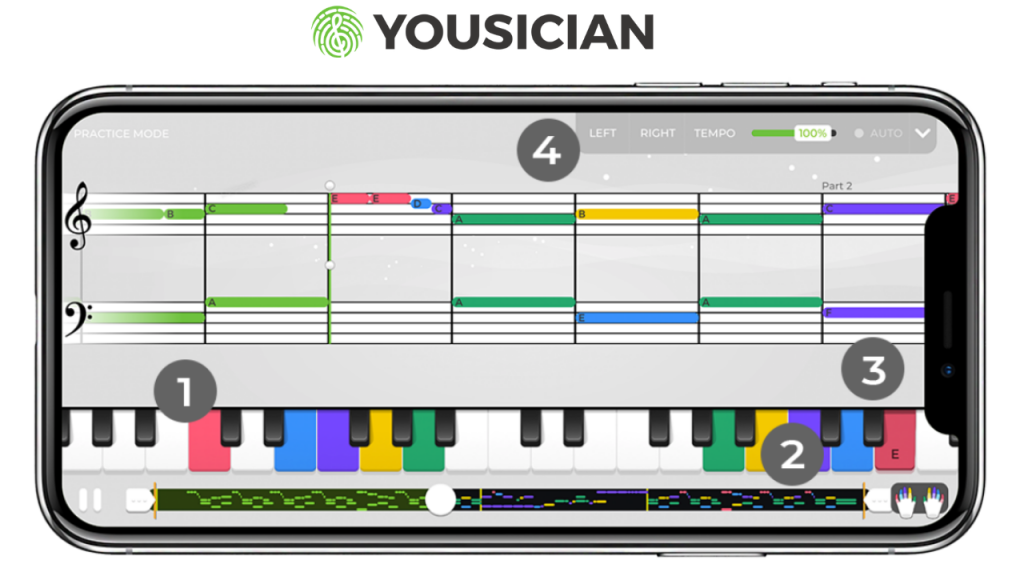 Compatibility:
PC/Mac/iOs/Android
Instrument:
MIDI,USB,Acoustic
Price:
One instrument: $9.99/month, $119.99/year,  All instruments: $179.99/year              
Free trial: 
7 days
Great quality of background sounds
No fingering and dynamics
Yousician is very popular app not only for learning the piano. You can also learn to play the guitar, ukulele, bass guitar or singing. Except for hundreds of songs you can learn to play, Yousician will teach you the piano from the start. Lessons are interactive and will see what do you play correctly and what not.
Like some other piano learning apps, Yousician also have a looper function, metronome, tempo change, and also different style of notation. This feature helps you to learn music more visually, what can be helpful for complete beginners. Thanks to a great background sounds and interactive features, learning and playing with Yousician is fun and it keeps you motivated longer.
What To Consider When Choosing An Piano Learning App?
If you want to know which app can be the best for you, you should realize what are your expectations and what you try to achieve. Do you just want to learn to play some popular songs you like? Or to perform classical piano pieces with ease? Is your goal to train sight-reading and practice ear-training? Are you looking for a balanced online program for improving general piano skills?
Then you should be aware of the important technical and content differences between these apps. What device do I want to use for learning? Which type of instrument do I want to use: an acoustic piano or a digital keyboard? What kind of music do I prefer?
To help you answer these and other similar questions, we are going to compare several important features.
All mentioned software have a desktop version and an app for mobile devices. But only some of them work also with Android system.
These apps are designed primarily for use with a digital keyboard. However, many of them also work great with an acoustic piano (Flowkey, Skoove, Yousician). 
NOTE: Piano Marvel loses its interactivity with the use of an acoustic instrument and it is only possible to use the so-called book mode.
All applications contain mostly interactive lessons for beginners and intermediates. They can learn step-by-step the piano basics, music theory, and practice piano techniques. Advanced pianists will especially appreciate the training of sight-reading and playing songs of their level.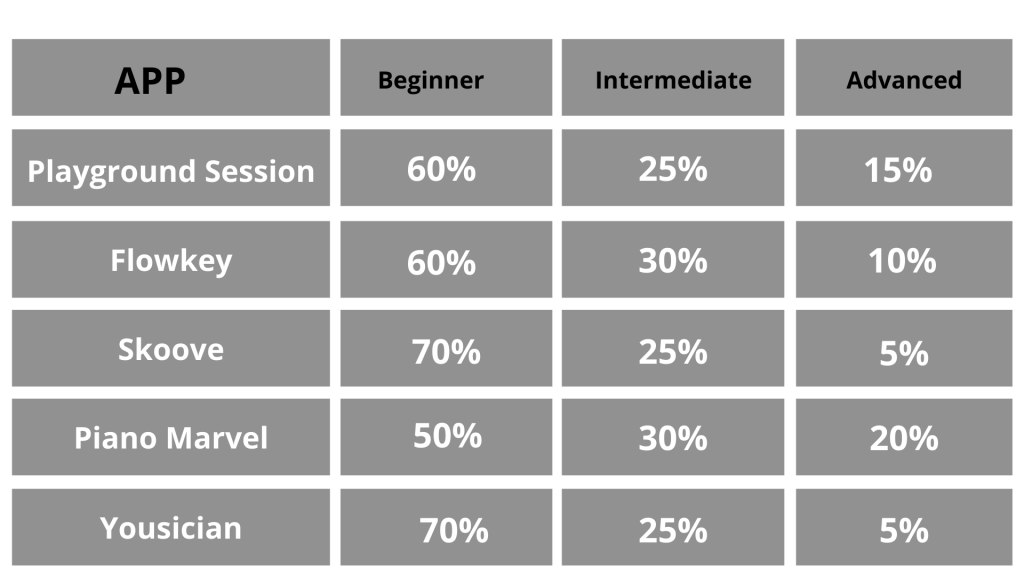 NOTE: This table is not based on official statistics. It is my rough estimate, which must be taken with a grain of salt.
Many people prefer applications with a clear interface which is very easy to use. This factor is especially important for children and teens. From this point of view, I would arrange the applications as follows (From the easiest app to the most complex one):
Flowkey
Skoove
Yousician
Playground Session
Piano Marvel
Functionality and properties
The main difference between the quality of the learning and practice lies in the properties and functions that are available. Now let's say which ones are the most important:
Virtual sheets/keyboard – You can see which notes/tones you play correctly (they turn green while playing) and which incorrectly (they turn red).
Turn on/off L/R hand – While practicing, you can choose which hand do you want to practice.
Metronome – You can set the metronome on or off.
Tempo change – The possibility to speed down/up the tempo of the song/exercise.
Looper function – You can select a certain part of the song/exercise and practice it separately.
Fingering/dynamics – Markings (numbers) showing you which fingering you should use. Dynamic changes or articulations marks in the sheet are also important for the expression of playing.
Progress tracking – After the exercise, the system evaluates to what percentage you played the song correctly. You can earn points, trophies, and track your progress.
Printable sheets – The option to print the whole sheet.
Recording – You can record your practice.
Audio settings – Adjusting the ratio between your piano volume, background sounds, and metronome.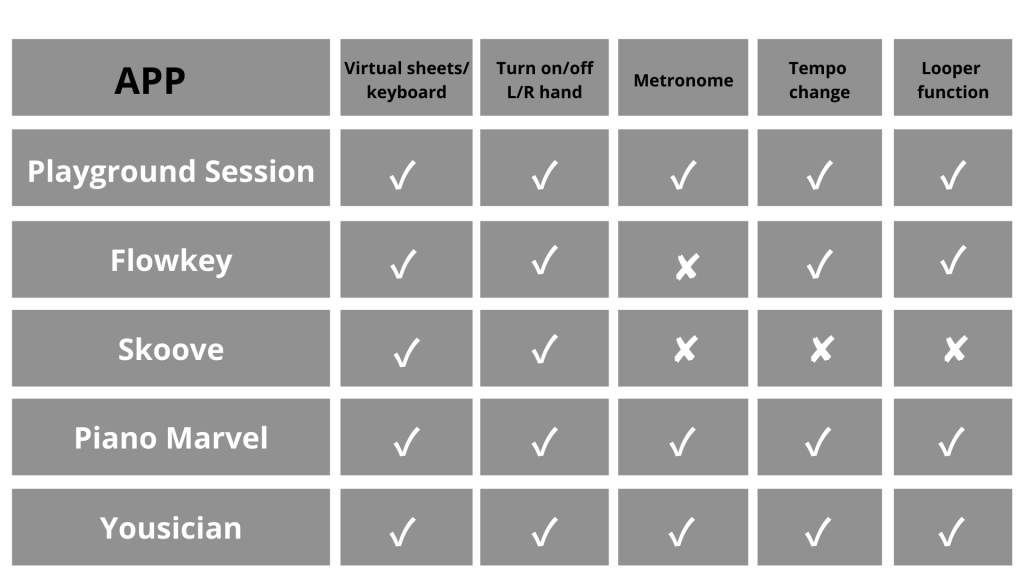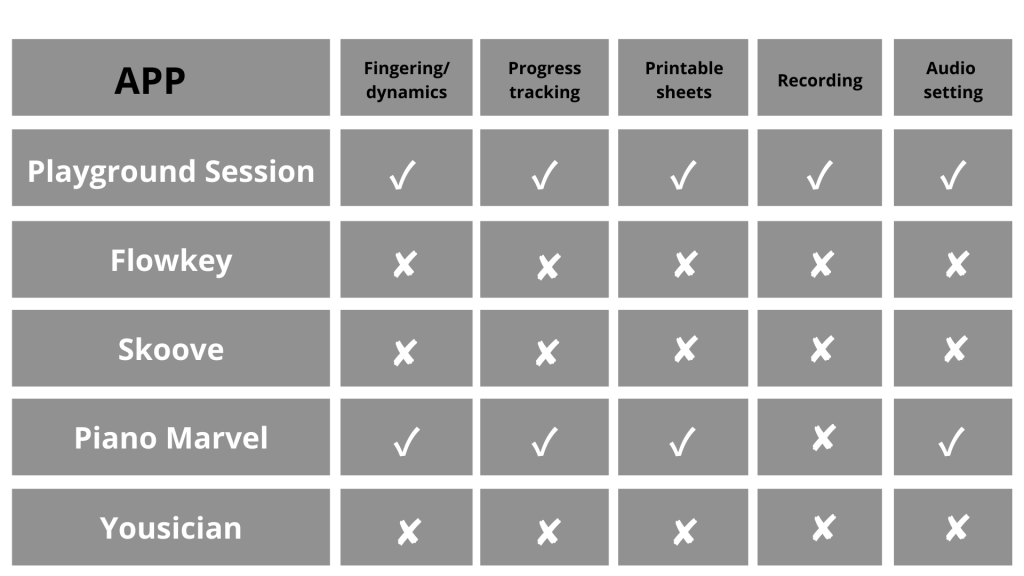 As you can see in the table, Piano Marvel and Playground Session have the best exercise options.
In addition to visually recognizing well-played and incorrectly-played notes, you can use the looper function, change the tempo, turn on / off the background sound, metronome, or the ability to print notes. On the other hand, these two apps are not as intuitive to use as Skoove or Flowkey. 
A great advantage of piano learning apps is the ability to learn to play a variety of songs and piano pieces. Libraries of all applications contain songs in several styles: pop music, classical piano pieces, TV and movies, R&B / Soul, Christmas songs, country, jazz and other.
Popular music dominate all applications except Piano Marvel. Due to the fact that Piano Marvel is often used in music schools, you will find a repertoire focused mainly on classical music.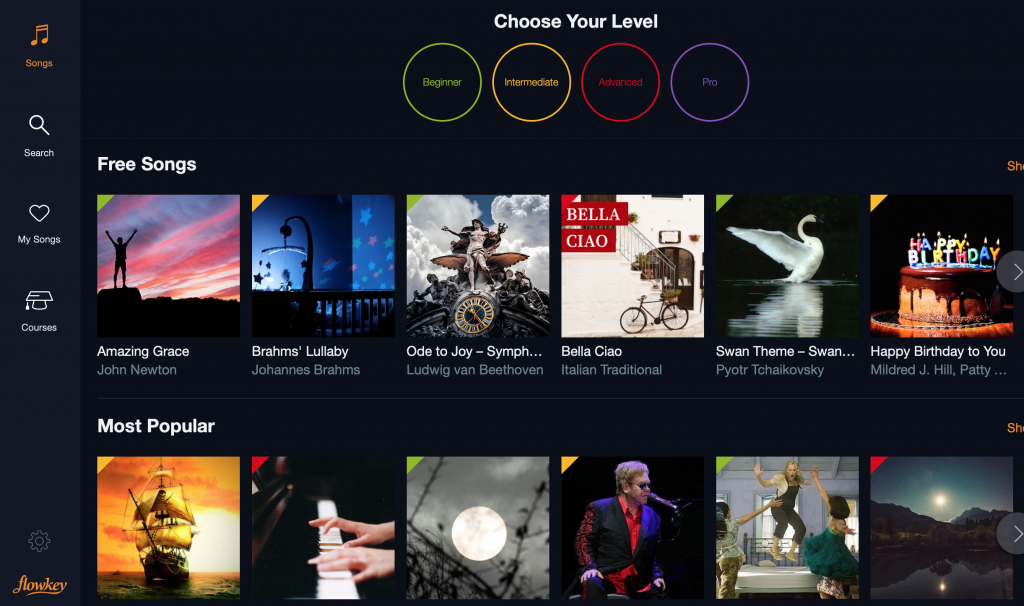 In the Flowkey library, you can also filter music by mood: energetic, smooth, or romantic.
Songs can be selected (it applies for all apps) according to the skill level. In addition to musical styles, the quality of the arrangements is also important, which varies with these applications. When choosing a solution for learning the piano online, the size of the songs library can also be of great importance to many. Piano Marvel, Flowkey and Playground Session stand out in this aspect.
Sound and arrangement quality
The sound quality also has an effect on how much you enjoy practicing the piano. I mean the quality of the piano and the accompanying sounds. Yousician definitely wins in this category for me, because it contains excellently arranged and sound-quality background tracks. These also include singing, which emphasizes the feeling of playing with a live band.
Flowkey, Skoove and Playground Session has also very nice sound. On the other hand, Piano Marvel lost in this category.
Arrangement quality varies from app to app. Compositions and exercises for beginners have logically simplified arrangements. But the differences can be seen especially in the compositions for intermediates. Playground Session and Piano Marvel lead behind Flowkey and Yousician, and Skoove is in the last place.
Of course, price is also an important factor when choosing a suitable piano lesson app. As these are competitive products, and the prices  are very similar. All software are based on a membership access, and you can choose whether to pay monthly or annually (for a better price).
Playground Session, Flowkey, and Skoove also offer lifetime access. The good news is that you can try all the apps for free. Piano Marvel, Skoove, and Flowkey offer a free account with limited access to lessons and songs. If you want to try Playground Session, Yousician, or Skoove, you can use the free 7 days trial.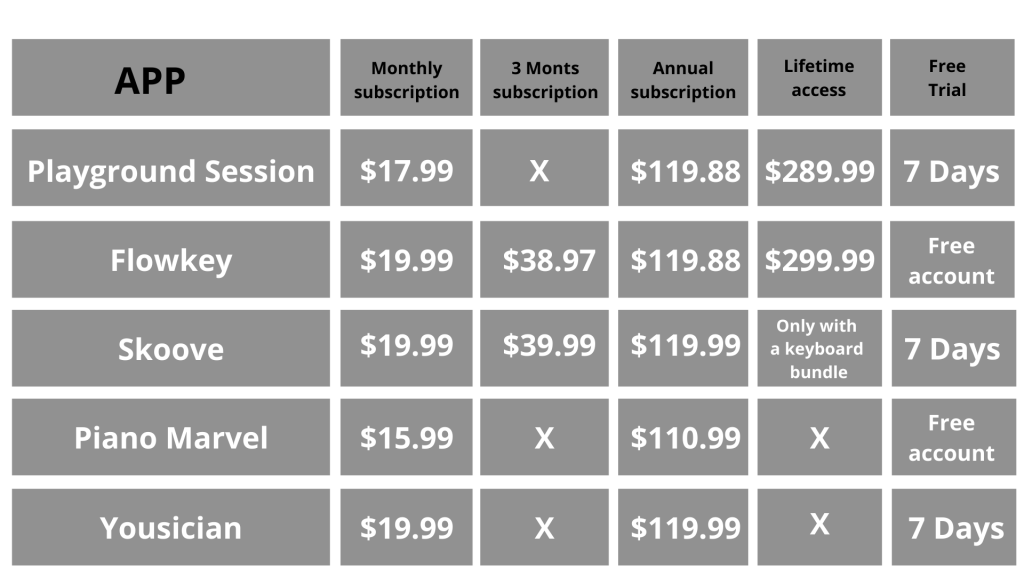 NOTE: Prices may change over time. For checking the current price, visit the official website of the application.
Online piano learning apps are designed for those who want to learn the piano at home and any time they want. They are an alternative to traditional piano lessons which are more pricy and time-consuming. We can also say that these apps are for people of all ages.
NOTE: According to my experiences, I would recommend Flowkey, Skoove, and Yousician for older kids and teens and Playground Session and Piano Marvel for adults.
An interactive way of learning can be helpful for beginners and intermediate. They can benefit from step-by-step interactive courses, playing many songs, and sight-reading. I do not recommend piano learning apps for advanced pianists. I think, there are better options for them.
Why To Learn To Play The Piano Online?
The advantages of learning piano online are obvious: 
Time-saving – you don't need to travel for private lessons and you can adapt your progress to your time possibilities.
Learning at home – You need only the keyboard, a computer, or a mobile device, and that's it!
Money-saving – traditional piano lessons can be quite expensive. They can cost you $20- $50 per hour. And normally you have 4 hours a month. So you can see the difference.
Learning songs of different styles– Except for exercises, you play songs of different genres.
To be honest, we should also talk about minuses of learning with interactive piano courses. The biggest one is, in my opinion, that nobody can control you. Although you can see if you are playing the right or wrong notes, you don't have an instructor who can stop you if you have the wrong fingering, hand position, or expression. Therefore, these applications, despite their qualities, should be seen as an alternative to private piano lessons.
What Are Alternatives To Piano Learning Apps?
There are tons of quality online piano courses, that are based on video lessons. These are not interactive like apps, but many of them are created by respected piano players and offer great content value. Another plus is that many of these courses are focused on a specific music style (for example ArtistWorks).
Some pianists prefer one-time paid courses before membership ones. Pianoforall offers a good price-performance ratio and it is another reasonable option for beginners. 
If you prefer personal contact, you can try one-to-one online lessons with an instructor you choose. Websites like www.takelessons.com or www.lessonface.com have dozens of skilled piano instructors that can teach you online.
Learning the piano with an app is a very attractive and popular way on how to start to play the keyboard and learn without pressure. Online learning has several advantages and it can keep your interest in music longer. This article was supposed to introduce and compare the most popular apps for learning the piano. I hope, you found here all information you need. In case you have questions about this topic, don't hesitate to ask in the comment section below this article.