Hi everybody! If you were googling "online piano lessons" or "how to learn to play the piano at home", you probably come across the Playground session. It is a very popular piano learning app for those who want to learn to play popular songs. The software is co-founded by Quincy Jones, so it creates big expectations. But who is it best for? How does it work? Isn't it too expensive? What are you going to learn? Is it better than Flowkey or Piano Marvel? In this Playground Session review, I'm going to answer all these questions.
You will also find out what are the biggest differences between Playground session and some other piano learning apps like Flowkey and Piano Marvel. If you will still have some questions, feel free to ask in the comment section below this article.
>> Click To Discover 11 Best Piano Courses For Adults In 2020 <<
Playground Session Review Summary
This is going to be quite comprehensive article, so this content summary can help you to navigate:
What Is Playground Session?
It is an interactive program for learning the piano. It works on PC/Mac and iPad. The main focus is on teaching popular songs of different styles, and music from famous movies/TV shows. Beginners will appreciate step-by-step music theory and piano techniques courses teaching you basics you need to know for playing.
Playground session is co-founded by Quincy Jones, who is a living icon of popular music. Harry Connick Jr. is another name related to this software. This famous pianist and singer will teach many topics, for example reading music, playing chords, and jazz improvisation.
The software is designed mainly for beginners, but the songs library contains also several pieces for intermediate and advanced pianists.
What Type Of Piano Do You Need?
The app works both with an acoustic and digital piano. But if you want to enjoy all the interactive functions of Playground session, I recommend using a digital piano.
The best keyboard for learning should have a hammer mechanism (full-weight) and 88 keys, but you can plug in every digital piano with USB or MIDI connection.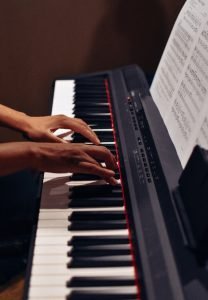 Note: Playground Session is not currently configured for using an acoustic piano. You can only practice with background sounds, or use a printable PDF's. For those who are searching for interactive software for acoustic piano, I recommend Flowkey, because it uses the built-in microphone in your device.
The best way how to start is Playground Session Free Trial (7 Days). In this period, you can try all features and find out if it suits your needs. When upgrading to a Premium account, you can choose between annual, monthly membership, or the lifetime access. The pricing is comparable with similar products like Flowkey, Skoove, or Piano Marvel.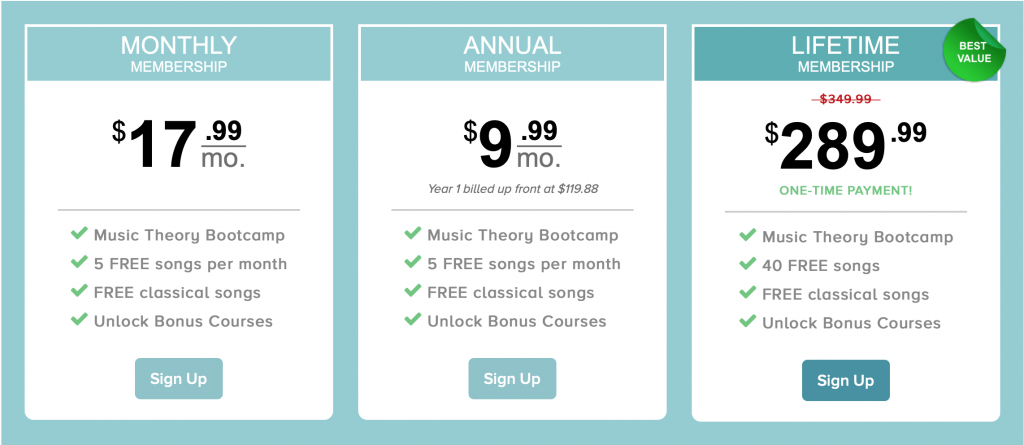 Look Inside Playground Session
Another chapter in this Piano Marvel review will be a look inside the app. Once you have created an account, you will be assisted to download the software (or an app from the App store). After installing, insert your username and password. Then you will get some basic recommendations and suggestions and you will be asked to set up your MIDI instrument. Connect your keyboard to the computer and press Next. Now you should see the main dashboard. As you can see, the Playground Session menu contains 6 main categories:
My Playground
Bootcamp
Courses
My Songs
Song Store
Forums
This is the main site where you can see information about your progress, the number of available songs, and the total time you spent practicing.
Progress shows you a graph of your score, level, and total time spent with practicing.
This is a way on how Playground Session motivates you to meet your goals. You can find here 12 challenges (badges), for example:
Apprentice: 10 hours spent with practicing
Rock star: 3-star rating on a full song
Hall of fame: Achieve a 3-star rating on 3 advanced songs
This progress tracking helps you to set goals, and encourage you for practicing.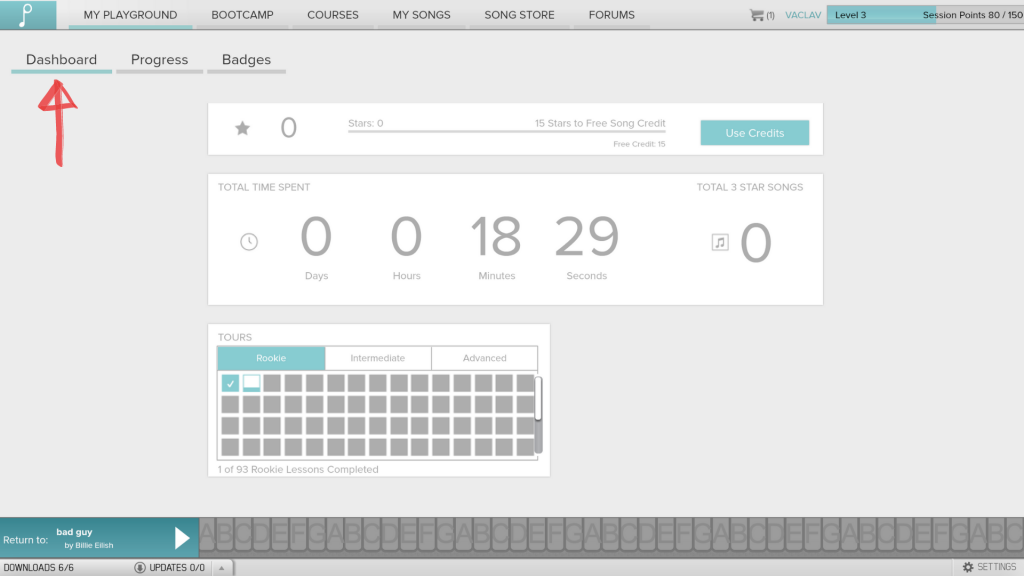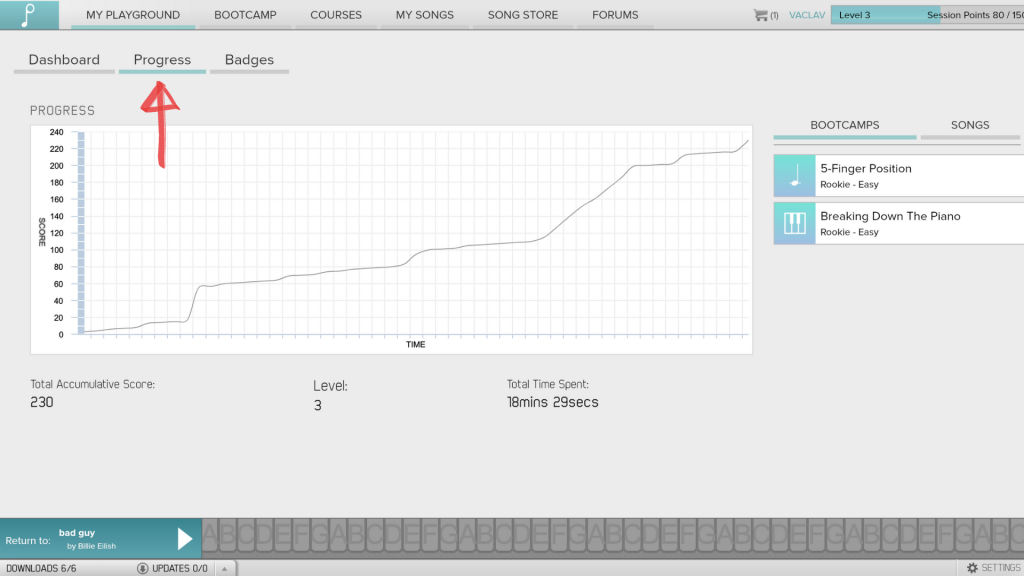 These are step-by-step courses focused on piano techniques and practicing with left and right hand separately, or with both hands. They are divided according to skill level to Rookie, intermediate, and advanced. The courses contain both video lessons and exercises. You have to download all the courses you want to go through. 
Many exercises are created by using real songs and are accompanied by a quality background music, so you don't need to be afraid of being bored.
Note: You have to download all the courses you want to go through. Playground Session is not a cloud-based app like, for example, Flowkey. Before you want to learn some songs or make some courses, you have to download it to your computer or iPad.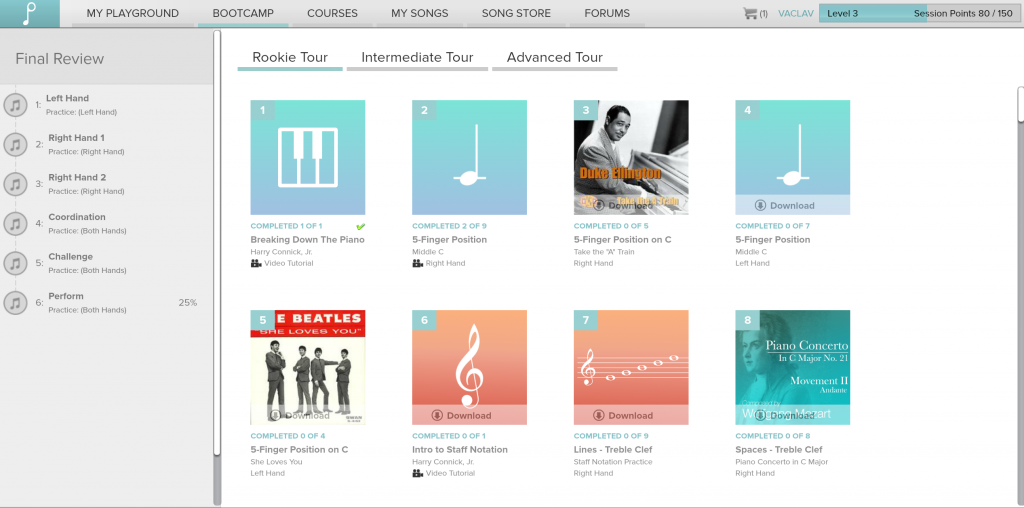 As you can expect, these courses for beginners teach you piano basics and elementary music theory. While playing and practicing, you are going to learn about notation, clefs, notes, scales, and chords.
When you have already mastered the beginner's lessons, you can continue with intermediate courses. More than 60 courses (with a different number of lessons) will teach you how to play chords, chord voicings, progressions, triads, how to play a melody with chord accompaniment, and much more.
These courses are designed for more experienced pianists. You are going to find out how to play different styles, play more voices, or improvise.
Note: I like the combination of video tutorials combining with practice. Harry Connick Jr, David Sides, or other teachers give you instructions on how to play or practice a particular song, or exercise.
In this category, you can find bonus courses for children, beginners, intermediates, and advanced. While Bootcamp is more focused on playing techniques and music theory, these courses are more about practicing.

When you purchase a song you like, it will be added to your library. This way, you have an access to all your songs by one click.
Playground session contains more than 500 songs of different genres. You can filter them according to the skill level (rookie, intermediate, advanced), or a style. There are 12 genres you can choose from:
Christian/Gospel
Classical
Contemporary piano
Country
Film/TV/Musical
Holliday
Jazz
Latin
Pop
R&B/Soul
Rock
Traditional
When using Playground Session for a while, you also get a list of recommended songs that are playable for your level. The song difficulty is also shown under the song icon in the library. When you choose a song you like, you gonna see some details:
Name of the song and author
Sheet
Song preview with and without a background
Other level availability (the same song can have different arrangements)
Price
Recommendations (some other similar songs in the same level)
Every song contains several lessons on how to practice it. It is divided into sections you practice first separately only with one hand, and then together. The final lesson is playing the whole song with both hands.
YOU SHOULD KNOW: With a Playground Session premium account (monthly, or annual subscription), you have access to 5 new songs every month (and all classical songs are for free). You can choose them from the library. If you want to play or practice more songs, you have to purchase them. The price for one song varies from $0.99 to $1.99. Lifetime access gives you 40 songs for free at the beginning and then if you want more, you also have to buy them.
Note: Actually, I don't like this limited access to the library (only 5 new free songs monthly). Other applications offer usually the full access to the library. Flowkey, for example, contains more than 1000 songs of different genres, which you can practice without spending extra money.
It is a great way on how to stay connected with other Playground session members, ask questions you might have, or submit a song request. Technical support is a matter of course.
How Does Playground Session Teach You To Play The Piano?
You already have what is inside Playground session. Now I am going to tell more about the way of playing and the functionality. Once you open a song or a practice lesson in the Bootcamp, you see the main menu with different action buttons:
As you can see, there are several very useful functions you can use while playing. All these features make your practice more effective and easy.
Note: In my opinion, Playground session makes in terms of functionality and interactivity better job than other applications. Combining different features add flexibility to your practicing. It is very easy to get used to all these functions. 
How to Practice With Playground Session?
Set your routine
Whatever software or way of learning you prefer, the regularity of practicing is probably the most important thing. Every progress is made gradually, that's why you should try to practice regularly. It depends on your motivation and time, but I recommend to practice 2-3 times a week for about 45 minutes.
Combine songs with exercises
To keep your motivation up, you should play also music you like. With Playground session, it is quite easy. Let's say you are a complete beginner, who never plays the piano before. At first, you should start with a Rookie Bootcamp. In these courses, you are going to learn the piano basics step-by-step. 
Then, choose songs from the library you like and are in the Rookie-level. Practice them following the lessons. Set Metronome on. Try all features, practice parts of the song first with the right hand and left hand separately in a slower tempo. Use hand icons to play with and then without an accompaniment. You can add bonus courses to your exercising routine. From time to time, check your progress. 
These are people who should benefit from Playground Session the most:
Beginners, and intermediates who want to learn the piano at home
Those who prefer learning with a digital piano
Teens and adults who want to learn by playing the songs
Popular music fans
Piano Marvel and Flowkey vs Playground Session
As I have already said, I think that Playgroud Session has the best functionality among other competitive products. Well, Piano Marvel is very close, because it also allows you to play a selected parts of the song, choosing the hand you want to practice. It also has metronome, loop function, but Playground Session goes further. You can select if you want to practice with an accompainment or without, split between displaying fingering or letter names. Both softwares has progress tracking, and displaing notes you play on your piano. 
The main difference between this two software is in the repertoire. While Piano Marvel is more focused on classical music, Playground Session is more about popular music. This is, probably, the most decision-making reason, in my opinion.
Although Flowkey doesn't have so many interactive functions, it is very easy to use an app with an amazing design. The Flowkey library contains more than 1000 songs of several genres. And you don't need to buy any additional songs like in Playground Session.
On the other hand, the step-by-step lessons in Playground Session Bootcamp are great and easy to follow. So I would rather recommend Playground Session for complete beginners who needs also more theory, and Flowkey for those who want to focus on playing more songs.
Step-by-step courses combining video lessons with exercises
Good quality of accompaniment sounds
Possibility to buy the software with a new keyboard for a better price (Keyboard bundles)
Flexibility in practicing
Affordable pricing (in comparison with private piano lessons)
There are no lessons from Quincy Jones!
A limited number of songs in premium account
Variable arrangement quality
Among other piano learning software, Playground Session excels in functionality and exercise flexibility. Despite several imperfections, it creates a reasonable alternative to private piano lessons. The repertoire focuses mainly on popular music with an overlap of other genres. Beginners will appreciate the step-by-step courses that will teach them the basics of playing the piano and music theory in a fun way. Overall, I rate Playground Session at 87%.
I hope you enjoyed this Playground Session review. In case of questions, don't hesitate to put them to the comment section below this article.