Yousician app is designed for musicians who prefer an interactive way of learning. It looks like a game, where finishing a new song or an exercise moves you to another level. But is Yousician worth it? Is it a good alternative to private piano lessons? In this Yousician piano review, you will get answers to these questions. I'm going to show you how it works, how the interactive playing looks like, what are the pros and cons, and what should you consider when you are thinking about using this app.
Yousician Piano Review Summary
This is going to be a long article, so if you prefer to learn only particular things about Yousician, this content overview will help you with navigation:
Yousician is the learning app not only for the piano. You can learn to play other instruments like ukulele, guitar, bass, or singing. While practicing, Yousician constantly evaluates what you play correctly and what incorrectly and gives you feedback. Thanks to the combination of the learning method, interactive functions, and attractive design, this app can keep students motivated for a longer time. This is evidenced by the number of positive reviews on the Trustpilot.
Yousician was founded by Mikko Kaipainen and Chris Thür. In 2010 they started to create an idea of a different way of music education, that will be both attractive and effective.
After their two applications that combined the principle of game with education (GuitarBot and GuitarTuna), Yousician was created in 2014. Gradually, this application became one of the most popular in the field of music education.
NOTE: Except for digital keyboard with MIDI or USB connection, Yousician works also with an acoustic piano. It is compatible with PC/Mac, or iOs and Android devices.
Yousician is membership type of product. You can choose between Yousician Premium one-instrument or Premium+ all-instrument plan and pay monthly or annually. The best way to start with a Free 7-days trial which allows you to try how it works.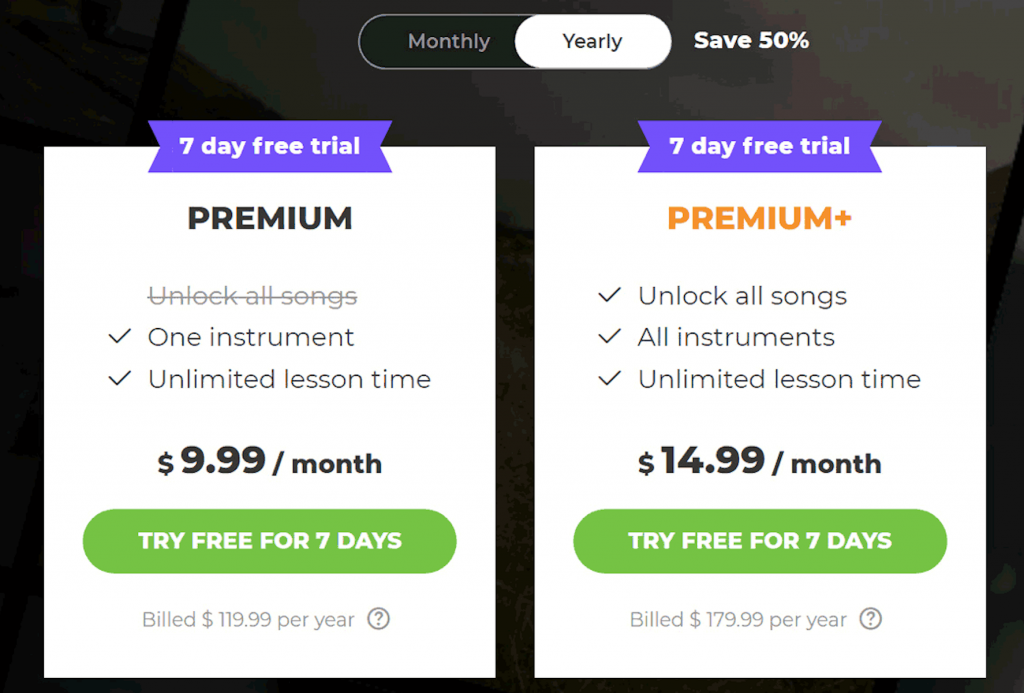 Once you have your account, you have to download the app to your device. Then you choose the instrument (piano) and choose between using an acoustic or a digital piano. When playing an electronic keyboard, connect your USB or MIDI cable.
Let's take a look at the homepage. The main menu has 3 categories: Song, Learn, and Challenges. Under the menu, you can find Guided Lessons.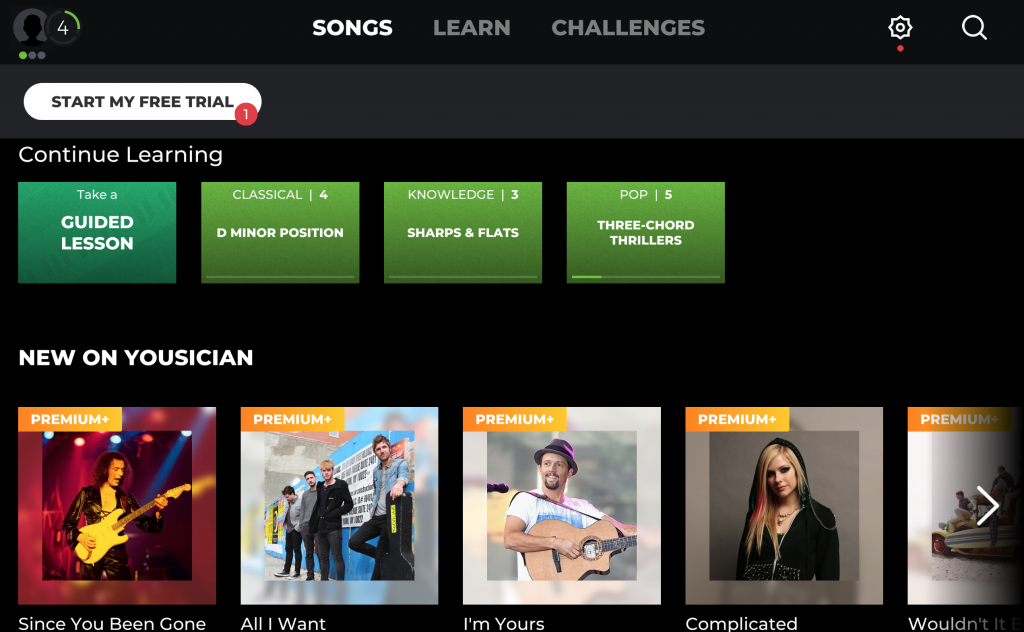 After clicking, you can choose the time you want to spend practicing:
Quick (10min)
Casual (20min)
Intense (30min)
Then you decide about the style you want to play today: Classical or pop.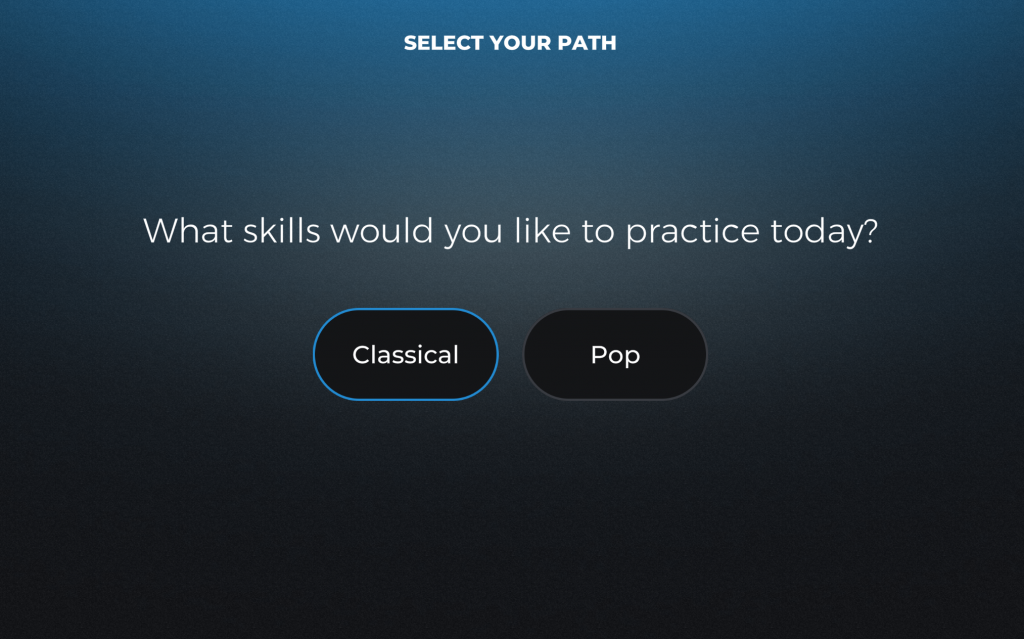 In guided step-by-step lessons, you are going to learn and play tones, chords, rhythm, and music theory in a fun way. Lessons are interactive. On the virtual sheets and keyboard, you gonna see notes you play. Correctly played notes are green while incorrect ones are red. Yousician tracks everything you play. After finishing the lesson, you will have feedback with your score. Depends on your progress, Yousician will automatically give you lessons that meet your level.
NOTE: I like that these background tracks involves also singing. You have the feeling like you play with a band. 
The song library is divided into 11 categories:
Happy Holiday – Xmass songs
Pop stars – songs from famous bands and singers (ABBA, Billy Eilish, Adele, Avril Lavigne, Bastille, Coldplay, and others)
Classical solo piano – piano compositions by L.v.Beethoven, Eric Satie, J. Pachelbel, and J.S.Bach
Rock on – classical rock hits
Lullabies – slow songs and classical pieces
Folk singalong – famous songs by Johny Cash, Don McLean, Lumineers, Tracy Chapman and others
Jazz it up – traditional and jazz standards
Top picks for classical – the most popular classical piano pieces (Dvorak, Vivaldi, Debussy…)
Around the world – world music for the piano
Playin' the blues – songs by Etta James, B.B King, and blues traditional
Country and roots – famous country hits like Apple tree, Alabama, Oh Susanna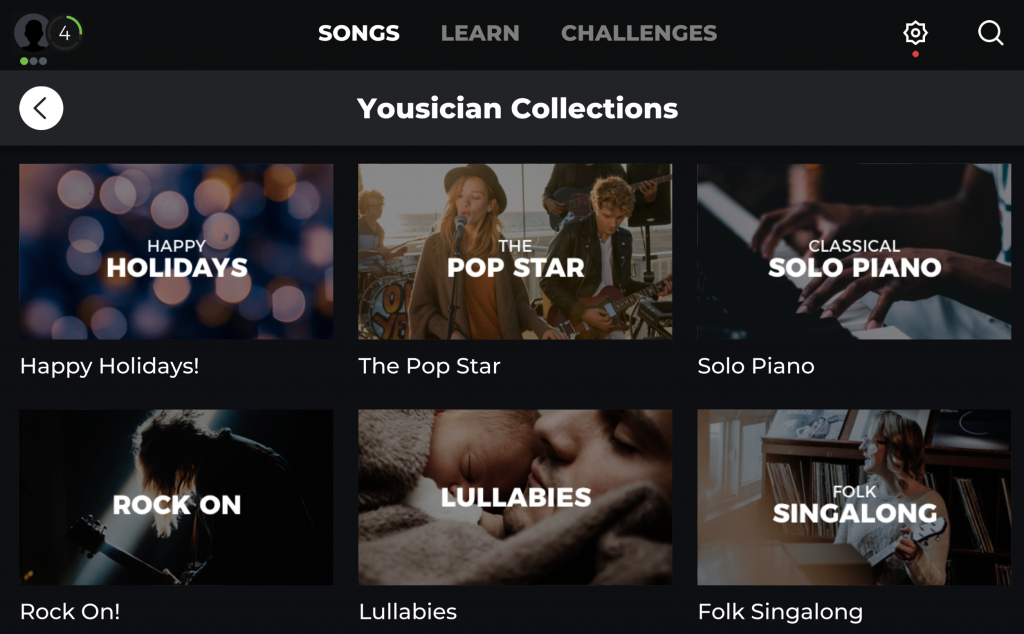 The library also contains several songs originally composed for Yousician. Except for these categories, you can filter songs according to the level range (0-15), or genres. If you want to search for a specific song or author, click the search icon (in the upper left corner). Yousician regularly adds new songs to the repertoire.
Every song is divided into several lessons. This way, you are going to practice it part-by-part and finally, you can play the whole song.
This category is divided into 2 parts: Mission and Workouts. While mission helps you consolidate the experience you have learned in guided lessons, workouts are a set of multiple tools for improving note reading, practice scales, chords, and piano technique.
This category contains 9 levels with different numbers of lessons. The purpose of each level is explained in video tutorials. You can practice in two modes: practice mode and performance mode.
Practice mode allows you to change the tempo, and turn on or off the right or left hand. You can also mark the part of the song you want to practice by dragging the handles of the looper on the bottom bar.
In the Play mode, you can play the song or an exercise while Yousician check if you play correctly or wrong. At the end of each lesson, you give a star rating score, while 3 golden stars represent a great result.
In both modes (practice, play) you can choose between 3 notation styles:
Enhanced: Instead of notes, it displays colored bubbles with the name of the notes in the respective lines. Properly played tones turn green while playing. The length of the notes is displayed by the length of the bubble.
This is a purely visual representation that can help complete beginners, but for serious practice, it is better to use classical notation.
Sheet: Classical notation displays notes and chord names.
Colored: The color of each note corresponds to the color of the tones on the virtual keyboard. This tool can help control tones and fingering.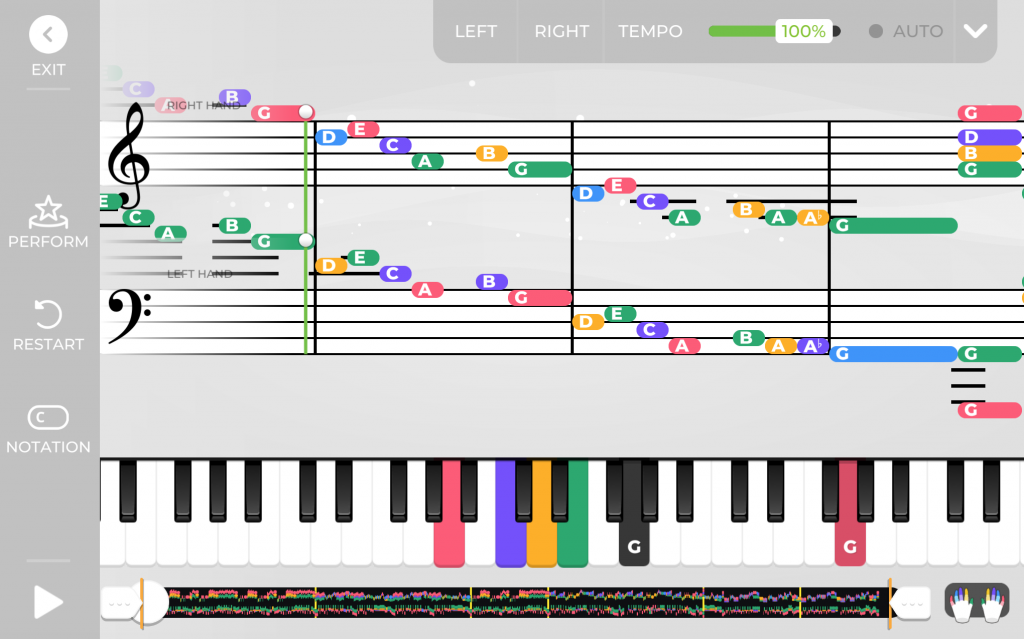 In the settings found below the arrow on the top bar, you can turn the metronome on or off, adjust the tempo of the song, or turn off the backing sound if you only want to play only the piano.
NOTE: If you want to skip to the next lesson without completing the previous one, you will need to pass a test that will test your skills.
Under workouts you will find 14 tools for improving technique, playing chords, scales, sight-reading, and ear training. Individual skills are contained in guided lessons and missions, but if you want to practice sight-reading on your own, for example, you can do so in workouts.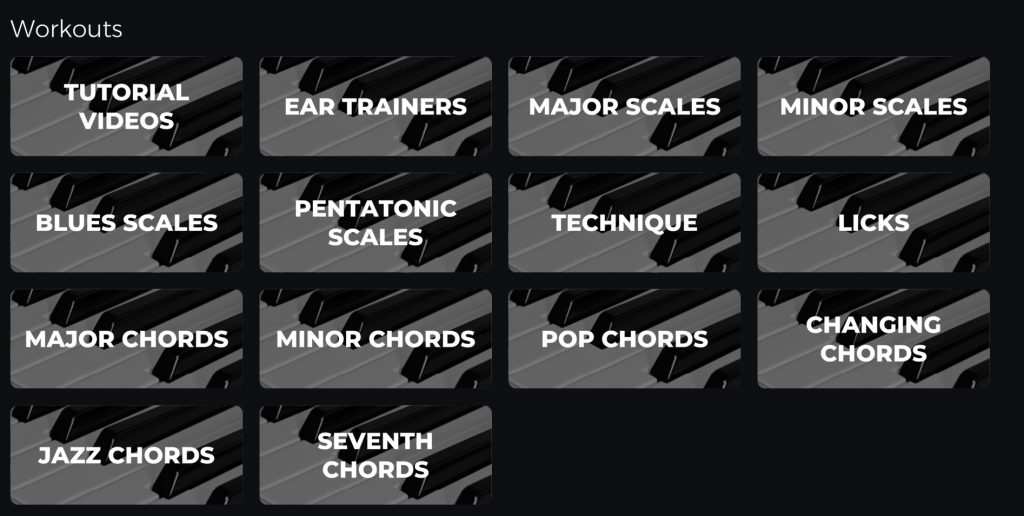 If you like challenges, you can compete with other Yousician's users from the same level or your friend's list. You are going to play the same song and the system evaluates and compares your success.
Like almost every other Yousician piano review says, this app is best for children and teens. It is thanks to the game-looking interface and easy-to-follow video tutorials. Colored and Enhanced notation can be helpful for them to play more "visually", which can be paradoxically a disadvantage in the long term. But actually, the way of practicing with background sounds can be very attractive also for adults-hobby pianists who prefer playing songs and learning the piano basics.
Background sounds with singing (it gives you the feeling you are playing with a band)
The combination of game-like interface with classical sheets keep you motivated longer
Visual help (enhanced and colored notation) while practicing for complete beginners
Availability of learning other instruments
No fingering and dynamics
The software doesn't recognize the accurate note length
 A childish-looking interface can discourage some adults
You can't see the whole sheet
Yousician seems to be a very well designed learning app for those who prefer an interactive way of learning. But if it doesn't fit you because of whatever reason, you can try another app. They can be also a reasonable alternative to private piano lessons.
Flowkey is a popular choice among beginning pianists. It also works with desktops, iOs, and Android devices. Except for the virtual sheet, you can also see hands-on the virtual keyboards. This can help use the correct fingerings. Wait mode in Flowkey is similar to Practice mode in Yousician. The practicing in Flowkey is smooth and lessons are easy to follow.
Related article: Flowkey Review: The Best Piano Lesson App For Android?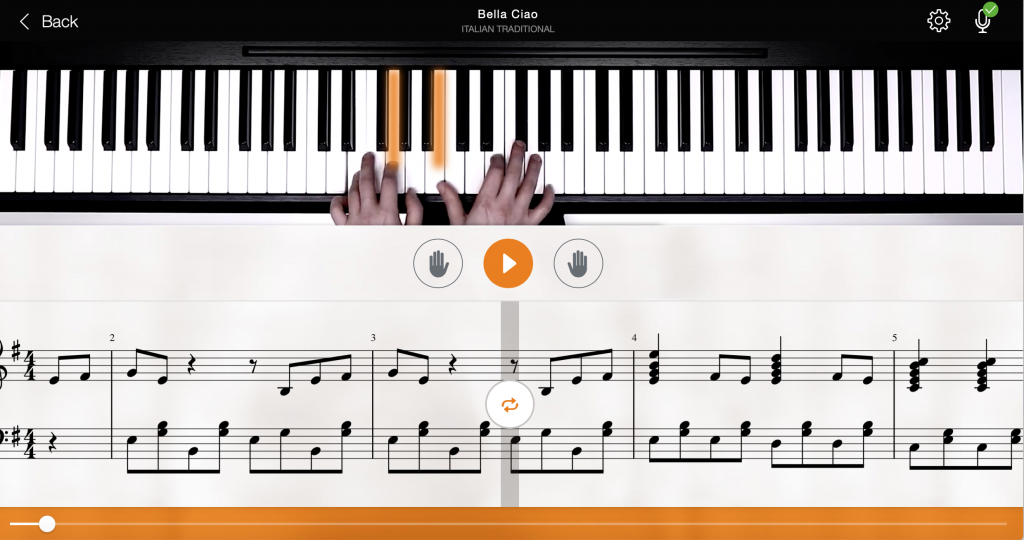 Skoove can be also reasonable alternative to Yousician, but it is not compatible with Android devices. It is a similar app like Flowkey but it has some differences, for example, you can see the notes you play on the sheet. If you want to know more, here you can read the full Skoove review.
Yousician vs Playground Session
While the Yousician interface may seem to look a little "childish" (due to colorful sheet and the "bubble" notation), Playground Session looks more "mature". It is downloadable software for PC/Mac and iPads. This allows you to use Playground Session also in offline mode.
Yousician is a cloud-based app, so you always need an internet connection. Playground Session also has step-by-step lessons guided by skilled instructors. The functionality and practice flexibility in Playground Session is, in my opinion, better than in Yousician. Generally, I would say, that Playground Session is a more "adult" product but still very easy to use.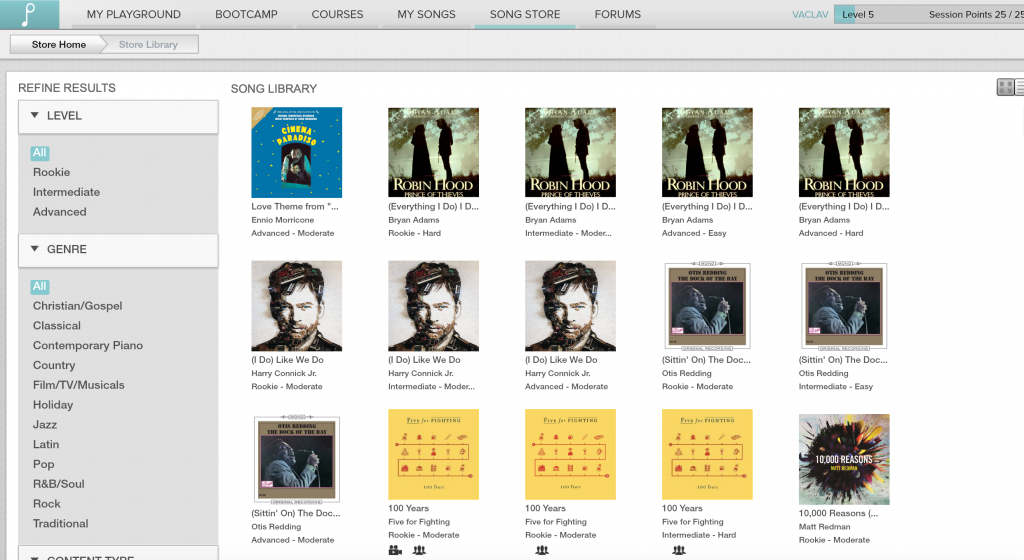 Yousician has tons of songs in the repertoire. But if you prefer classical music, I would recommend Piano Marvel. This software is used at several music schools. It has many similarities with Playground Session, amazing functionality, full sheets, but the sound of the piano and the background is not as good as in Yousician.
While all mentioned apps have membership-based pricing (paid monthly, or annually), Pianoforall is a one-time paid course for beginners for a very affordable price. It combines more than 200 video lessons with E-book and play-along tracks. There is no song library and interactive functions, but except for a step-by-step lesson, you can learn to play songs of different genres.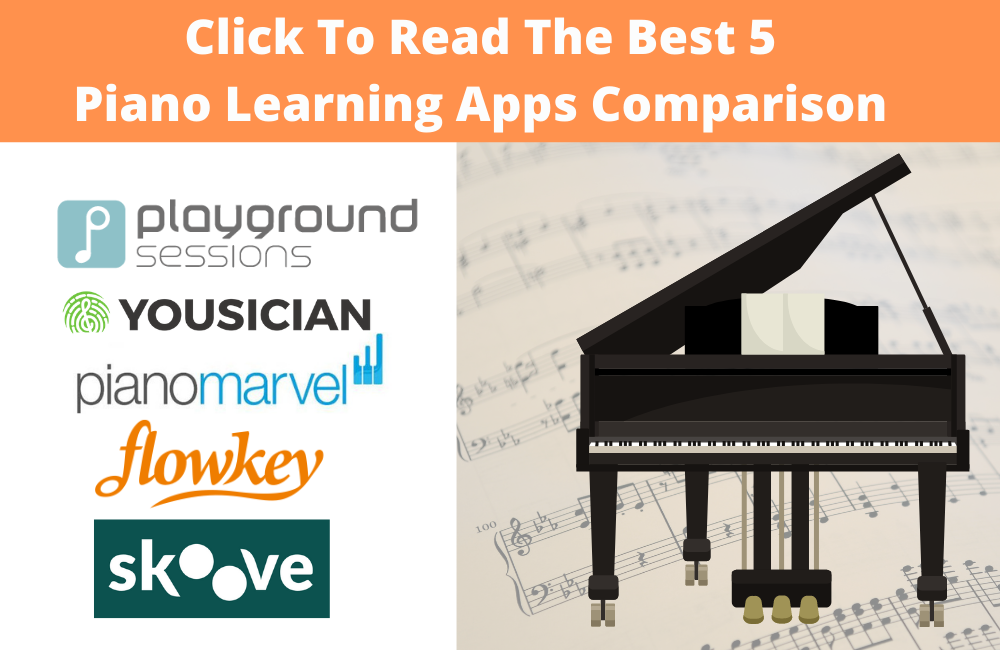 I have to say I was nicely surprised when I tried Yousician. I expected Yousician to be more game than serious piano lessons. But actually, it combines both these attempts. What I like is that many background tracks contain singing. It sounds really good, and you don't play only with a metronome, but with the whole band.
>> Click To Know Other Ways On How To Learn The Piano Online <<
On the other hand, I miss fingering, articulation, and dynamic marks in the sheets. Also, the enhanced and colored notation is not a big deal for me. It can probably help to complete beginners to visually control what are they playing. But when they use it and don't play with a classical notation, it can be counterproductive in my opinion. Overall I give Yousician piano app 82%.
I hope this Yousician piano review was useful to you. In case you have a question, don't hesitate to put it to the comment section below this article.