More and more people are learning music at home. Thanks to modern and sophisticated online music courses, it is possible to learn to play the guitar or other instrument anywhere and anytime. In this article, you will know the best way to teach yourself how to play the guitar, and what to do to make progress in a relatively short time. Of course, it will not be possible without determination and serious practice. But with the right approach, home learning can be very effective.
Read also: How Long Does It Take To Learn The Acoustic Guitar?
The Best Way How To Learn The Guitar By Yourself
1. Prepare your mindset
Many beginners are depressed when making only little progress after a few week or months of practice. Therefore, it is good to set your mind and realize that learning the guitar is a process that takes years.
2. Try online guitar lessons 
You will find many free guitar courses on the Internet. However, their content is limited, the lessons do not follow each other, and their quality tends to be different. Therefore, I recommend starting with a comprehensive program offered by platforms such as Guitar Tricks or Jamplay.
3. Set your practice routine 
Initial enthusiasm for the guitar can quickly fade. Therefore, prepare a plan for which days and for how long you will practice and stick to it. Exercising for 30 minutes every day is more effective than exercise for 6 hours every two weeks.
4. Watch youtube videos 
On youtube, you will find many lessons and guitar videos with which you can complete your curriculum. In addition to gaining new skills, you can be inspired by great guitarists and their music.
5. Play to the music 
Once you have acquired basic skills on scales and harmony, try playing different music. Discover what fits there and what sounds good. In this way, you will significantly improve your improvisation.
6. Train your ears 
Beginners often do not hear the mistakes they make while playing. Try not only to listen to music but also to analyze it. At the same time, focus not only on harmony and melody but also on perceive rhythm.
7. Play with other musicians
If you can already play chords, simple riffs, and melodies, try playing with other musicians. There are for sure music lovers among your friends. Playing together is the strongest motivation that will help you overcome periods of doubt and depression from slow progress.
Related article: 7 Tips To Stay Motivated To Practice Your Instrument
Before we talk more about tips to find the best way to learn the guitar by yourself, we should define the main differences between ourselves in education and classes with a teacher.
Should I Learn The Guitar By Myself Or Take Classes With A Teacher?
The answer to this question is: It depends. Private guitar lessons with a teacher have undeniable advantages, especially for beginners. The instructor can choose and adapt the practice plan according to your abilities and preferences. He hears where and what mistakes you make and can help you eliminate them. Not to mention that when someone personally shows you and explains how to play a scale, guitar chords, riff, or song, it's better than just seeing it somewhere on the screen.
On the other hand, when you learn to play the guitar yourself, you can choose when, where and for how long you will play, and determine the pace that suits you. In this case, however, it is still better if you follow the guitar video lessons created by an experienced teacher, which have their own logical sequence.
To compare the advantages and disadvantages of both approaches, see these tables and answer for yourself which way of learning the guitar is better for you:
can here and fix mistakes you make
set your practice plan according to your skills and preferences
can explain many things in detail
often don't hear mistakes you make
don't know what to learn and in which order
don't understand many details
You can learn at any time and any place
You can choose what and how to learn
It is relatively inexpensive
Sometimes it is difficult for you to motivate yourself
You have to travel for guitar classes on a set schedule
You should follow teacher's instructions
Private lessons can be pricy
An inexperienced teacher can discourage you from music
As you can see, both approaches have advantages and disadvantages. Both can be effective, but it depends on your tenacity, conscientiousness, and motivation.
7 Tips To Teach Yourself How To Play The Guitar
No shortcut will make you a great guitarist in a few weeks or months. If it was that simple, thousands of John McLaughlins, Jimmi Hendricks, Steve Vais, or Eric Clapton's would walk the streets :). If you start playing the guitar, you have to realize that you will proceed step by step.
First, you start with simple guitar exercises and songs and later you can play more challenging. Be prepared to know that playing the guitar well also means knowing what you are playing. Therefore, you will discover how music theory, rhythm, relationships between tones and chords work. By having realistic expectations, you can avoid disappointment and "guitar depression." 
Read also: 7 Tips To Stay Motivated To Practice Your Instrument
2. Try online guitar lessons
The good news is that there are many quality and affordable online guitar courses for beginners. Guitar tricks offers easy-to-follow video lessons that will guide you through the basics of playing the guitar, technique, and playing hundreds of songs.
You can slow down the videos or use the looper function to learn the individual parts. You will also find here several useful interactive tools for practicing chords and scales. In addition to the desktop version, Guitar Tricks also has a great application for iOs and Android devices.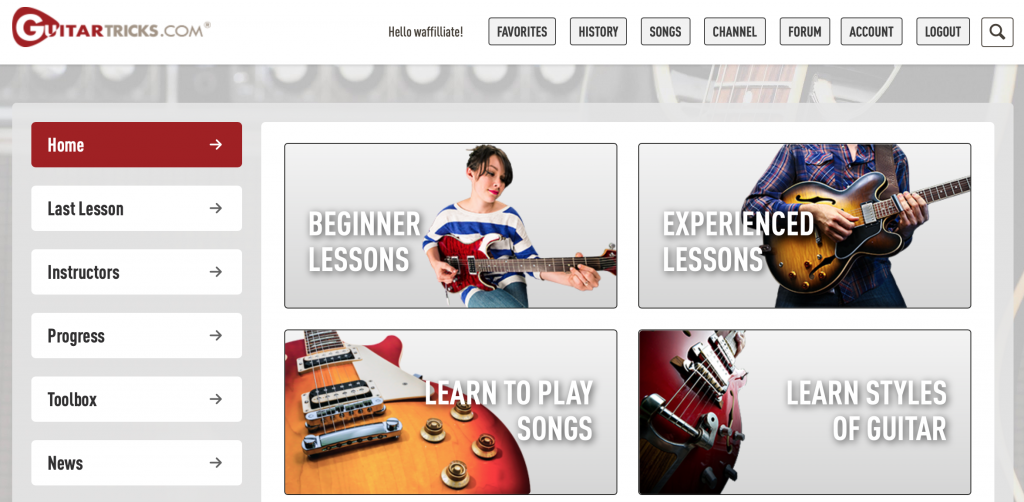 Another popular online guitar training program is Jamplay. This platform has a very clear series of lessons for beginners, but you will also find courses for intermediate players here. More than 100 professional instructors have prepared courses that cover various topics, playing techniques, and musical styles (rock, blues, jazz, classical, world and others).
>>> Read The Full Jamplay Review <<<
Of course, there are more quality guitar courses, but both Guitar Tricks and Jamplay are ideal for beginners who want to learn to play the guitar at home and whenever it suits them.

3. Set your practice routine
Before you start learning the guitar, it's a good idea to decide when and how long to practice. It's up to you how much time you spend with your instrument. In general, however, regular practice at shorter intervals is better than playing all day once in a while. For example, you can say that you will train 4 times a week for about 1 hour, or 30 minutes every day.
Since learning the technique is about repeating and training muscle memory, regularity is the key to progress. It is also recommended to set some short-term goals. When you achieve them, it will motivate you to continue your efforts. 
Youtube is a rich source of other guitar lessons that you can use to supplement what you learn with Guitar Tricks or Jamplay. You can find a lot of guitar song tutorials, and lessons about how to play guitar riffs and specific styles. Youtube can help and supplement your knowledge and skills, but it cannot fully replace paid courses that provide continuity of lessons and quality content.
Learning to play the guitar is about discovering what sounds good and what doesn't. Put on your headphones, pick up your guitar, play your favorite music and try to find what fits it. Identify the key and then try to find the chords used in the song or improvise on the scales. Such improvisation and a system of trial and error are also great for training your ears and expanding your musicality.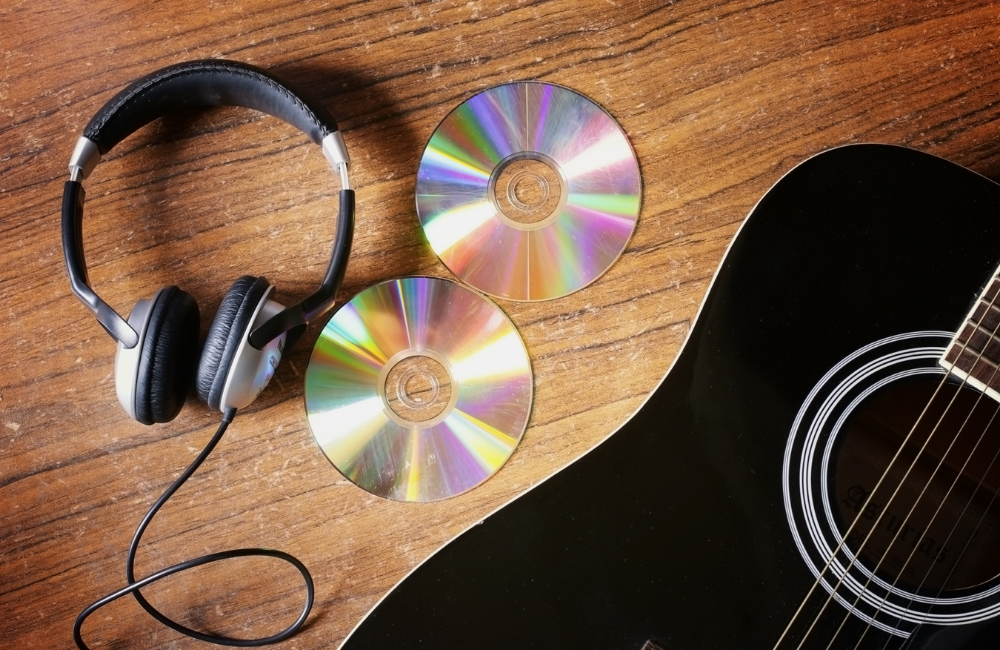 As I mentioned before, beginners often do not hear that they are making mistakes. Therefore, Musical hearing also needs to be trained. Try to play melodies you know and look for the right tones in them. Analyze chords from songs and find out how different chord progressions sound.
Train the rhythm and different strumming patterns. Beginners usually know how to catch chords or play riffs, but they can't play in the tempo. That's why it's good to be friends with a metronome right at the beginning of your guitar career.
7. Play with other musicians
Yes, this is a very powerful tip. If you just practice at home for yourself for a few years, you may no longer enjoy it. But playing with other people for the audience – it's a completely different thing. Then your music gets a new dimension and meaning.
You might say you don't know how to play in a band yet. It doesn't matter, practice and practice, and when you reach the level that you will be able to play rhythm guitar (chords + strumming patterns), you can easily start playing with a bass player and drummer, for example. It's up to you when and whether you try it, but playing with other people and for other people can motivate you and give meaning to your effort.
To sum it up: the best way to teach yourself how to play the guitar is to take the first step and decide to take the time. You can learn the guitar basics with Jamplay, Guitar Tricks, or another course fairly quickly and fun.
Don't forget to train your ears, listen to a lot of music, try to play to it, learn the theory and start to play with other people. All these steps will take some time, but the good feeling from playing the music you like will give you back all the effort twice. Thanks for reading this article:)